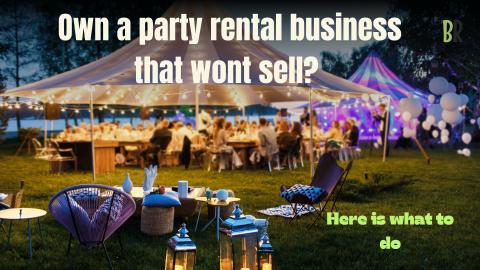 Sellers guide: How to sell a party rental business quickly
Have you ever considered parting ways with the business you painstakingly built from the ground up? Perhaps you've recently acquired a party rental business to resell it for a profit, a practice commonly known as 'flipping businesses.' Regardless of your situation, our article delves into the art of swiftly selling a party rental business.
In the following sections, we'll adopt the perspective of potential buyers, exploring your business's potential for growth, its sales history, and the inventory it includes. Before we pop the champagne in celebration of your upcoming sale, let's discover the strategies that can help you not only sell your business quickly but also secure the highest possible price!"
Ask yourself: What makes your business worth buying?
---
Before you dive into the process of selling your party rental business swiftly, it's essential to step into the shoes of a potential buyer. Start by conducting a thorough assessment of your business, creating a checklist to identify what sets it apart. While your business may be raking in impressive profits, modern buyers look beyond the financials. They seek opportunities for growth and scrutinize your business's online presence.
To simplify this process and offer valuable insights, we've compiled a list of crucial questions. These questions can not only help you understand your business better but also increase your chances of attracting potential buyers.
Q1: Does your business have outstanding online reviews?
How to Address it: If not, consider reaching out to your past customers and encourage them to share their experiences on any business directories where your company is listed.
Why It's Important: Online reviews are crucial in today's digital age. Positive reviews build trust and credibility, making your business more attractive to potential buyers.
Q2: Is your party rental equipment well-maintained?
How to Address it: If not, prioritize the removal of damaged equipment and replace it with newer, well-maintained alternatives.
Why it's Important: Well-maintained equipment not only ensures customer satisfaction but also presents a more appealing package to prospective buyers. It demonstrates that your business is in good shape.
Q3: Is your balance sheet organized?
How to Address it: If it's not in order, schedule a meeting with your accountant to get your financial records organized and structured.
Why it's Important: A well-organized balance sheet provides potential buyers with confidence in the financial health of the business. It helps them assess its stability and potential for growth.
Q4: Do you have a well-trained crew?
How to Address it: Initiate daily pre-shift meetings, establish standardized processes, and appoint team leaders for each truck to ensure a structured and well-trained workforce.
Why it's Important: Having a skilled and organized team in place makes your business more appealing to buyers. It assures them that there is a system in position for a smooth transition.
Q5: Does your business have a website showcasing your services and rentals?
How to Address it: Utilize online platforms like Wix or other free website builders to create a website that advertises your services.
Why it's Important: A professional website enhances your business's online presence, making it more enticing to potential buyers. They prefer businesses that require minimal additional investments after acquiring a business.
Q6: Does your business have a base of repeat customers?
How to Address it: If your party rental business lacks repeat customers, consider reaching out with special offers or utilizing tools like MailChimp for email marketing to keep them engaged.
Why It's Important: Demonstrating a loyal customer base can accelerate the sale of your party rental business. It signifies that your customers appreciate your services and are likely to return, which is an attractive prospect for buyers.
How to find a buyer for your party rental business quickly
---
First and foremost, a party rental business is an enticing prospect for potential buyers. However, successfully attracting buyers depends on how you present and list your business. Take, for instance, our platform, BizRoutes, which offers a fantastic opportunity to promote your business at absolutely no cost. Your listing will be seen by thousands of aspiring entrepreneurs actively seeking businesses to purchase.
To captivate the interest of prospective buyers, the first step is to create an account on our platform. You'll then be guided through a series of questions about your business. This includes highlighting its growth potential and explaining why you've decided to sell. It's entirely normal for buyers to inquire about your motivation for selling a profitable business.
So, let's explore some strategies to create a compelling listing that will draw in eager buyers!
Create a top-tier listing: When I say 'top-tier,' I mean it's time to put on your thinking cap and get creative. Don't rush this process, and strive for clarity. Adding fictional numbers or exaggerating your business's achievements is counterproductive for both sellers and buyers.
For instance, start by honestly stating the reason you're selling. While it might not always seem relevant, it's a good practice to build trust with potential buyers and address any suspicions they may have. So, If it's retiring, let them know, if it's personal reasons list personal reasons.
Secondly, highlight the potential for growth. If your business currently serves a limited radius, include that in the listing as an opportunity for expansion. If you have room to grow your rental inventory, make it clear that there's potential to add more services.
Lastly, provide a thorough description of your business. Give buyers enough information to connect the dots. Being straightforward and transparent is key to attracting the right buyers and ensuring a smooth sale.
Consider Hiring a Broker: When it comes to selling your party rental business, you might also want to consider hiring a business broker. Take your time with this decision; it's an important one. A business broker can make a big difference in how smoothly things go, so finding the right fit matters.
Then, look for a broker who knows your industry inside and out. You'll want someone who really gets the party rental market, from equipment values to customer relationships. Now, don't be shy about asking for referrals or setting up interviews with potential brokers. It's a critical step to make sure you're on the same page and share the same goals. During these conversations, dive into their strategies for marketing your business and see how successful they've been in previous sales.
Also, make sure you understand their fee structure. Be upfront about your budget and what you expect, and work together to find a fair deal.
Remember, a good broker can help simplify the selling process, saving you time and effort. With their industry knowledge and network, they can connect you with the right buyers and help you navigate negotiations.
Offer Seller Financing: Another smart move in selling your party rental business is to think about offering seller financing. Now, what's that? Well, it means you become the lender for the buyer, allowing them to make payments over time instead of needing a big lump sum upfront.
This can be a win-win: you attract a buyer who might not have all the cash on hand, and they get a chance to pay as they go. It can make your business more appealing, especially to buyers who can't secure a traditional bank loan. Just make sure you work with pros to set up the deal right and protect your interests."
List It on Facebook Marketplace: In today's digital age, social media platforms can be golden for selling your party rental business. One such gem is Facebook Marketplace. You can create a listing there that gets seen by a wide audience.
It's super user-friendly, allowing you to add loads of details about your business, throw in some eye-catching photos, and share contact info. Plus, it's where plenty of folks look for all kinds of stuff, including business opportunities. So, don't miss out on this accessible way to showcase your business to potential buyers."
List It on Craigslist: Don't underestimate the power of a $5 dollar Craigslist listing when it comes to selling your party rental business. Craigslist is like the local marketplace where people look for all sorts of things, including businesses for sale.
By crafting a solid listing on Craigslist, you can connect with potential buyers in your area. Share all the crucial info about your business, its assets, and how to reach you. Keep an eye on those messages, reply pronto, and stay on the lookout for serious buyers."
Contact Other Party Rental Businesses: Sometimes, the best buyers for your party rental business are the ones already in the same game. So, why not reach out to other party rental businesses in your neck of the woods?
These businesses might be itching to expand or diversify their offerings. Starting a conversation might lead to a fantastic opportunity for both parties. So, roll up your sleeves and explore possible partnerships or acquisitions within your industry.
In summary, when it comes to selling your party rental business quickly, there's a lot to take into account. As you continue to grow and develop your business, focus on adding more value. A party rental business comes with valuable assets that are integral to its worth, so your initial investment is in the business itself. Some businesses may not have a substantial inventory, which can be advantageous.
Remember, you can list your business here, and if you need assistance with creating a listing, simply tap the chat button below for support.
---
---
BizRoutes is an online advertising platform for route listings. Please note that we are not a brokerage firm and do not offer advisory services. While we strive for accuracy, we do not endorse or guarantee the information on our platform. Users should exercise judgment and diligence when using our platform, and we recommend seeking professional advice. BizRoutes is not affiliated with the mentioned services. We are not responsible for user decisions or outcomes and may earn commissions from affiliates. For questions or concerns, please contact us.