FLOWERS BREAD ROUTES FOR SALE
Flowers bread route is a well-known route with lots of room for expansion. A turnkey bread business supported by a New York Stock Exchange (NYSE) listed firm! Nature's Own, Wonder, Sunbeam, Dave's Killer Bread, TastyKake, and other brands will be exclusively distributed by you.
About Flowers Foods:
Flowers Foods is one of the country's leading makers of packaged baked foods. The firm owns and runs 46 highly efficient bakeries in the United States that manufacture a variety of baked items for retail and foodservice clients.
Through the company's direct-store delivery (DSD) network, fresh bread, buns, rolls, snack cakes, and tortillas are available to more than 85 percent of the US population. Flowers Foods made $4.4 billion in revenue in the fiscal year 2020.
Who are the clients?
Large mass merchandisers and quick-service restaurants are among the clients, as are local family-owned convenience shops and cafes.
How does it work? What is vehicle type required?
Route owners place orders with Flowers and then pick up their orders in a delivery vehicle of their choice at Flowers' warehouses. Although most route owners use a box-style delivery truck, others use a pickup truck and trailer.
Are flowers bread routes profitable?
A bread route may be purchased for a fraction of the cost of most other investment options. Your revenue will become quite solid once you've established your region and established a consistent stream of deliveries. Your ultimate share will be determined by distributors, so pay attention to what your commission will be. One of the most frequent arrangements is for you to be sold the bread for 80% of retail, allowing you to sell the goods at 100% to your accounts. As a result, you get to keep the 20% difference.
if you like this check out Mission Tortilla Routes for Sale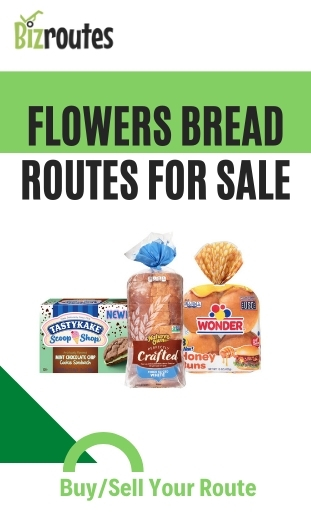 Become business smart!