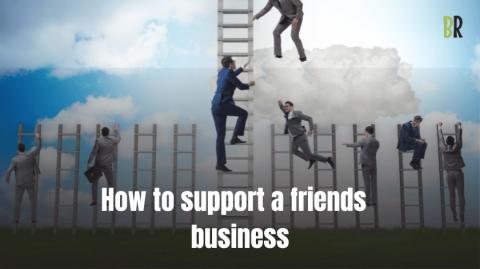 15 Ways to Support Your Friend's Small Business
Who wouldn't want to support their friends' small businesses?... THAT'S A TRICK QUESTION! Support comes in all shapes and sizes. It can be as simple as saying "good luck" or writing an investment check. The choice is yours, but remember that support goes a long way and is always appreciated by the person starting the business.
When you want to support a friend's business, do it generously without expecting any benefits in return. Don't bring it up in the future like, "I did this for you." Nowadays, showing support to your friend or family member can be very personal, and it's heartwarming because you don't need money to show support. Even the smallest gestures can mean the world to friends and family embarking on a business venture.
In this article, we will list some ways to support your friend's business, some of which involve money, and others do not.
Ways to Support Your Friends' Business Without Spending Money
---
When it comes to supporting people, many believe that money is needed. However, this is not always the case. Sometimes, money is the last thing needed when it comes to supporting a friend's business. Here are some cost-free ways to support your friend's business:
Work with Them: New entrepreneurs often need help but may not ask or hire due to budget constraints. You can offer your assistance by working a few hours a week on tasks they haven't finished, managing their social media accounts, or handling their emails.
Tag Them: One of the easiest and most effective ways to support your friend's business is by tagging their social media accounts. This can help them gain new visitors and potential leads.
Give Ideas: Offer suggestions and ideas, but do it politely. Instead of saying, "I think you should," say, "What do you think if you..." Your ideas can be valuable, even if they aren't immediately implemented.
No Financial Questions: Avoid asking intrusive financial questions, such as how much they've made, spent, or if they're getting customers. Respect their privacy.
Write for Them: If you have writing skills, offer to write content for their business. Unique content is essential for websites, blogs, social media, and email marketing.
Send Referrals: Help your friend find new customers by referring potential clients to their business.
Find Business Tools: Look for tools that can streamline your friend's business operations, such as social media scheduling tools, billing software, routing software, or payroll software.
Donate: If you can't invest time or energy but still want to show support, consider making a small donation, either in the form of money or gift cards.
Provide Connections: Offer your connections, such as introductions to wholesalers or web developers, to help your friend's business thrive.
Listen: Be a supportive listener. Let your friend vent, share their challenges, and provide emotional support.
Leave Reviews: If you've had a positive experience with their business, leave reviews on their website or social media platforms. Positive reviews can boost their online presence.
Keep Your Distance: After offering your support, respect your friend's need to focus on their business. It's not a sign of jealousy; it's a way to allow them to concentrate on their work.
Ways to Support Your Friend's Business by Spending Money
Now, let's explore ways to support your friend's business financially:
Gifts: Consider gifting them items like a printer, scanner, laptop, or a night light to enhance their home office setup.
Invest: If your friend's business shows promise and they are capable of running it, offer to invest as a business partner. Ensure you handle this professionally and seek legal advice to formalize the arrangement.
Purchase from Them: If your friend's business sells products or services you need, consider making purchases. Sharing their products with your network can also boost their sales.
Gift Cards: Give them gift cards from stores like Staples or Best Buy, where they can purchase equipment and supplies for their business.
What to Do When Your Friends Don't Support Your Business
---
If your friends haven't shown support for your business, don't take it personally. Keep focusing on your vision and building your business. When they ask about your business, keep your responses simple and positive. Remember that your success will speak for itself over time.
Conclusion: Supporting your friend's business doesn't always require financial contributions. Cheering them on, offering assistance, and providing emotional support can go a long way. Whether their business succeeds or faces challenges, your presence and support will be remembered and appreciated.
---
---
---
Disclaimer: The information provided in this article is for general informational purposes only and should not be considered legal advice. The laws and regulations regarding business licenses may vary from state to state and are subject to change. It is important to contact your local state office to determine which licenses are required for any specific businesses. Additionally, please note that this article contains affiliate links and we may earn a commission from our affiliate partners or Amazon links. If you are considering starting a business, it is recommended that you seek the advice of a qualified lawyer, business broker, or professional in your area. The information provided in this article is not a substitute for professional advice and should not be relied upon as such.