How to buy an Arnold bread route
---
Here is what you need to know!
Arnold bread routes for sale will be your journey to personal independence. The largest baking firm in the United States is Bimbo Bakeries USA. Having a Distributorship Route allows you to be a part of some of the industry's most well-known and creative baking brands.
After expanding its branches to other states like New York and Florida, Arnold bread began as a well-loved one in the early 1940s in Connecticut and quickly became a respected international premium brand that other companies followed.
Arnold bread routes, like other bread distribution firms, gives its independent distributors the freedom to run their business in the way that most suits them and generates the most revenue. The channels include client accounts that have been developed through decades of product sales and marketing. This provides a route owner with a simple option to begin producing revenue for himself and the firm without having to go out and find new clients. While this is fantastic in and of itself, route owners can also add new client accounts and improve sales with current customer accounts to boost total sales income.
---
What are the products?
Organic bread, whole grain bread, country bread, Jewish rye, and flatbread are among the goods created using superior components.
---
How to get customers for Arnold bread routes?
Any business that buys bread ,Small and large businesses, restaurants, institutions, and/or convenience stores.
---
What are the responsibilities of Arnold's bread route owner?
Arnold's route owner is responsible for picking up items from the company's warehouse and delivering them to client accounts within his region. Bimbo/Arnold takes full responsibility for any damaged or expired items. All items that cannot be accounted for during sales are the responsibility of the route owner. He'll also need to build strong relationships with customers so that he can keep track of their stock levels for replenishing. Working days and hours each day are up to the distributor's discretion, allowing for flexibility, but he must remember that he is accountable for making sales and maintaining strong client connections.
---
How much do Arnold bread route owners make?
Route owners are given a weekly commission of roughly 15% of their gross weekly sales. After expenditures, this might result in a net revenue of around $75,000 per year from gross weekly sales of around $10,000. Gas, car repair and maintenance, vehicle insurance, and company liability insurance are all common expenses.
---
How to buy Arnold's bread route for sale?
You may buy a route from an independent distributor who wants to sell it because they want to relocate or pursue other business possibilities. Bimbo, on behalf of Arnold, requires a written agreement in order to protect the firm's reputation and assist the independent distributor representing the brand in growing his business.
---
What type of vehicle is required?
A delivery truck is required to run an Arnold bread route. This can be a truck or a box trailer, both of which can be rented or bought. When it comes to selling a route, most independent route owners want to sell their truck as well. As a result, a potential route owner can buy from them as well. In any case, an aspiring route owner should bear in mind that his delivery truck must comply with food safety regulations.
To the best of our knowledge, the information provided on this website is not intended to be taken as professional financial advice. Consult a professional financial or tax expert if you require this advice.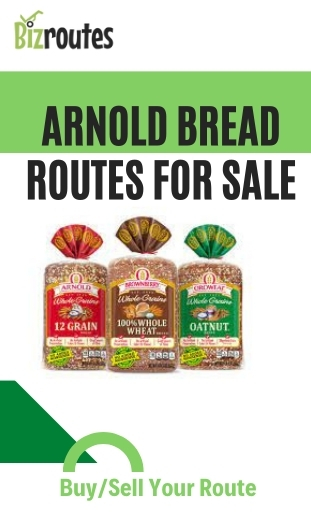 Become business smart!
Similar Articles
We highly recommend you register as a buyer, by doing so you'll get notified as soon as Arnold's bread routes for sale and other listings become available for sale in your area.
Check out these bread routes for sale ...
independent bread routes for sale
No Listings Found
Make sure to register below so you will never miss an opportunity