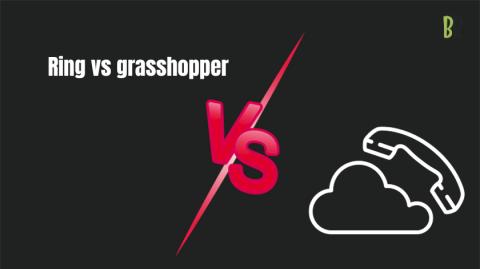 Ring central vs grasshopper, How to choose a business line?
Owning a small business, such as a route-based enterprise, demands a significant amount of multitasking. From handling orders and loading them onto your delivery vehicle to managing returns, billing, and, perhaps most importantly, answering calls, it's a juggling act. Thanks to the advent of modern technology, running a business has become less chaotic. Let's take a moment to reflect on the past when having a virtual phone line wasn't an option. Back then, you needed two separate phones: one for business and one for personal use. This meant dealing with two phone bills, carrying two chargers, and having less pocket space. Today, we can streamline our communication by using a single phone and adding a dedicated business number. You have the flexibility to choose between an 1800 toll-free number, a local number, or even a customized vanity number.
Unfortunately, many individuals still use their personal numbers for all their communication needs, which can lead to a potential nightmare. Consider this scenario: you supply supermarkets with essential products like bread or groceries, necessitating frequent phone interactions. Would you want these clients to call your personal number? It could lead to complications down the line. Imagine a day when you decide to sell your route or business but wish to retain your phone number. This could make the sale more precarious, as potential buyers typically seek assurance that customers will contact them, rather than dialing your number. By utilizing a dedicated second number, such as those offered by RingCentral and Grasshopper, you can enhance the chances of selling your business more swiftly. Buyers will appreciate the fact that the business comes with its own contact number, alleviating their concerns. Furthermore, customers need not be aware of the ownership change since they primarily interact with your phone number when they require your services or deliveries. Therefore, having a second number is a wise choice. Customers tend to prefer businesses that demonstrate professionalism and organization, as these qualities foster trust in clients.
We've evaluated two popular options, RingCentral and Grasshopper, to highlight their differences and help you make an informed decision.
What are the benefits of having a separate business number?
---
Having a separate business number comes with several advantages. It helps you maintain a clear distinction between your personal and professional life, enhancing your overall organization and productivity. Additionally, a dedicated business number can bolster your company's credibility and professionalism, making it more appealing to clients and customers. Furthermore, it offers you the flexibility to manage your business communications efficiently, ensuring that you never miss an important call or message. Ultimately, having a separate business number is a smart choice that can contribute to the success and growth of your business.
Benefits of RingCentral:
RingCentral stands as the ultimate solution for addressing today's diverse business needs. With a comprehensive suite of PBX products including integration with Google Docs, Dropbox, SMS, and robust video conferencing capabilities, they provide a wide array of services designed to empower businesses in the modern era. Here are the key services they offer:
RingCentral Professional
RingCentral Fax
RingCentral Meetings, Webinars, and Rooms
RingCentral Glip
RingCentral Office
Pricing with Features:
RingCentral offers flexible pricing plans to suit different business needs. Here are some of their key plans:
Essentials: This plan includes messaging and phone features and is priced at $19.99/user/month.
Standard: The Standard plan offers messaging, video, and phone services at $27.99/user/month.
Premium: This plan covers messaging, video, phone, and Open API integration for $34.99/user/month.
Ultimate: The Ultimate plan includes messaging, video, phone, and Open API integration, priced at $49.99/user/month.
Additionally, RingCentral provides annual plans that offer savings of up to 33 percent.
Free Trial: New users can take advantage of a free trial, which allows up to five users to experience RingCentral's services. The trial includes 50 minutes of domestic calls per user and lasts for 21 days.
Communication Features:
RingCentral provides a comprehensive communication platform that encompasses video, messaging, and phone services.
Benefits of Grasshopper:
Grasshopper is a cloud-based solution tailored for small businesses.
Pricing: Grasshopper offers competitive pricing options:
Monthly:
Solo users: $29 per month
Partners: $49 per month
Small businesses: $89 per month
Annual:
Solo users: $26 per month
Partners: $44 per month
Small businesses: $80 per month
Cancellation Policy: Cancellation is straightforward, with no refunds issued. However, new users subscribing to a monthly plan have a 30-day window to decide whether to continue the service. If they choose not to, a full refund is provided.
Free Trial: Grasshopper offers a 7-day free trial for users to explore its features.
Key Features: Grasshopper boasts a range of features, including custom greetings, Call forwarding, Voicemail, Mobile and desktop apps for seamless communication
Communication: Grasshopper focuses on messaging and call services to cater to the communication needs of small businesses.
In conclusion, the importance of having a dedicated second number for client and business interactions cannot be overstated. It not only helps maintain your organizational efficiency but also becomes a valuable asset if you ever decide to sell your business. While RingCentral and Grasshopper are just two of the many options available, it's crucial to carefully evaluate their features and offerings when comparing service providers. Ultimately, the right choice will depend on your specific business needs and objectives, so take the time to make an informed decision that best aligns with your goals
---
---
BizRoutes is an online platform designed for the purpose of facilitating the buying and selling of routes, and it also offers additional features such as a business directory. It's important to note that while we provide information about various businesses and companies on our platform, BizRoutes does not endorse or promote any specific business or company mentioned within our content.
Furthermore, please be aware that the features and pricing of our platform may change at any given time without prior notice. We recommend visiting the respective websites of RingCentral and Grasshopper for more detailed and up-to-date information about their services and offerings.
At BizRoutes, we strive to provide accurate and useful information to our users, but it's essential to verify any specific details, features, or pricing directly with the companies mentioned for the most current and accurate information.