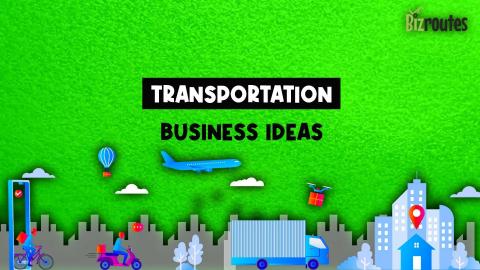 I've saved up some money and want to start a business. What should I do?" This is one of the most frequently asked questions, and my response typically revolves around finding a low-cost, low-risk business opportunity. Your choice of business often depends on your skills, whether you lean towards technology or hands-on work, your personality type (people-oriented or not), and whether you prefer a customer-facing or behind-the-scenes role. These factors greatly influence the type of business you should consider. However, to simplify matters, people often seek advice on starting a business with a higher likelihood of success.
As an entrepreneur looking to start a transportation business, you'll encounter various types of questions seeking guidance on different aspects of entrepreneurship. Some common inquiries include questions about searching for the best transportation business ideas, assessing market demand, understanding legal and regulatory requirements, managing finances, marketing strategies, and building a customer base. In this guide, I will address these questions by providing valuable insights and practical advice to help you navigate the initial stages of starting a business. By exploring these topics, you'll gain a better understanding of the key factors that contribute to a successful business launch and increase your chances of achieving your entrepreneurial goals.
Benefits of starting a transportation business
---
A transportation business can be classified as a low-risk start-up due to several factors. Firstly, there is an established market demand for transportation services, ensuring a consistent customer base. Unlike industries prone to fluctuations, the need for transportation remains stable, reducing the risk of market unpredictability. Secondly, transportation businesses often have scalability potential. As the business expands, it can increase its fleet, hire more drivers, and diversify its service offerings. This adaptability allows for growth and mitigates risks associated with limited expansion opportunities.
Additionally, the costs and risks associated with starting a transportation business are typically manageable. Initial expenses include vehicle acquisition or leasing, obtaining licenses and permits, and establishing operational infrastructure. By properly addressing risks through insurance coverage and regular vehicle maintenance, potential setbacks can be minimized. Furthermore, governments often provide support and incentives for small businesses, including those in the transportation sector. These can include grants, low-interest loans, tax breaks, and training programs, further reducing the financial risks involved.
While starting a transportation business carries lower risks compared to some other industries, it is important to acknowledge that inherent risks remain, such as regulatory compliance, market competition, and economic fluctuations. Thorough research, a comprehensive business plan, and stay informed about industry trends and best practices are essential to increase the likelihood of success. Additionally, identifying the best transportation business idea that aligns with your skills, resources, and market demand can significantly contribute to your chances of building a thriving enterprise. By carefully evaluating different opportunities and selecting the most promising concept, you can set yourself up for success in the dynamic transportation industry.
Best transportation business ideas for vans
---
More like what business you cant start, most people don't realize that owning a reliable and strong cargo van is money money money, if you own a van and it's just sitting collecting dust or just using it for personal use you just might be missing out on an extra $75,000 a year, believe it or not, a cargo van value doesn't go down I saw a cargo van that's 2007 with 100k miles for around 19k its 2022! With that being said, you should start rolling up your sleeves because you are about to clean out that van after you read this.... below are some of my van transportation business ideas…
Amazon Flex: With the rapid expansion of Amazon, the "Amazon Flex" program presents a lucrative opportunity for van owners. By signing up as a subcontractor, you can use your vehicle to deliver Amazon products to homes and businesses. To qualify, you'll need to pass a background check and have a clean driving license. The best part is that you can set your own schedule, providing flexibility and control over your working hours. The size of your vehicle will determine the number of packages you can transport, so having a car, van, or box truck offers different capacity options.
Junk Removal: The junk removal business is thriving, as evident from the increasing number of ads in this sector. You can capitalize on this demand by offering junk removal services, and hauling away unwanted furniture, old equipment, and other items from homes or businesses. While some debris may be manageable on your own, certain items may require assistance. Having a helper or team will enable you to handle heavier loads efficiently. A cargo van or box truck is typically suitable for this type of service.
Moving Services: Moving is a constant need for people, whether it's relocating from one apartment to another or transferring offices. Offering moving services can be a highly profitable venture. If you utilized your van during the COVID-19 pandemic, you likely witnessed the demand surge. By providing excellent service, you can establish a strong reputation and benefit from word-of-mouth referrals. Advertising your services through a few monthly ads on platforms like Google and social media can further expand your reach. A medium-sized box truck or sprinter will accommodate the necessary space for furniture and belongings during moves.
Mobile Delivery Services: The rise of online shopping and food delivery has created a demand for mobile delivery services. You can partner with local businesses, restaurants, or grocery stores to provide efficient and reliable delivery of products to customers' doorsteps. Offering same-day or on-demand delivery can give you a competitive edge. A cargo van or smaller vehicle can be suitable for this type of service, depending on the size and volume of deliveries.
Specialty Courier Services: Consider offering specialized courier services that cater to specific industries or niches. For example, medical courier services involve the transportation of medical supplies, specimens, or sensitive equipment. Similarly, courier services for fragile or high-value items, such as artwork or antiques, require careful handling and secure transport. Identifying and targeting niche markets can lead to higher rates and loyal clients.
Shuttle or Transportation Service: If you live in an area with high tourism or need transportation services, starting a shuttle or transportation service can be lucrative. Whether it's airport transfers, hotel shuttles, or event transportation, offering reliable and comfortable transportation can attract both locals and tourists. Consider partnering with hotels, travel agencies, or event organizers to secure contracts and enhance your customer base.
Remember, regardless of the van transportation business you choose, it's crucial to prioritize excellent customer service, reliability, and efficient operations. Building a strong reputation through positive customer experiences will contribute to the success and growth of your venture.
Best transportation business ideas for vans
---
If you have a van but don't have time for it, whatever you do, try not to sell or allow it to collect dust. Selling is always a bad idea, especially when it comes to cargo vans or even box trucks. Instead, consider exploring the best transportation business ideas that can help you generate income from your van without having to drive it yourself. With smart technology and innovative thinking, there are several options available to maximize the potential of your van.
One of the best transportation business ideas is to rent out your van. By utilizing platforms or services that connect van owners with individuals or businesses in need of temporary transportation solutions, you can earn passive income from your van. Additionally, you can consider hiring someone to operate your van on your behalf, taking care of deliveries or other transportation services. This way, you can still benefit from your van's potential without having to personally invest time and effort into its operation.
While you may not see the immediate use of your van, others recognize its value. It's important to realize that selling your van now may not be the best option, especially considering that second-hand dealers often offer the least amount of money. Instead, explore the various best transportation business ideas available and find a way to leverage your van's potential to generate income and maximize its value in the long run.
Fluid.com: Fluid provides a platform that enables you to rent out your cargo van effortlessly. Setting up an account is simple, and you can install a lockbox for remote access. You have the flexibility to determine the availability of your vehicle for rent on specific days and times. This innovative transportation business idea allows you to keep your day job while your cargo van generates income for you.
Home Depot Deliveries: Although this service is not directly affiliated with Home Depot, you can capitalize on the opportunity by offering delivery services to Home Depot shoppers. Many customers end up purchasing items that are too large to transport themselves and require delivery. By having a cargo or box truck, you can hire someone to position themselves near the Home Depot parking lot and distribute business cards to potential customers. Just a few deliveries per day can easily generate $300 in daily income.
Vehicle Advertising: Transform your van into a moving billboard and earn passive income through vehicle advertising. Similar to digital billboards, you can offer advertising space on the exterior of your van. Advertisers pay either by the mile or by the day for their ads to be displayed on your vehicle. While the initial setup costs may be higher, it can be a long-term investment that generates ongoing passive income.
Mobile Storage Solutions: Convert your van into a mobile storage unit and provide on-demand storage solutions to customers. This can be particularly beneficial in areas with limited storage facilities or during peak seasons when people need temporary storage options. Customers can rent space in your van to store their belongings, and you can offer flexible pickup and drop-off services based on their needs.
Event Rental Services: If your van is equipped with certain amenities or features, you can offer it as a rental for special events. For example, if you have a van with seating capacity and entertainment options, you can rent it out for parties, weddings, or other gatherings. This allows you to generate income while someone else enjoys the van for their event.
Remember to establish clear agreements and contracts when partnering with drivers or renters to ensure a smooth operation and protect your assets. Conduct proper background checks and ensure adequate insurance coverage for your van to minimize potential risks. These owner-absentee transportation ideas offer opportunities for passive income generation while maximizing the potential of your van.
Transportation business ideas for cars
---
Transportation out of a car? The answer is simple: yes, owning anything with wheels can generate income for you today. You don't necessarily need a fancy truck or van to start a transportation business; you can even do it on rollerblades if you wish. However, the key question is, what are some low-cost transportation ideas that can make you money?
Uber Eats: Uber Eats is a popular platform that facilitates food delivery to homes and businesses. With new services being added regularly, you have more opportunities to generate income. Uber Eats has expanded its offerings to include wine delivery and grocery delivery, providing additional avenues for potential earnings.
Vehicle needed: Bicycle, scooter, or car.
Grubhub: Similar to Uber Eats, Grubhub is widely used across the nation and offers food delivery services. You can turn this into a full-time or part-time endeavor and earn money. It serves as a great low-cost transportation idea to get started in the food delivery business.
Vehicle needed: Bicycle, scooter, or car.
Getir.com: Getir is a relatively new service that has gained popularity as a hot business concept. Their strategy involves delivering groceries to users within minutes. They operate small storefronts stocked with inventory so that when a user places an order through the app, it can be quickly transported using bikes or other vehicles.
Vehicle needed: Bicycle, scooter, or car.
Bicycle Messenger: Bicycle messengers are still in demand, particularly in busy cities like Manhattan. They transport items ranging from letters to lightweight packages. You can either start your own business and offer your services directly or work for a busy agency and receive payment for your deliveries. On average, bicycle messengers make anywhere from $20,000 to $35,000 per year.
Vehicle needed: Bicycle.
Supermarket Catalogs: Supermarkets often seek individuals with vans or bikes to distribute their weekly sale catalogs to homes within a certain radius of their stores. You can approach local supermarkets and inquire about their current rates. If your proposed rate is more competitive, they may choose to utilize your services. This low-cost transportation business idea can be an ideal option for generating income.
Vehicle needed: Bike or car.
Always conduct proper research, consider local regulations, and ensure that you have the necessary insurance coverage to protect yourself and your business. These car transportation business ideas provide opportunities to leverage your vehicle and turn it into a profitable venture.
Transportation business ideas for Box trucks
---
If you own a box truck, you're sitting on a valuable asset that can be transformed into a lucrative transportation business. With the versatility and capacity of a box truck, there are numerous opportunities to generate income and provide valuable services to individuals and businesses. Whether you're looking to start a new venture or expand your existing operations, exploring these box truck transportation ideas can help you tap into a profitable market and maximize the potential of your vehicle.
20 New Ideas for Box Truck Transportation Business:
1. Furniture Delivery and Assembly: Transport and assemble furniture for residential and commercial clients.
2. Expedited Freight Services: Provide fast and time-sensitive delivery of goods and packages.
3. Food Truck Supplies: Transport fresh ingredients, supplies, and equipment to food truck operators.
4. Mobile Retail Store: Convert your box truck into a mobile retail space for selling products.
5. Event Equipment Rental: Offer delivery and pickup services for event equipment like tents, chairs, and stages.
6. Appliance Delivery and Installation: Deliver and install household appliances for retailers and customers.
7. Mattress Delivery: Specialize in delivering mattresses from manufacturers to retailers or customers' homes.
8. Construction Material Transport: Haul construction materials to job sites for contractors and builders.
9. Pet Transportation: Provide safe and comfortable transportation services for pets, including vet visits or relocation.
10. Mobile Workshop: Set up a mobile workshop offering on-site repairs or services for various industries.
11. Package and Parcel Delivery: Partner with local businesses or courier services for package delivery.
12. Floral and Plant Delivery: Transport flowers and plants for florists, nurseries, and garden centers.
13. Document Shredding and Disposal: Offer secure document shredding and disposal services for businesses.
14. Medical Equipment Transport: Safely transport medical equipment and supplies for healthcare providers.
15. Art and Antique Transport: Handle specialized transportation of valuable artwork and antiques.
16. Moving Labor Services: Provide professional movers and laborers for residential or commercial moves.
17. Mobile Recycling Collection: Collect recyclable materials from residential areas or businesses for recycling centers.
18. Equipment Rental Delivery: Transport rental equipment, such as tools or machinery, to job sites or customers.
19. Mobile Laundry and Dry Cleaning: Offer pick-up and drop-off laundry and dry cleaning services.
20. Mobile Gym or Fitness Studio: Convert your box truck into a mobile gym or fitness studio, offering on-the-go workouts and classes.
Remember to conduct thorough market research and adapt these ideas to suit your local area and target audience.
Conclusion: Embarking on a transportation business is an exciting and accessible opportunity with the potential for success. Whether you decide to start from scratch or acquire an existing business, there are plenty of transportation business ideas to consider. Investing a modest amount, around $500, can be enough to get started in this industry.
For those looking for a head start, purchasing an established transportation business can provide valuable assets like customer contracts and existing vehicles. This can give you a competitive edge and accelerate your progress. However, regardless of the path you choose, delivering exceptional service and continually expanding your operations are key factors for long-term success.
By staying informed about industry trends and best practices, conducting thorough research, and developing a comprehensive business plan, you can increase your chances of achieving your goals. Remember, starting a transportation business requires dedication, hard work, and a commitment to meeting customer needs.
I hope some of my best transportation business ideas in this article have provided you with valuable insights and innovative ideas to kickstart your journey in the trucking industry. Best of luck as you embark on this exciting venture!
---
---
---
Disclaimer: The information provided in this article is for general informational purposes only and should not be considered legal advice. The laws and regulations regarding business licenses may vary from state to state and are subject to change. It is important to contact your local state office to determine which licenses are required for any specific businesses. Additionally, please note that this article contains affiliate links and we may earn a commission from our affiliate partners or Amazon links. If you are considering starting a business, it is recommended that you seek the advice of a qualified lawyer, business broker, or professional in your area. The information provided in this article is not a substitute for professional advice and should not be relied upon as such.