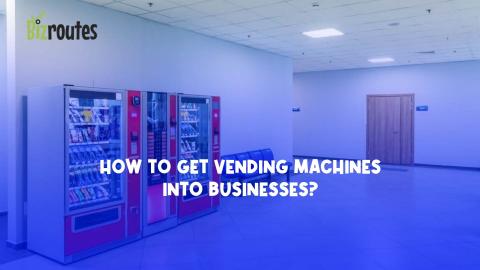 How to get vending machines into businesses -2023 Edition
---
Introduction: What is all the buzz about vending machines?
Vending machines have been around since the 1880's why is everyone interested in trying to make money with them now or even considering to buy vending machine routes for sale?... That is a question I received a couple of months ago from an old friend of mine, The answer is simple covid literally changed everything, it showed people that a mask can only cover your mouth not your eyes! people had to start making decisions either stay home and wait for their employer to call them back or get up and find a hustle asap so that is exactly what happened… people started researching and looking for opportunities to make an income because there was a possibility that they may not be able to return to their jobs anytime soon.
Lets break down what are vending machines and why is there a high demand on them.
Are vending machines profitable? yes, very and a lot changed from the 1800 vending machines to the ones they make now , Today's vending machines are more technologically advanced than ever before with the addition of touchscreen panels that allow consumers to browse products without the need to press buttons or use cash or coins.
In this article, I will lay out how to start a vending machine business, what are the Best money-making vending machines and finally how to get vending machines into businesses the easy way!
_______________
How to start a vending machine business with so much competition:
How to stand out from the crowd? Before you go investing thousand's of dollars in vending machines you should first see if you can at least get 2 locations from anyone you know, this can be from a close relative that owns a laundromat or a friend you knew from high school that may happen to work at a hotel and even ask old co-workers that might know someone that knows someone who works at urgent care, dentist etcetc… if they pull in a favor and get you the A-OK to place a vending machine then you definitely have potential to expand.
Vending machine businesses don't require much to start and the best part is you can grow this business by taking baby steps, simply build your empire one vending machine at a time or you can just buy an established vending machine route that is the faster alternative, i left link above…
But vack to the topic …Focus on vending machines that have higher profit margins and are wanted by businesses, here are 5 money-making vending machines…
1. Beverage vending machines:
These machines can be a little expensive but they are worth every penny invested, the average beverage vending machine can run you $1,500 to $2,000
2. Snack vending machines:
These machines are loved by many establishments as they are convenient and simple to maintain, this snack vending machine can run you about $3,500- $5,000
3. Atm machines:
ATM machines for sale go for $2,400 to $4,000 but with the right location, you can make a Return on your investment in no time.
4. Toy vending machines:
Small investment with a large return, a toy vending machine can run you $400 and you can make $20-$50 a month at the right location sounds to little for you? What if you had 100 of these machines setup in a route? This can end up being one of the best routes to own!
5. Punch vending machines:
Huff and puff! Punch that bag and impress your loved ones, these machines are trending and people love them, this is an investment that will set you 6 thousand!
All these money-making vending machines but how do get vending machines into businesses!!!
---
Finding locations for vending machines:
Are you still with me?? Keep reading …Before you start looking at how to get vending machines into businesses you need to focus first on finding the best places for vending machines , what is the point of having a vending machine in a business that won't generate any revenue?
The location of a vending machine is very important. It needs to be in an area where there will be a lot of foot traffic, and it should also be near the entrance of the building or waiting lobby, Vending machines are generally placed in high-traffic areas where people will often pass by them, such as entrances to buildings or on busy streets.
Some Ideas and places to focus on before reaching out to the business!
Foot traffic : The first thing to consider when you are picking locations for your vending machines is the foot traffic. The busiest locations will be those that have a lot of people coming in and out such as office buildings, schools, train stations, etc.
No close by stores : Not that many businesses close to you, if a business is a next door they will rather go there and have more options
Places with wait time : Dmv, government agencys and other long wait time places are considered one of the best locations for vending machines.
Clinics : Clinics are a ideal place as parents bring thier kids with them, rather then miss their appointment by stepping outside to grab a snack, a vending machine in the lobby will be beneficial.
Schools: Some public and private schools allow vending machines in hallways, these can come in handy for teachers , custodians and even students.
Bars, clubs, and delis: These make a great location for atm machines , some clubs charge a fee up to $6.00 a transaction!
Busy Supermarkets: Supermarkts have long lines and are great for toy and gumball vending machines
Malls and big box retailers : Getting in here may cost you a monthly rent fee but if you have the right location inside then the rent shouldnt be a issue.
Nursing homes - With visitors in and out the place , a vending machine in here is a great pick, as some family members stay for 2, 3 and even up to 5 hours per visit with their loved ones … they are bound to crave a snack inside.
No competition -The first thing to consider is whether there are other vending machines in the area. If there are competing machines, it's best to find an area with no other vending machines so that you can be the only provider in that area. This will help your company grow and prosper.
---



We have finally arrived… how to get vending machines into businesses…
So as you read above there is alot more that comes before figuring out how to more business for your vending machines, getting vending machines is not an easy task, you will have many refusals then approvals but never the less that shouldn't stop you from keep trying to grow your vending machine business empire I asked some vending machine business owners how they got their vending machines inside locations and here are their answers, now before you read these may or may not work in your favor…
I offer them a small business loan that they may need to buy new fridges or inventory
Buying your way in: I asked someone who owns an Atm machine route, we discussed how business ie going and he said great, when asked how is acquiring vending machine locations, his answer was …I offer them a small business loan that they may need to buy new fridges or inventory for the place in exchange for placing my ATM machine inside their store, ( me ) what if they dont pay you back? ( him ) They dont have to because I deduct the loan payments directy from their ATM rebates they receive monthly… Genius!
____________
Calling in a favor: Getting locations like hotels or motels may seem like a far stretch, , why even try, they may reject me right away, but not in this case…A vending machine owner told me has a vending machine inside of a hotel, I was surprised how did you land that. My sister-in-law is the manager of the place…She got me in… Simple yet smart!
____________
Exchange of service: When bitcoin just started to become a thing, companies rolled out bitcoin atm machines where you can buy and sell Bitcoin easily from these machines, alot of customers were skeptical as far as placing these big machines inside there establishments, but with a little exchange of services from the vendor they might just happen to squeeze your machine in somewhere… explain more i said.
"we first check if the locations if its a right pick, then depending on the type of business , we check to see what kind of services we can offer them at no cost for allowing us to place the bitcoin vending machine, now if we cant actually do the service we hire a sub-contractor and we handle the fee, here are just some examples of services you can offer based on the business where you want the vending machine"Here are some ideas... ​
​​​
Once a month free grease trap cleaning
Free Menu boards design
Create them a free website
Create them menu's
Free window cleaning services once a month
____________
Split the profit: If you have a vending machine idea that you know will generate good margins, then it wouldnt hurt to break a piece of the pie to the business owner allowing you to place the machine, i asked how much do you consider fair ? the reply was depending on the location it can be a even spilt of 50/50… that is if it's a busy location and if it is a slower foot traffic area you can make it 25/ 75 the higher margin is for the vending machine owner of course…Makes sense to me!
____________
Getting them customers : Clinics, nursing homes or many other establishments that just opened are always looking for referral clients, making a exchange to place your vending machine inside one of these and you will bring in a certain amount of business may work, not only work but may open more opportunities for you as well!
____________

Promoting them: This is not really a vending machine but is in the same field…credit card terminal businesses but the idea of how they got these machines into businesses was amazing so i had to share it with my wonderful readers….This vendor was a person of all trades and a true definition of a hustler, always thinking how to expand in all ways, he was well known in the city from businesses and had a large following, in exchange of bringing his credit card terminal into their business he would promote the person's business in all his platforms at no charge, imagine starting a small personal training business and if you know when it comes to promoting a business it can cost you a fortune…I love this idea!

____________
Gift: The old fashion way may still work, when trying to get vending machines into businesses and you dont see your see yourself do any of the above, walking into the meeting with the establishment bearing a gift may not close the deal but it may help seal deal with your sales pitch…with that being said make sure that sales pitch is amazing.
---



Conclusion: Choosing, Finding and getting businesses for your vending machines
Summary of vending machines -
Vending machines are a great way to provide convenience for people who are in a hurry or need to grab something on the go. The benefits of getting vending machines into busy locations include:
- They reduce the need for people to wait in long lines for a product
- They provide products at times when there is not enough staff available
- They have an extended operating hours as they don't require any staff members
- Vending machines can be programmed to sell specific products that are popular at different times of the day
Summary of how ot find the best locations to place venfing machines-
The next factor that goes into determining where to place a vending machine is how much foot traffic there is in the area. People who live in an area with high foot traffic are more likely to walk by and purchase something from a nearby vending machine than people who live in an area with low foot traffic. Another important factor that goes into deciding where to place a vendingmachine is whether or not there's another vendor selling similar products
Summary on how to get vending machines into businesses-
When it comes down to getting your vending machines into businesses, sometimes a friendly gesture or even proven statistics of why that machine may help there business just wont cut it, i mean you could literally tell them this vending machine can bring attract more customers and make you x amount of dollars a month and they will still say no, which is there right to at the end of the day and this is not because they dont think they need it but it can come down to other factors like no space, worried about the electricity bill, worried about dealing with money being jammed inside machines and a customer of thiers getting mad at business owner…These are just some of th e many reason they may say no, so never take a No personal when it comes to business… i really hoped you enjoyed this article and it give's you some new ideas on how you could get your vending machines into more businesses… Dont forget to share!
---
To the best of our knowledge, the information provided on this website is not intended to be taken as professional financial advice. Consult a professional financial expert, business broker or tax expert if you require this advice.