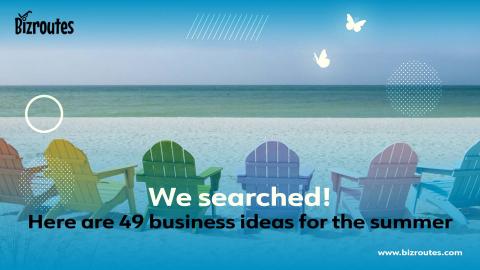 Summer is a season filled with abundant opportunities for entrepreneurs to embark on ventures that can not only bring in a steady stream of cash but also provide an enjoyable and rewarding experience. As the temperatures rise, so does the desire for people to venture outdoors, indulge in vacations, and explore new destinations. This surge in outdoor activities and travel creates a thriving market for businesses that cater to the needs and desires of summer enthusiasts.
If you have the time, energy, and modest investment, you'll want to explore these 8 summer business ideas below, each offering a unique potential for success. By capitalizing on seasonal trends and harnessing the spirit of summer, you can establish a profitable venture that not only caters to the demands of the market but also allows you to make the most of the vibrant summer atmosphere.
What are the benefits of having a summer side hustle?
---
Having a summer side hustle offers a range of benefits that can enhance your financial situation, personal growth, and professional prospects. One of the key advantages is the flexibility it provides. Summer is a season when many people have more free time, and a side hustle allows you to take advantage of this by working on your own terms. Whether it's evenings, weekends, or specific times during the week, you can choose the hours and days that suit you best. This flexibility enables you to maintain a work-life balance while earning extra income to support your financial goals. You can use the additional money you make from your side hustle to pay off debts, save for a vacation, or even invest in your long-term aspirations.
Engaging in a summer side hustle also presents an opportunity to diversify your skills and gain valuable experience. With a side hustle, you can explore new industries, learn different aspects of business management, and develop a wide range of transferable skills. For instance, if you choose to start a mobile food truck, you'll not only learn about food preparation and customer service, but also gain insights into marketing, logistics, and financial management. This diversified skill set can enhance your resume and make you more marketable in various professional settings. Additionally, the experience you gain through your side hustle can help you identify your strengths and interests, providing clarity for future career paths or entrepreneurial endeavors.
Another benefit of a summer side hustle is the opportunity to test business ideas and expand your professional network. By engaging in a side hustle, you can experiment with different products, services, or business models to see what resonates with customers. This trial-and-error process provides valuable feedback and insights that can inform future entrepreneurial endeavors. Moreover, a side hustle often involves interacting with customers, suppliers, and other entrepreneurs. This networking opportunity can lead to valuable connections, partnerships, and mentorship, which can further benefit your professional growth and future business ventures. By combining the experience gained from your side hustle with the connections made along the way, you'll be better equipped to seize opportunities and navigate the ever-changing business landscape.


49 summer business ideas for anyone to start or buy
---
1. A Mobile ice cream truck or cart: Delight customers with delicious frozen treats as you drive around neighborhoods and attend events, spreading joy and nostalgia on hot summer days.
2. Beach equipment rental (beach chairs, umbrellas, water sports gear): Provide convenience and comfort to beachgoers by renting out beach essentials, ensuring they have everything they need for a fun day in the sun.
3. Outdoor fitness classes or boot camps: Help individuals achieve their fitness goals while enjoying the fresh air and scenic views of parks and outdoor spaces, making workouts more enjoyable and refreshing.
4. Stand-up paddleboard or kayak rental: Offer the opportunity for customers to explore and navigate local bodies of water, providing them with equipment and guidance for an exciting aquatic adventure.
5. Mobile smoothie or juice bar: Serve refreshing and healthy beverages made from fresh fruits and vegetables, bringing a portable oasis of nutrition and hydration to parks, beaches, and outdoor events.
6. Propane Delivery Service: Start a propane delivery service that brings convenience and peace of mind to residential and commercial customers. Provide prompt and reliable delivery of propane tanks or refills directly to customers' homes, businesses, or recreational vehicles, ensuring they always have an adequate supply of propane for grills, heating systems, generators, and more. With a focus on exceptional customer service and timely deliveries, your propane delivery service can become a trusted provider in the community, catering to the needs of those who rely on propane for various purposes.
7. Outdoor yoga or meditation classes: Create a tranquil and serene environment for yoga and meditation enthusiasts to practice their mindfulness techniques, fostering a deeper connection with nature and inner peace.
8. Balloon Service: Start a balloon service that brings joy, creativity, and a touch of whimsy to various events and celebrations. Offer balloon decor and arrangements for parties, weddings, corporate events, and special occasions, using colorful balloons to transform venues into enchanting spaces. Additionally, provide balloon delivery services, surprising recipients with delightful balloon bouquets for birthdays, anniversaries, or other milestones. Whether it's balloon arches, centerpieces, or custom sculptures, your balloon service can add an element of fun and visual appeal to any event, leaving a lasting impression on clients and guests.
9. Surfing or paddleboarding lessons: Teach beginners the art of riding waves or gliding across serene waters, sharing your passion for these water sports and enabling others to experience the thrill of the ocean.
10. Outdoor adventure tours (hiking, biking, zip-lining): Lead guided tours through breathtaking natural landscapes, offering thrilling experiences and educational insights into the local flora, fauna, and geology.
11. Outdoor painting or art classes: Inspire creativity and artistic expression in aspiring painters by conducting outdoor art classes, allowing them to capture the beauty of nature through their artwork.
12. Mobile pet grooming services at parks or beaches: Provide convenient grooming and pampering services for pets in outdoor locations, saving pet owners time and effort while ensuring their furry friends look and feel their best.
13. Outdoor photography workshops or tours: Share your photography expertise by organizing workshops or tours that help photography enthusiasts capture stunning images of landscapes, wildlife, or special moments in outdoor settings.
14. Beach or poolside massage services: Create a serene oasis at the beach or pool by offering relaxing massage services that allow people to unwind, destress, and indulge in the ultimate summer relaxation.
15. Mobile car wash and detailing services: Bring convenience to car owners by offering mobile car wash and detailing services, keeping their vehicles spotless and shining without them having to leave the comfort of their homes.
16. Outdoor movie nights (renting projectors and screens): Create unforgettable outdoor cinema experiences by providing equipment and setup for movie screenings under the stars, allowing people to enjoy classic films or new releases in a unique setting.
17. Bicycle rental and guided tours: Enable locals and tourists to explore the area on two wheels by renting bicycles and offering guided tours, promoting healthy activities and sightseeing in a sustainable manner.
18. Outdoor event planning and coordination: Help individuals and organizations bring their outdoor events to life by offering event planning and coordination services, ensuring seamless execution and memorable experiences.
19. Boat or yacht charter services: Offer luxurious and unforgettable experiences on the water by providing boat or yacht charter services, allowing customers to enjoy sailing, fishing, or simply relaxing amidst stunning aquatic vistas.
20. Outdoor personal chef services for picnics or BBQs: Elevate outdoor dining experiences by offering personal chef services, preparing delectable meals and barbecues in picturesque settings, and allowing clients to savor gourmet food without the hassle.
21. Mobile DJ services for outdoor events and parties: Set the mood and get the party started with a mobile DJ service, providing high-quality music and entertainment for outdoor events, weddings, and celebrations.
22. Ice cream distribution service: Spread joy and delight by offering a reliable ice cream distribution service, supplying local businesses, events, and venues with a wide variety of delicious ice cream flavors and treats, ensuring that everyone can indulge in the sweet pleasures of summer.
23. Outdoor flower or plant nursery: Cultivate and sell vibrant flowers and plants to enhance outdoor spaces, providing customers with the opportunity to beautify their gardens, balconies, and patios.
24. Summer camp or workshop for children (arts, sports, science): Create engaging and enriching experiences for children during the summer by organizing camps or workshops that offer activities such as arts and crafts, sports, or science experiments.
25. Outdoor wedding planning and decoration services: Assist couples in creating their dream outdoor weddings by offering planning and decoration services that bring their vision to life in breathtaking natural settings.
26. Beachside or parkside wedding officiant services: Conduct personalized and intimate wedding ceremonies for couples at picturesque beach or park locations, providing them with meaningful and memorable experiences.
27. Tree cutting and removal service: Provide professional tree cutting and removal services to homeowners, businesses, and municipalities, ensuring safe and efficient removal of trees, trimming of branches, and maintenance of landscapes, contributing to the beauty, safety, and well-being of outdoor spaces during the summer season.
28. Professional power washing service: Restore the beauty and cleanliness of outdoor surfaces with a professional power washing service. Using high-pressure water jets, efficiently remove dirt, grime, mold, and stains from driveways, sidewalks, decks, fences, and other exterior surfaces, rejuvenating and enhancing the appearance of homes and businesses, especially after the effects of rain, snow, or seasonal buildup.
29. Professional window washing service: Ensure clear and pristine views for homes and businesses year-round by offering professional window washing services. Whether it's removing dirt and grime accumulated after rain or snow, or simply maintaining sparkling windows during the summer, provide reliable and meticulous cleaning that enhances the aesthetic appeal and brightness of spaces.
30. Mobile gym services: Bring fitness directly to clients' doorsteps or favorite outdoor locations by offering a mobile gym service. Equipped with state-of-the-art exercise equipment, provide personalized workout sessions, fitness classes, and training programs in the comfort of clients' homes, backyard, or meet them at nearby parks, delivering convenient and effective fitness solutions for individuals seeking to stay active during the summer and beyond.
31. Outdoor scavenger hunts for parties or corporate events: Design and organize exciting scavenger hunts in outdoor locations, providing entertainment and team-building activities for parties, corporate groups, or team outings.
32. Stand-up comedy shows or open mic nights in outdoor venues: Create laughter-filled evenings under the stars by organizing stand-up comedy shows or open mic nights in outdoor settings, providing a unique entertainment experience.
33. Beachside or poolside cocktail and beverage catering: Quench the thirst of beachgoers or poolside loungers by offering cocktail and beverage catering services, ensuring they can indulge in refreshing drinks without leaving their favorite spots.
34. Ice delivery service: Keep customers cool and refreshed by offering a convenient ice delivery service, providing bags or blocks of ice to individuals, businesses, and events, and ensuring they have a steady supply of ice for parties, picnics, camping trips, and other summer activities.
35. Mobile farmers' market or fresh produce delivery: Bring fresh produce and local products directly to customers' doorsteps by operating a mobile farmers' market or offering a delivery service, providing convenience and supporting local agriculture.
36. Mobile DJ services for events and parties: Set the mood and create memorable experiences by offering mobile DJ services for various events, including weddings, birthdays, corporate gatherings, and summer parties, providing high-quality music, entertainment, and a lively atmosphere wherever the celebration takes place.
37. Outdoor fitness equipment rental (bikes, rollerblades, scooters): Promote active lifestyles by renting out outdoor fitness equipment such as bikes, rollerblades, or scooters, enabling people to enjoy recreational activities and explore their surroundings.
38. Outdoor gardening and landscaping services: Help individuals beautify their outdoor spaces by offering gardening and landscaping services, including planting flowers, designing garden layouts, and maintaining lawns, enhancing the overall aesthetics and enjoyment of outdoor areas.
39. Professional home cleaning services: Ensure pristine and well-maintained homes for individuals and families, especially during the summer when many people are out enjoying outdoor activities. With homeowners often away, offer reliable and trustworthy home cleaning services to keep their spaces tidy, dust-free, and fresh. Whether it's regular maintenance cleaning or deep cleaning while they are on vacation, provides peace of mind knowing their homes will be in immaculate condition when they return, allowing them to fully enjoy their summer adventures without worrying about cleaning tasks.
40. Beach wedding photography and videography: Capture the cherished moments of beach weddings by providing professional photography and videography services, preserving memories against the backdrop of stunning coastal scenery.
41. Outdoor sports league organization (soccer, volleyball, softball): Facilitate recreational sports leagues in outdoor settings, creating opportunities for individuals of all skill levels to participate in friendly competitions and stay active during the summer.
42. An outdoor water park or inflatable water slide rental: Bring the excitement of water parks to private events or public gatherings by offering inflatable water slides and other water-based attractions, ensuring unforgettable summer fun for all ages.
43. Beachside or lakeside picnic basket delivery services: Curate and deliver gourmet picnic baskets filled with delicious food and beverages to beachgoers or lakeside visitors, offering a convenient and delightful outdoor dining experience.
44. Outdoor painting or home improvement services: Provide painting, renovation, and home improvement services specifically tailored for outdoor areas, helping homeowners revitalize their patios, decks, fences, and other exterior surfaces.
45. Mobile spray tanning services for beachgoers: Offer mobile spray tanning services at beaches or beachside locations, providing individuals with a sun-kissed glow without the harmful effects of UV rays, perfect for those looking to achieve a summer tan.
46. Mobile mechanic services: Offer convenient automotive repair and maintenance solutions with a mobile mechanic service. With the summer season often leading to increased wear and tear on vehicles due to road trips, heat, and long drives, provide on-site repairs, inspections, and maintenance to keep cars running smoothly. Whether it's attending to overheating issues, air conditioning repairs, or addressing other common summer-related car troubles, bring expertise directly to customers' locations, ensuring their vehicles are in top shape for the summer adventures ahead.
47. Outdoor fitness equipment sales or rentals: Establish a business selling or renting outdoor fitness equipment, such as exercise bikes, ellipticals, or resistance bands, allowing individuals to bring their workout routines outdoors and enjoy the summer weather.
48. Mobile pet sitting or dog walking services for summer vacations: Provide pet sitting or dog walking services specifically designed for summer vacations, ensuring that pets receive care, exercise, and companionship while their owners are away enjoying their holidays.
49. Outdoor adventure photography expeditions: Lead photography expeditions in breathtaking outdoor locations, guiding enthusiasts on hikes and outdoor adventures while teaching them techniques to capture stunning nature photographs.
These summer-friendly business ideas embrace the spirit of the season, catering to the unique experiences and preferences that come with warmer weather and outdoor activities.
In conclusion, the summer season opens up a world of exciting possibilities for budding entrepreneurs and those seeking to make the most of the sunny days and warm nights. From mobile ice cream trucks delighting taste buds to mobile DJs setting the perfect beat for memorable parties, there are endless opportunities to turn the summer hustle into a profitable venture. So grab your sunscreen, embrace the spirit of adventure, and dive into the world of summer business ideas. With a splash of creativity, a dash of enthusiasm, and a sprinkle of hard work, you'll be on your way to a sizzling success story that will make this summer one to remember!
---
---
---

Disclaimer: These summer business ideas are provided for informational purposes only and should not be pursued without obtaining the necessary approvals, and permits, and complying with state regulations. It is crucial to conduct thorough research and seek guidance from legal professionals, such as lawyers or business consultants, to ensure compliance with local laws and regulations specific to your area. The viability and legality of each business idea may vary depending on jurisdiction, licensing requirements, and other factors. We strongly advise consulting with professionals and relevant authorities before embarking on any business venture.