How to Start a Mobile DJ Business in 5 Easy Steps
Introduction: Why Become a Mobile DJ? The Benefits of this Business
Mobile DJs are in high demand, as they provide a service that is not only enjoyable for the guests but also provides a lot of benefits to the business owner. The mobile DJ business is a profitable and rewarding venture. It's also one of the most flexible types of businesses you could ever start because you can work from anywhere worldwide and set your hours. When covid-19 hit, the world changed for the better, businesses started thinking outside the box to find more ways to be creative, and hiring mobile DJs was a defiantly one of them, we will explore more on this business concept below from how a mobile DJ business works to how to start one but first Before we begin, if you haven't already registered, make sure to click on the link above to sign up as a buyer. By doing so, you'll have the advantage of being among the first to receive the latest routes for sale in your area. Don't miss out on this opportunity!
Looking to sell your mobile DJ business?

List it for free on BizRoutes and maximize your chances of finding the ideal buyer! Our platform offers a valuable listing service that helps connect sellers with potential buyers in the industry. Take advantage of this opportunity and increase your visibility in the market.
What is a mobile DJ business?
A mobile DJ business brings music, sound, and lighting to various events, such as weddings, corporate functions, and parties. As the owner, you curate diverse music, provide professional equipment, and coordinate with clients and vendors. Your role is to create a lively atmosphere, engage the audience, and ensure a seamless flow of music throughout the event. By delivering exceptional service, professionalism, and reliability, you can build a successful mobile DJ business that brings joy to clients and their guests.
How do mobile DJs make money?
Mobile DJs generate income through event fees, additional services like lighting and MCing, equipment rental, residency gigs at clubs or bars, referral commissions, and online content and merchandise sales. By setting competitive prices, marketing their services effectively, and delivering exceptional performances, mobile DJs attract clients and generate repeat business. Building a strong reputation and network within the event industry can lead to more opportunities and increased earnings for mobile DJs.
What does a mobile DJ need?
If you're considering starting or buying a mobile DJ business, here are the essential items you'll need to ensure a successful venture. First and foremost, invest in professional DJ equipment including speakers, mixers, turntables or DJ controllers, microphones, and headphones. A diverse and up-to-date music collection spanning various genres and eras is crucial. Additionally, acquire a portable sound system that can be easily transported and set up at different event venues. Enhance the visual experience with lighting equipment such as LED lights, spotlights, and effects. Having a reliable vehicle for equipment transportation is essential. Be prepared with backup equipment in case of technical issues. Obtain comprehensive liability insurance to protect your business. Present a professional image with appropriate attire. Create marketing materials and establish an online presence through a website and social media platforms. Network and collaborate with event planners and venues to expand your client base. Remember, in addition to the equipment, your skills, musical knowledge, crowd-reading abilities, and professionalism are key to success in the mobile DJ business.
5 Steps to Setting Up Your New Mobile DJ Business
The first step is to analyze the market and find out where the company can expand. The next step is to evaluate the business model of the company and make any necessary changes. Prioritize what needs to be done, while keeping in mind that it takes time to build a successful business. After purchasing a mobile DJ business, you need to analyze the market and figure out where you can expand your business. You should also take into account that it takes time for a new business to become successful.
1. Website: Updating the website is always a plus if they have one if they don't you can always use wix.com to create a free website
2. Logo: A logo is a symbol or design that identifies an organization and its products. It can be a word, a phrase, an image, or any combination of these. The logo for the company should be memorable and easily recognizable. The color scheme should also be consistent with the company's branding. A good logo will help to attract customers, increase sales and create brand awareness, you are considering purchasing a mobile DJ business so the logo should identify it without any words.
3. Name: When expanding a business after purchasing one, it is important to have a clear strategy in place. This includes coming up with a new name for the business and identifying what the new company will do differently from the previous one. The process of coming up with a new name for the business can be challenging, but some steps can help you get started. One way is to brainstorm a list of words and phrases that you think would work well as your company's name. Another way is to think about how your company may be different from other companies in its industry and what your customers might want or need from you.
4. Social media accounts: To expand a business after purchasing one, the new owners should become more active on social media. This is because it's a great way to promote their products and services. It also helps them connect with potential customers and build customer loyalty which becomes a great way to promote your mobile DJ business
5. Vehicle branding: One way to expand a business after purchasing one is to buy a new vehicle. When buying a new vehicle, it is important to make sure that you have the right insurance in place. This will help minimize the risks of any potential accidents or damages. Once that is done you can decide or determine If you have the extra budget to bubble wrap your mobile DJ vehicle with your brand, check the equipment if you have all the right DJ equipment.
Conclusion: Can you own a mobile DJ business without being a DJ?
Yes! It is a business that is kind of an owner absentee, becoming a DJ is great but becoming an owner that will do the marketing and find the events while your employees do the fun part, doing this will give you time to promote your new mobile DJ business, buying a mobile DJ business for sale can be a great investment for anyone as long as you have the right DJ in place!
Have time? Check these out!
---
---
Disclaimer: The information provided in this article is for general informational purposes only and should not be considered legal advice. The laws and regulations regarding business licenses may vary from state to state and are subject to change. It is important to contact your local state office to determine which licenses are required for any specific businesses. Additionally, please note that this article contains affiliate links and we may earn a commission from our affiliate partners or Amazon links. If you are considering starting a business, it is recommended that you seek the advice of a qualified lawyer, business broker, or professional in your area. The information provided in this article is not a substitute for professional advice and should not be relied upon as such.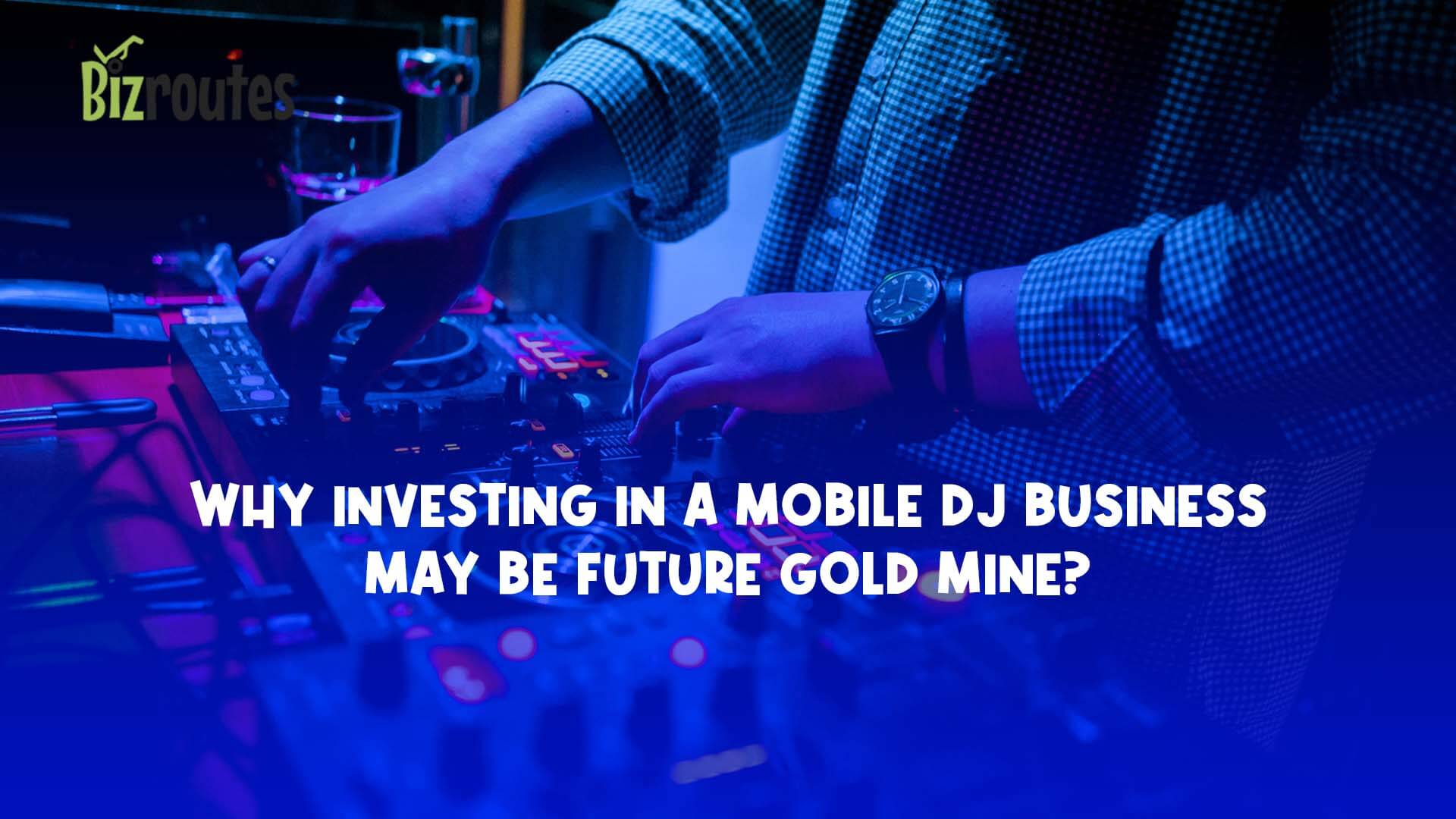 Facts & Questions
Is it better to start or buy a mobile DJ  business for sale?
The decision to start or buy a mobile DJ business depends on individual circumstances and preferences. Starting a business from scratch allows for complete creative control and customization, but it requires significant time, effort, and resources to establish a client base and acquire equipment. Buying a mobile DJ business for sale offers the advantage of acquiring an existing customer base, established reputation, and operational framework. It can provide a faster entry into the market and potentially reduce startup risks. Ultimately, the choice depends on factors such as budget, experience, time availability, and personal business goals.
What is a mobile-based business?
A mobile-based business is one that operates primarily through mobile devices or provides services on the go. It involves using mobile technology and applications to connect with customers, conduct transactions, and deliver products or services. Mobile-based businesses leverage the convenience and accessibility of mobile devices to reach a wider audience and offer flexible and location-independent solutions.
What are routes for sale?
Routes for sale refer to established business routes or territories that are available for purchase. These routes typically involve the distribution or delivery of products or services to a specific set of customers within a designated geographic area. Purchasing a route for sale provides an opportunity to step into an existing business operation with an established customer base, streamlined processes, and proven revenue potential.
How much should a dj charge? 
The fee charged by a DJ can vary depending on factors such as the location, event duration, equipment requirements, and the DJ's experience and reputation. Generally, DJs may charge anywhere from $200 to $2000 or more per event. It's best to discuss specific pricing details with DJs in your area to get an accurate estimate based on your event's unique requirements.