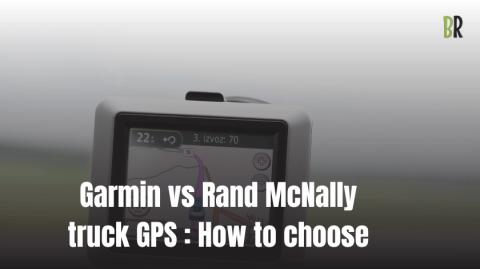 Garmin vs Rand McNally truck GPS : How to choose
No matter how many years of experience you have behind the wheel, trucking is a challenging profession. Constantly navigating new routes and road conditions while ensuring timely deliveries requires the right tools for the job. In this context, we'll explore the choice between Garmin and Rand McNally Truck GPS systems. Many leading food distribution companies invest in GPS routing software to assist their driver's inefficient navigation from point A to point B, especially when delivering perishable goods. Let's examine why a GPS is invaluable and consider essential questions when selecting the ideal truck GPS for maximum efficiency on the road.
Key Questions to Consider when choosing between Garmin and Rand McNally Truck GPS
---
Do I need voice activation?
Voice guidance can be a valuable feature for hands-free operation while driving.
Will I use maps often?
Determine how frequently you rely on maps to navigate unfamiliar routes.
Do I want Bluetooth integration?
Bluetooth connectivity can enhance the functionality of your GPS, allowing for hands-free calling and connectivity with other devices.
What are my budget constraints?
Define your budget to help narrow down your options and find a GPS system that offers the best value for your investment.
Here are some compelling reasons why a truck GPS is essential:
---
GPS systems are more reliable than cell phone apps: Dedicated truck GPS devices provide dependable and accurate navigation, even in remote areas.
Truck GPS devices can be used for other purposes: Many GPS units can also serve as navigation systems in your personal vehicle or boat, adding versatility to your investment.
A truck GPS is cost-effective: Truck GPS devices are installed inside the vehicle, eliminating the need for additional data plan fees, making them a cost-efficient option.
Truck GPS systems have superior maps: These systems come with comprehensive maps that include valuable information such as weigh stations, rest areas, toll booths, and low-clearance bridges.
They offer real-time traffic alerts: Stay updated on traffic conditions and receive notifications about alternate routes to avoid delays.
Live weather updates enhance safety: Truck GPS systems provide live weather updates on your route, helping you plan for adverse conditions like snowstorms and icy roads.
Garmin vs. Rand McNally Truck GPS: Making the Right Choice
---
Operating a trucking company comes with its unique challenges, from managing diverse routes to ensuring driver safety. To streamline operations and improve efficiency, investing in a top-tier truck GPS system is a wise decision. Let's delve into the features of Garmin and Rand McNally Truck GPS systems to help you determine which one suits your needs best.
Garmin dezl OTR700 - 7-inch GPS Truck Navigator
The Garmin dezl OTR700 is a compact yet powerful GPS truck navigator designed to help you reach your destination safely and efficiently. It boasts an easy-to-read touchscreen display, lifetime map updates, preloaded U.S. maps with free lifetime traffic alerts, and a host of other features.
1. This GPS system offers voice guidance with turn-by-turn directions, simplifying route navigation for truckers.
2. Its small size ensures it fits seamlessly on your dashboard without obstructing your view.
3. Custom truck routing is available, allowing for a smooth and secure drive. You can set up alerts for upcoming bridge heights and sharp curves to enhance safety.
4. The integration of the Garmin eLog app with an electronic logging device (ELD) offers a subscription-free solution for recording Hours of Service (HOS).
5. Elog-compliant units enable drivers to record drives, track driving hours, and calculate meals without the need for physical cards or paper receipts, streamlining record-keeping tasks.
The Garmin dezl OTR700 is a top-rated choice on Amazon with a 4.5-star rating. Its screen size options range from 5.5 inches to 10 inches to accommodate different preferences.
Investing in the right truck GPS system is a critical decision for any trucking company. Whether you opt for Garmin or Rand McNally, make sure the chosen system aligns with your specific requirements and budget. Safe and efficient navigation is essential in the trucking industry, and a reliable GPS system can make a significant difference in achieving your goals.
Rand McNally TND 750 7-inch GPS Truck Navigator:
1. The Rand McNally TND 750 is a 7-inch truck navigator designed for professional truck drivers, offering a unique set of features to enhance navigation and efficiency.
2. Easy-to-Read Display: Like the Garmin, the Rand McNally TND 750 features a 7-inch screen for clear and easy-to-read information.
3. Custom Trac Routing: This device also offers custom truck routing, allowing drivers to input specific addresses and waypoints for their routes. This customization ensures precision in route planning.
4. Rand Navigation 2.0: The TND 750 comes with Rand Navigation 2.0, which includes enhanced navigation features, potentially offering unique benefits for truckers.
5. Virtual Dashboard: The device includes a virtual dashboard that allows you to monitor various aspects of your journey, such as fuel logs, mileage, and more, all from one convenient screen.
6. 4-Star Rating: The Rand McNally TND 750 has received a 4-star rating, indicating a high level of satisfaction among users.
7. Visual Appeal: The LCD screen on the TND 750 is known for its visual appeal, making images and route displays visually pleasing and user-friendly.
In summary, both the Garmin dezl OTR700 and the Rand McNally TND 750 offer valuable features for truckers, including easy-to-read displays, custom routing, and real-time traffic information. The choice between the two largely depends on personal preferences, brand loyalty, and the specific features offered by each device. It's essential to carefully consider your needs and budget to determine which GPS system aligns best with your requirements in the trucking industry.
Check out the features on the chart below: Garmin vs Rand McNally Truck GPS
| | | |
| --- | --- | --- |
| Rand McNally TND 500 | Vs | Garmin Dezi OTR 700 |
| Available | On-Board Truck Navigation | Available |
| Yes | ELD Compatible | Yes |
| Yes | Map updates | Yes |
| | Built-in Speaker | Yes |
| USA and Canada | Coverage | Yes |
| 5inches | Screen Size | 6//10/5.5/8 inches |
| | Human Interface Input | Touchscreen |
| LCD | Display Type | 6.95" Super Wide, View IPS, Color TFT. With one cell capacitive touch panel |
| 1 X 5.25 X 3 inches | Item Dimensions L X W X H | 0.75 x 6.97 x 4.17 inches |
| Wireless, Bluetooth, USB | Connectivity Technology | |
| Street, North America | Map Type | North America |
| 1.5 hour | Battery life | 2 Hours |
| | Scanner Resolution | 1024 x 600 Pixels |
| Truck | Vehicle Service Type | Truck |
| 1.78 lb | Assembled Product Weight | 1.2 lb |
| Touch | Control Method | Touch |
| 2 GB | Memory Storage Capacity | 3 GB |
| Per Month | Mileage Tracking | Per IFTA Miles |
| Available | Voice Assistance | Available |
| 4.5 Stars | Rating on Amazon | 5 Stars |
| Around 400 Dollars | Price | Starting from 294 Dollars |
---
---
---
BizRoutes is an online advertising platform featuring route listings and additional services like a business-to-business directory and access to business brokers. Please note that we are not a brokerage firm and do not provide advisory services. The information on our platform is for informational purposes only. While we strive for accuracy, we do not endorse or guarantee the completeness, reliability, or accuracy of the content or listings. Users should exercise judgment and due diligence in business transactions or when working with brokers on our platform. We are not affiliated with Wrapify or any mentioned platform or service. BizRoutes is not liable for decisions, actions, or outcomes arising from platform use. We recommend seeking professional advice, conducting research, and using caution in business dealings. Platform content may change, and we can modify or remove it without notice. Your use of BizRoutes signifies agreement to these terms and acknowledgment that any reliance on our platform's information is at your own risk.
For questions or concerns about this disclaimer or our services, please contact us.