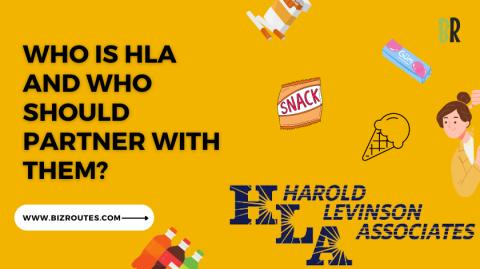 Who are Hla distributors and what do they offer?
If you've ever owned or worked in a convenience store, chances are you've come across HLA Distributors or Harold Levinson Associates. They're the unsung heroes behind the well-stocked shelves, the neatly arranged displays, and the enticing deals that keep customers coming back for more. For those who haven't yet had the pleasure, it's time to discover what HLA can do for your business. From unbeatable deals to captivating trade shows, HLA Distributors is a game-changer in the world of convenience stores.
A Brief History:
Harold Levinson Associates, affectionately known as HLA, was founded in 1977. This family-owned business has spent decades perfecting the art of distributing convenience store essentials. Their journey began with a modest vision - to provide top-quality products and unparalleled service to convenience store owners across the United States. Today, HLA Distributors stands as a testament to their commitment to this vision.
What states do harold levinson associates serve?
---
HLA Distributors currently caters to convenience store owners in a wide range of states across the U.S. These states include but are not limited to:
---
New Hampshire • Vermont • Maine • Massachusetts • Rhode Island • Connecticut • New York • New Jersey • Pennsylvania • Maryland • Delaware • D.C • Virginia • Florida
---
Their expansive service area ensures that convenience store owners from coast to coast can benefit from their exceptional offerings.
What do HLA Distributors Offer?
---
Product Variety: HLA Distributors boasts an extensive catalog that includes snacks, beverages, tobacco products, and much more. They stock everything you need to keep your store shelves brimming with options.
Competitive Pricing: One of HLA's standout features is its commitment to offering competitive prices. They understand the importance of maintaining healthy profit margins, and their pricing structure reflects that.
Trade Shows: HLA regularly hosts trade shows, bringing together convenience store owners and suppliers under one roof. These events are not just about products; they are about forging connections, discovering industry trends, and gaining insights to help your business thrive.
Reliable Delivery: Timely delivery is crucial for convenience store owners, and HLA Distributors takes this responsibility seriously. Their efficient delivery system ensures you receive your orders when you need them.
Their Customer Base:
---
HLA Distributors caters to a diverse customer base, including:
Convenience Store Owners: The lifeblood of their business, HLA serves the needs of convenience store owners, both large and small.
Gas Stations: Gas stations often include convenience stores, and HLA is well-equipped to supply them with fuel station essentials.
Grocery Stores: HLA's expansive product range extends to grocery stores, making them a go-to distributor for various retail businesses.
Who Qualifies to Partner with HLA Distributors?
---
Partnering with HLA Distributors is a strategic move that can significantly enhance your business's success in the convenience store industry. However, not every business may be the perfect fit for this partnership. Here's a section on who qualifies to partner with HLA Distributors:
Convenience Store Owners and Operators: If you're a convenience store owner or operator, you're a prime candidate for partnering with HLA. Whether you run a single neighborhood shop or a chain of stores, HLA can tailor their services to meet your specific needs.
Gas Station Owners: Many gas stations include convenience stores as part of their operations. HLA Distributors can supply these stores with a wide range of products, ensuring that your customers have access to snacks, beverages, and other essentials while refueling.
Grocery Store Owners: Grocery stores often have a convenience section, and HLA Distributors' extensive product range can benefit these businesses. Partnering with HLA can help grocery stores maintain a well-stocked convenience section to attract more customers.
Retail Businesses: Retailers looking to expand their product offerings can also benefit from partnering with HLA. Their diverse catalog includes items that can enhance the product offerings of various retail businesses.
New Entrants: If you're new to the convenience store industry, HLA Distributors can be an invaluable partner. They offer insights, support, and access to a vast network of suppliers, making your entry into the market smoother and more successful.
Businesses Seeking Cost Savings: HLA's competitive pricing structure makes them an attractive option for businesses looking to reduce costs while maintaining product quality. If you want to improve your bottom line, HLA is worth considering.
Businesses Focused on Customer Satisfaction: If your business places a high value on customer satisfaction, HLA Distributors aligns perfectly with your goals. Their commitment to reliable deliveries and quality products helps ensure your customers keep coming back.
Entrepreneurs with a Vision: If you have a vision for a new retail venture or a unique convenience store concept, partnering with HLA can turn your dreams into reality. They offer the products and support needed to bring your vision to life.
Those Seeking Industry Insights: HLA's trade shows and industry events are not limited to their existing partners. If you're looking to gain insights into the convenience store industry, attending these events as a potential partner is an excellent way to do so.
Why You Should Partner with HLA Distributors:
---
If you're a convenience store owner or operator, partnering with HLA Distributors can be a game-changing decision. Their commitment to excellence, competitive pricing, and dedication to customer satisfaction make them the perfect ally in your journey to retail success. By joining hands with HLA, you gain:
Access to Quality Products: HLA provides access to an extensive array of high-quality products, ensuring your store remains well-stocked and appealing to customers.
Cost Savings: Their competitive pricing allows you to maintain healthy profit margins, even in a competitive market.
Industry Insights: HLA's trade shows and industry events provide valuable insights into the convenience store business, helping you stay ahead of the curve.
Reliability: Their reliable delivery service ensures that your store consistently meets customer demand.
In the ever-evolving world of convenience stores, HLA Distributors, or Harold Levision Associates, shines as a beacon of excellence. With a rich history of service, a vast service area, a diverse product catalog, and a commitment to customer satisfaction, HLA is the partner every convenience store owner dreams of having. So, whether you've been in the business for years or are just starting, it's time to make HLA Distributors your trusted ally. Join forces with HLA and watch your convenience store flourish like never before.
---
---
---
Disclaimer: The information provided in this article is for general informational purposes only and should not be considered legal advice. The laws and regulations regarding business licenses may vary from state to state and are subject to change. It is important to contact your local state office to determine which licenses are required for any specific businesses. Additionally, please note that this article contains affiliate links and we may earn a commission from our affiliate partners or Amazon links. If you are considering starting a business, it is recommended that you seek the advice of a qualified lawyer, business broker, or professional in your area. The information provided in this article is not a substitute for professional advice and should not be relied upon as such.