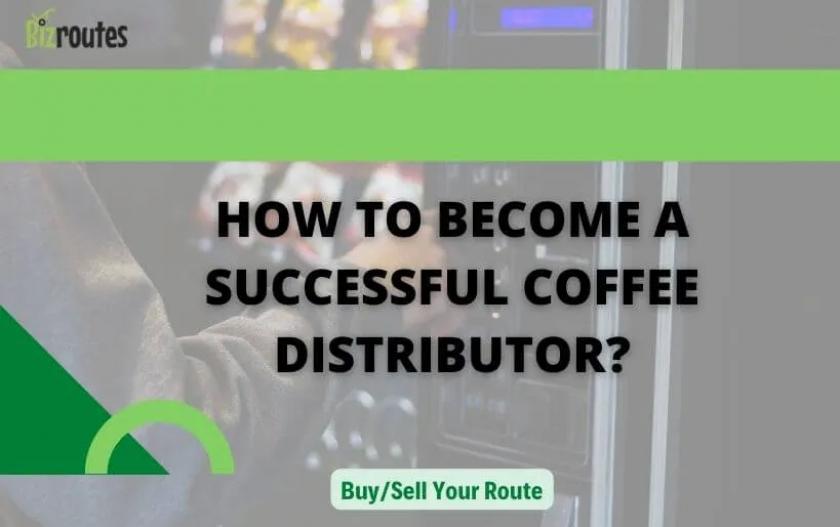 Everthing you need to know to become a coffee distributor
So you In the market for a new business venture, Why not consider starting your own coffee route? and how to become a coffee distributor?This business is perfect for those who love coffee and want to be their own boss. Most coffee distributors love what they do its simple, engaging, and easy to run it consists of 4 simple steps, finding a coffee vendor, finding a coffee vending machines wholesaler, finding customers, and finally managing them, you can be your own boss work 4 days a week and the other 3 days you can focus on figuring how to build your coffee distribution business bigger. Let's talk about some facts about coffee for a sec!
Do you start your day with a steaming hot cup of coffee? Whether you're a regular at the local café or make your own at home, you're certainly not alone. America's love affair with coffee is well documented; we drink an estimated 400 million cups each day! But what many people don't know is that starting a coffee business can be a lucrative endeavor. So, if you've been thinking about making the switch to become your own boss, read on to learn how to become a coffee distributor.
How to pick the right coffee supplier?
Distributing coffee is a great way to get your product in front of more people. But how do you find the right supplier? What should you look for in a distributor? Keep reading to learn more.
Coffee is one of the most popular drinks in the world, and it's no surprise that many entrepreneurs are interested in becoming coffee distributors. But before you can start selling coffee, you need to find a supplier. This can be difficult since there are so many different options available.
Coffee vendor reputation: First, you should consider the company's reputation. Do they have a good track record? Have they been in business for a while? Are their customers happy with their products and service? This is an important factor to consider because you want to be sure that you're dealing with a reputable company.

Coffee vendor distributors: Researching the vendor's active distributors are important you don't want to compete with distributors selling the same brand as you in your local area sometimes dealing with some a little farther is better it makes you unique

Coffee vendor's product: When it comes to picking the right coffee supplier, how do you decide which one will provide the best product for your business? It can be difficult to know where to start, especially if you're not a coffee expert yourself. The best way to do this is to request a product sample and offer it to your closest friends and family members but not just any of them the ones that are coffee lovers!!

Vendor pricing: First, consider your needs. What type of coffee do you want? Dark roast or light roast? Arabica or robusta? Decaf or caffeinated? Once you know what you're looking for, narrow down your options by price and quality. Try a few different suppliers and compare their products before making a decision.

Coffee vendors warehouse: if you are considering buying from a warehouse that will require you to make orders and the vendor will prepare them for you, this way you can grab and go and will get billed weekly or daily for the goods when choosing a vendor. Travel time is important, is it close or far? these questions can be taken into consideration to help you determine if the vendor is a good fit
Finding your customers?
What does it take to be a successful coffee distributor? Many things go into it, but the most important thing is to have customers. Without them, your business will not thrive. Here are some tips on how to get customers for your coffee business. There's no doubt that starting and running your own business is a lot of hard work. But it can also be incredibly rewarding, especially when you see your business take off and start generating real profits. Here are some easy and simple ways to get your coffee distribution business off the ground.
1. Develop a strong marketing strategy
2. Research your competition and find ways to differentiate yourself from them
3. Establish relationships with local businesses and coffee shops
4. Invest in quality packaging and branding
5. Offer free samples to potential customers
6. Attend trade shows and other industry events
7 . Find better equipment to offer customers like what are the best coffee vending machines out there
8. Offer bill to bill service( this can work effectively and have customers always ordering but can also be a gamble so study each customer before offering this
9. Local SEO is effective, advertise your business on yellow pages, manta and local any traffic is good traffic
10. Referrals work once you establish a good handful of customers you can start asking for referrals, most businesses work in the network this will be you more and more business
Picking the right coffee machine
There are several factors to consider when choosing coffee machines for a business. The most important decision is whether to buy or lease the machines. Leasing can be a more affordable option in the short term, but buying machines allows route owners to customize their coffee selection and retain control over maintenance and repairs. Another important consideration is the type of machine that will be best suited to the operation. Some businesses may need large industrial machines, while others may only require small office-use models. Finally, it is important to find a reputable distributor who can provide quality machines and support. By following these tips, businesses can choose the right coffee machines for their needs and create a coffee program that satisfies customers and boosts profits. When acquiring new customers most likely they won't just want your coffee they will request the whole nine yards, like a coffee vending machine and maybe a cappuccino machine but the good news is when they have your equipment they are obligated to buy directly from you! So if they have both of your machines like the coffee machine and a cappuccino machine they will order more products from you.
Adding more goods to your service
As a coffee distributor, you may be looking for ways to expand your product line and attract more customers. It's no secret that coffee is one of the most popular drinks in the world. In fact, it's such a big deal that there are entire businesses devoted solely to distributing this caffeinated beverage. But what you may not know is that you can also become a coffee distributor by selling other coffee-related products, such as beans, grounds, and even cups and mugs. If you're looking for ways to expand your business and offer more products to your customers, becoming a coffee distributor is a great option. Check out this other times you can add to your line:
Variety of teas

Cappuccino

Hot chocolate

Coffee cups

Napkins

stirs
Managing customers
Becoming a coffee distributor is no easy task. You have to manage your customers to keep them happy and coming back for more. Here are some tips on how to do that. First, make sure you always have stock available. If you run out of coffee, your customers will go elsewhere. Second, keep your prices reasonable. You don't want to price yourself out of the market. Third, a reliable working cargo van or box truck. Finally, be friendly and helpful. Your customers should feel like they're dealing with a friend rather than a business owner. Implement these tips and you'll be on your way to becoming a successful coffee distributor, what you need to know on how to become a successful coffee distributor.
Billing software

Route software

Business phone number

Business cards
Conclusion paragraph:
Did you know that the global coffee industry is worth over $100 billion? With such a lucrative market, it's no wonder people are starting to think about How to become a coffee distributor. There are many different ways for someone to become a coffee distributor, and we want to help you find out which path is best for your situation. We talked about finding customers earlier in this post; different ways to find the perfect coffee supplier and how to pick out the best coffee machine. Now it's time to start managing your customers. As a distributor, you need to make sure that every customer gets their order on time and is happy with what they ordered. See how many coffee distribution routes are going on here.