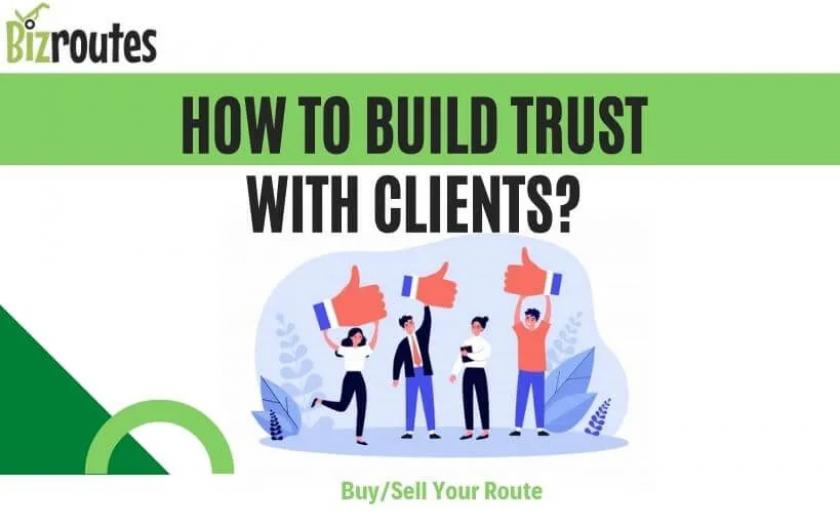 How to build trust with clients
"Sometimes your smallest customers can bring the most referrals and that's why it's important to know how to build trust with clients"
So, you have an idea to start a delivery business, or any other business at that, you did your planning, found your niche market, you got your business license, your fancy business cards, and your trucks lined up…...now what's left? Oh, that's right you need customers now.
WELCOME TO THE BUSINESS WORLD, one important factor is business why would a new client want to work with you?
How can you build trust with clients and make them want to transfer to your company and leave the one they have currently. Because let's face it, what's a business with little to no customers, At starting stages being new to the market picking and choosing clients are not always in your favor, so every customer is a good customer. Sometimes your smallest customers can bring the most referrals. You got expenses coming so let's get to it and help you find some new customers.
In this article, we will break down ten main reasons why customers or clients choose who to work with and why.
5 reasons why clients will reject your business " sorry the boss is not in today "
Business owners tend to get offers almost every day, it gets frustrating at a point to them that the owner himself will tell you sorry the boss is not in today. Just so he doesn't have to deal with listening to what you have to sell him, take your average supermarket, you have the product supplier, the beverage supplier, the milk delivery guy, and the list goes on and on, hundreds more just like you that come in and try to get some business off of them. Get your pen and a paper and take down these no-no's when trying to get your business inside their doors.
Reason 1 . BAD TIMING
Timing is everything when trying to get new clients, it can be a good day for the business owner or it can be a bad day for the business owner. Let us take an example ...say the owner opened up his shop and they made little to nothing sales that day now you stumble in with a big smile trying to get his business. Do you think the owner wants to listen to you about a new expense? Most likely not, Now walking into a business and the shop owner is having a crazy busy day that as well can trigger an owner to not want to deal with you. Whatever the circumstances are you will have to feel it out and go with your gut have a business card and try to add your proposal on a paper. Do a follow-up after some time.
Reason 2. Talking to the wrong person
Sometimes walking into larger businesses with lots of employees you would not know who to ask for the person in charge, they may direct to the right or wrong person, you can be speaking with the main guy or just the loading dock manager whatever it comes down to if you close the deal great if not or you get turned to take down the address and name and send them a postcard or a letter stating your proposal.
Reason 3. Talking too much
Write down your pitch in 3 sentences to make it classy, interesting, and intriguing for others to want to know more. A lot of people don't close deals because of the fact they don't know when to stop talking, allow the business owner to speak listen, understand the concern they face, and don't cut them when speaking. When you reply let the reply be the answer to his or her problem they facing Example: The delivery comes in late all the time with my other guy.
Reply: We will waive our service fee if we don't deliver on the time agreed. And just like that, you can catch their attention.
Reason 4. Owner dealing with a friend or family
Nothing to be down about when the owner is dealing with someone that they know, chances are that they rather just support their friend's or relatives' business rather than dealing with a stranger, so they won't mind paying a little extra rather than cutting him out of the picture…..COMPLETELY, I capitalized the word because most people give up right there and then, If you cant get all the business try to get at least some of the business without having them have to remove the person they deal with at the moment.
Reason 5. The price is NOT right
When your prices seem high to them you may think to yourself….Let me go lower so I can get this client. Chances are you are setting yourself up for failure, If you lower too much you will not maintain a healthy profit to keep your business thriving, also the business owner can just be busting your chops to get you to lower your prices so play to yourself and never work for less then its worth.
5 Ways How To Build Trust with Clients
1. Get referred:
The majority of the time when a next business sends it as a referral to their friend or colleague that's usually enough to get you the client but don't get too confident you can still get the boot.
Walk in with a smile and introduce yourself and be humble being overconfident may get you rejected, When they accept your business because it's 75% because of referral, they trust the person that sent you, not you! So now you need to make them trust you and show them the reason you were referred..because the work you provide is great.
2-Become an expert in your niche:
When you know the game well, it shows clients you are work taking a try, they know that you are very good at what you do. As time goes by you will master your business and that will play a big role when it comes to earning your trust.
3- Be straightforward:
Don't sell them dreams Don't promise what you can commit to, those dreams you give clients will only get you so far, be blunt and straight and it's away okay to say no to certain questions, saying yes just to make customers happy leads to customers being upset later because they counted on you.
4-Impress them with your actions, not words
This goes back to the "talking too much "part, once a client gives you a chance to prove to them why they made the right choice. This will give you a higher chance of them being your long-term client. Get the job done get paid and always keep it business Clients love that.
5-They need to be able to count on you:
Are you willing to take on calls at 2 am? Stop what you doing and attend to a client's need, then customers will love you. When a client can rely they tend to stay longer doing business with you. Clients usually change service when the effort changed from beginning to end.
Conclusion;
To sum it up customers or clients need to be able to feel that your art is the one for the job whether you provide a portfolio show them your track record of happy clients. As you grow your business you will become better at what you do, whether you are a delivery start-up or a marketing firm, Get to understand what your clients want don't oversell.