From Passion to Profit:
How to Start Your Own Audio Video Business
If you're passionate about the audio video industry and want to turn your hobby into a business, you're in the right place. Establishing an audio video company might be intimidating, but with the appropriate direction and a well-thought-out strategy, you can transform your interest into a lucrative career.
In this article we will break down everything you need to know to start a career in the audio video industry is explained in this article, From the equipment you'll need to the types of services you can offer, we'll cover all the essentials to help you buy or launch your own audio video business, Whether you're just starting out or looking to take your existing business to the next level, this guide will provide you with the knowledge and tools you need to succeed in the exciting world of audio video production.
---


Q1: What is an audio-visual business for sale?
In this day and age, technology plays a huge role in people's lives. Whether inside homes or businesses, there will always be a need for audio video services. An AV company has the tools and equipment to provide individuals and businesses with the technology needed for their events.
AV services are used for conferences, weddings, graduation ceremonies, executive meetings, and other gatherings. Healthcare, corporate, education, and entertainment industries also would require the services of an AV business at one time or another. An AV company plays an important role in the success of its client's events. If you are interested in investing in an audio video business for sale, you'll find this article to be very informative.
---
Q2: What are the key factors to consider when starting an audio visual company?
Starting an Audio visual business with the proper business plan is vital to the success of your business. A successful audio visual business plan includes start-up costs, getting your licenses and the correct paperwork in order, applying for insurance, purchasing the necessary equipment, and knowing how to market your company. Researching audio visual equipment suppliers will help you find out exactly which equipment is mostly used and in high demand depending on your audio visual business model. These are the key factors one must consider before investing in any audio visual production companies for sale.
---
Q3: What are some effective marketing strategies for growing an audio-visual company?
Once acquiring an audio video business for sale, in order for it to grow, you'll have to be willing to invest in it; time, money, and effort.
Marketing any business is the key to growing a lucrative company. One effective way is to produce an online presence. You'll need to build an attractive website, and be active on your social media accounts. The more you put your business out there, the more likely you'll be noticed by potential clients.
Running an AV company doesn't mean only providing your clients with equipment only. You are also a part of the broad spectrum of event productions. You are a business of many faces and at times, you'll have to handle many different responsibilities to keep your clients satisfied and returning back to you for future events. If your clients are content with the services you provided them, they will start referring you to their connections and colleagues.
---
Q4: What are the most common challenges faced by audio visual companies?
Purchasing audio visual production companies for sale will not come without its fair share of setbacks. You should expect and be prepared for common challenges that can sometimes be faced by AV companies.
The most common problems that can go wrong when setting up an event for a prospective client are security issues, bandwidth size, wireless capabilities, and infrastructure. Possessing the necessary audio visual business management skills can help you understand and troubleshoot these problems if they should ever arise during any of your events.
Another main challenge of running an AV company is being able to maintain business funds and knowing how to keep your company afloat during times when business isn't exactly booming. Applying for an audio visual business financing plan for your AV equipment is better than paying upfront costs for them instead.
---
Q5: What is the process for valuing an AV company and determining its sale price?
Audio visual business opportunities will continue to be prevalent in today's economy due to the rise of tech use. The process of valuing audio visual solutions companies for sale is as follows:
I. Understand the valuation by calculating the AV company's SDE (seller's discretionary earnings)
II. Review your financials (credit reports and basic financial profile) The seller of the AV company may want to see what their future buyer is working with.
III. Look for a business plan that presents processes and shows consistent management. A smooth-running business will make transferring ownership, without losing profits in the process, much easier.
IV. Research the AV industry. Finding out the valuation of the same size AV companies will help you make a confident offer to the seller you're looking to buy from.
---
Q6: How can an audio visual company stand out in a competitive market?
Investing in an AV services business for sale is very common now so it's most likely going to get competitive out there. How will you make your company stand out? There are a few ways you can do this. One way is by focusing on your underrepresented customer. They could be the hidden gem to bringing your company the profits you want.
Another way is having innovative technology, Things like improving processing speeds or coming up with a way to make some of your services less costly make your company more appealing to new and former customers.
Next, ask yourself, "What will make my company so special?" If you're able to meet the needs of your customers by making their lives easier with your services then you'll eventually become their go-to AV source for all their future events.
Content marketing is another idea for your business, By offering your clientage helpful information such as videos, social media posts, and content about the obstacles they are facing and reaching their goals regarding their industry, they will see that you care about the needs of their business. According to smallbusiness.chron.com, using multimedia presentations, which can include written, visual and auditory methods, will help your clients get their messages across more effectively to customers and employees.
---
Q7: What are the most in-demand services provided by audio visual companies?
Finding out the most in-demand services of an audio video business for sale helps you get an idea of what customers will expect out of you. As an owner of an AV company, you will specialize in supplying and setting up equipment installations for various events. You're going to provide and install equipment such as video, sound, lighting, and stages for your client's events. The following is a list of in-demand services very popular with different corporations and industries:
I. Digital Signage
II. Projection Systems and Displays
III. Audio-Visual Video Collaboration Systems
IV. Interactive Displays
V. Control Systems and Components
VII. Long-term Audio Visual Solutions for Schools and Businesses
VIII. Systems Integration
---
Q8. Who are the biggest players in the audio video business?
The audio-video industry is vast, and there are several big players that dominate the market. These companies have a significant presence in the industry and offer a range of products and services. Some of the biggest players in the audio-video business include
I. Sony: A leading manufacturer of audio and video equipment, Sony produces high-quality cameras, camcorders, TVs, and sound systems. The company is also known for its professional audio and video production equipment used in the film and television industry.
II. Panasonic: With a focus on innovation and sustainability, Panasonic offers a wide range of audio-video products, including TVs, home theater systems, and professional video equipment. The company is known for its high-quality cameras and camcorders, which are used in professional video production.
III.Samsung: A global leader in electronics, Samsung produces a range of audio-video products, including TVs, soundbars, and home theater systems. The company also offers professional video equipment, including cameras and displays.
IV. Bose: Known for its high-quality audio products, Bose offers a range of speakers, headphones, and soundbars. The company also produces home theater systems and audio accessories.
V. Canon: A leading manufacturer of cameras and camcorders, Canon also produces professional video equipment used in the film and television industry. The company is known for its high-quality lenses and advanced image-processing technology.
These are just a few examples of the biggest players in the audio-video business, but there are many other companies that have a significant presence in the industry. Whether you're looking to start your own audio video business or are simply interested in the latest industry trends, it's important to stay up-to-date on the companies and products that are shaping the audio video landscape.
In conclusion, starting or buying an audio-video business for sale can be a rewarding and fulfilling career choice for those with a passion for the industry. By following the steps outlined in this article, you can begin your journey toward building a successful business.
Remember to invest in high-quality equipment, develop your skills, and provide excellent customer service to stand out in a competitive market. Additionally, keep up with industry trends and constantly adapt your services to meet the evolving needs of your clients. With dedication, hard work, and a commitment to excellence, you can build a thriving audio-video business that brings your creativity to life and delivers exceptional results to your clients.
**Best routes to consider buying
**What are some cash-only businesses?
**How to get vending machine customers the easy way
---


Disclaimer: The information provided in this article is for general informational purposes only and should not be considered legal advice. The laws and regulations regarding business licenses may vary from state to state and are subject to change. It is important to contact your local state office to determine which licenses are required for any specific businesses. Additionally, please note that this article contains affiliate links and we may earn a commission from our affiliate partners or amazon links. If you are considering starting a business, it is recommended that you seek the advice of a qualified lawyer, business broker, or professional in your area. The information provided in this article is not a substitute for professional advice and should not be relied upon as such.
.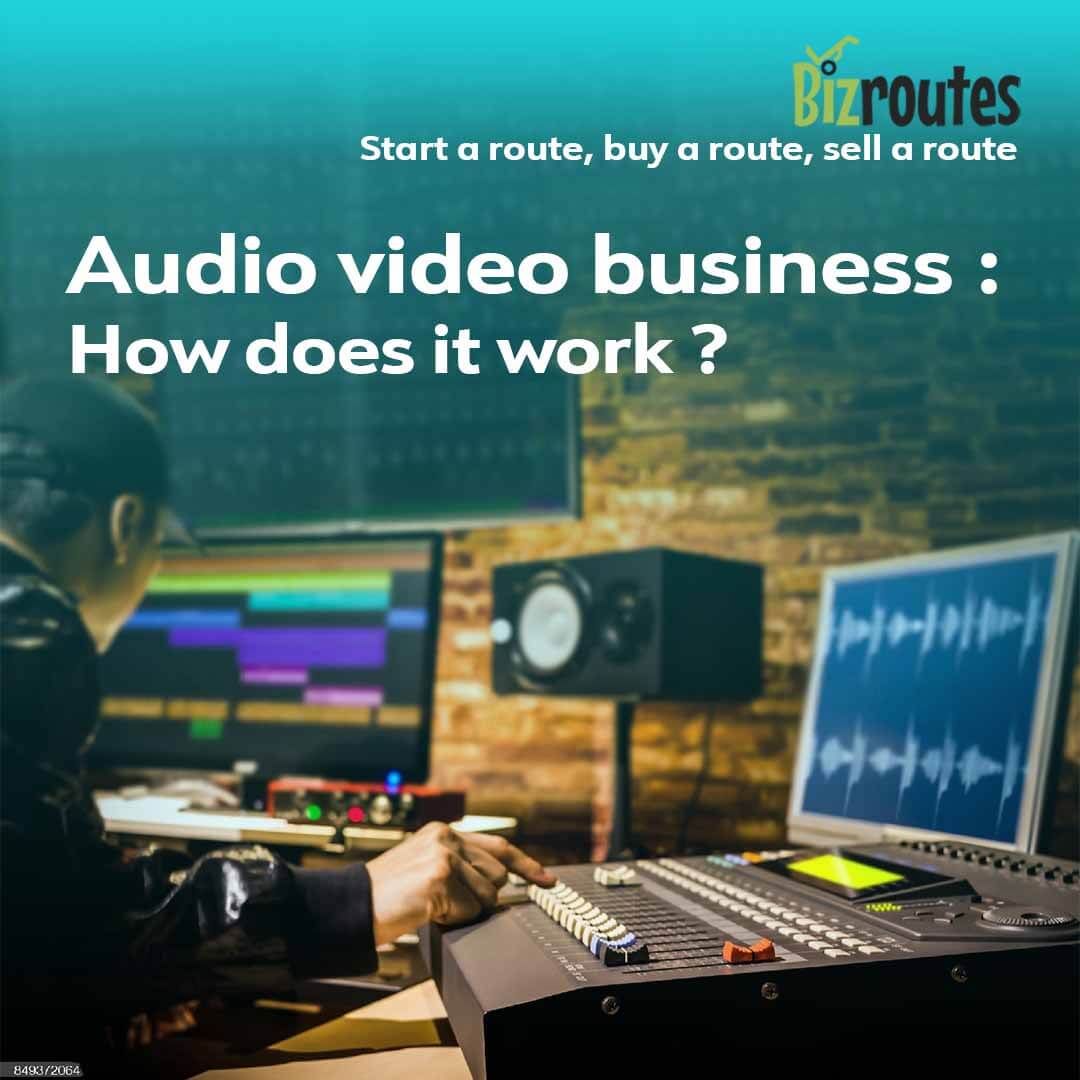 We highly recommend you register as a buyer, by doing so you'll get notified as soon as a audio-video business is up for sale and other listings become available in your area
---
Check out these other businesses to start or buy
How to start a solar panel business
Cell phone repair business as a side hustle
How does a process server business work?
Here is why duct cleaning is a must for every service-based business
---
Do you have a small company that you want to sell? No credit card is required to register for a free account and advertise your business for sale.