Will the popularity of electric vehicles slow this industry down? not soon at all!
The auto-delivery business involves a lot of driving, but what makes it unique is that you rarely deal with any financial aspects, like collecting money. You pick up parts using your car and bring them to mechanics as part of a contract between an independent contractor and an auto parts supplier. This type of business can be beneficial for someone looking to become more independent or even as a side business, we will discuss the in's and outs of what an auto parts delivery business is but first, if you haven't registered as a business buyer make sure to do to get the newest opportunities and routes for sale near you.
What are the pros and cons of being an independent contractor?
What is an auto parts delivery business?
---
Are you planning on buying an auto parts delivery business for sale? This type of simple business has been increasingly popular among entrepreneurs due to the low start-up costs associated with it. According to Bankrate Over 91% of American households own or drive cars which means auto parts are bound to be high in demand due to the fact cars will always need maintenance or repair. An auto parts delivery business is more than likely to become successful as long as you advertise your company, get the proper licenses and insurance documents needed for it, and own a reliable vehicle to make your deliveries with.
What does an auto parts delivery driver do?
---
The main role of an auto parts delivery driver is to deliver the orders to their client's places of business. These may include car dealerships, car manufacturers, junkyard owners, independent service technicians, fleet operators, and auto shops.
As a delivery driver, you will be responsible to load the required products onto your vehicle. During your route, you might either have only one large order to deliver or a couple of small orders to different facilities at a time. Keep in mind, to gain a massive customer base, professionalism and being courteous are very crucial attributes you must acquire.
Also, another duty of an auto parts delivery driver is to make sure the delivery vehicles used to operate their business are running safely and efficiently.
read why a delivery business should be your first business
How much does the auto parts delivery business make?
---
If investing in an auto parts delivery business for sale doesn't cost too much to initiate, you're probably wondering what kind of cash flow you'll see after purchasing one. If you have a creative strategy at hand and you do the proper market research, then you should have a profitable business in no time.
Many factors play a part in what you should expect to see in your net sales. First, find out which auto parts are requested mainly by auto companies and independent auto technicians. This will prevent you from wasting your cash revenue on unnecessary parts. Secondly, advertisement is key! If no one knows your company exists, then you're sure to fail. Post your business logo and number on your delivery vehicles, create an attractive website, print out some flashy flyers or business cards, or visit local retailers you are interested in working with and get your business out there! If your auto parts delivery business is managed correctly, you can expect earnings of $3,000 or higher per month.
What vehicle can be used delivering auto parts?
---

Along with purchasing an auto parts delivery business for sale, you'll also need to invest in one or more dependable vehicles. To maintain customer satisfaction and make your deliveries on time, you'll need to ensure your vehicle is in excellent condition and has low mileage. Types of vehicles needed for this business depend on the auto parts you deliver. For example, a pick-up truck or cargo van is the right size for delivering parts of a standard-size auto. But if the auto parts are needed for commercial vehicles (buses, trucks, specialized machine autos) then a box truck would be more practical. Most importantly, make sure you apply for a commercial auto policy. That way if you or your vehicle are in an accident, you'll be covered and reimbursed by your insurance company.
Where are auto parts delivered to?
---
When starting or buying an auto parts delivery business, it's important to consider factors such as market demand, competition, operational logistics, and establishing relationships with suppliers and customers. You'll need to determine your target customer base and develop effective delivery routes and schedules to ensure timely and reliable service. Auto parts are typically delivered to various locations, including:
Auto Repair Shops: Auto parts are frequently delivered to independent auto repair shops where mechanics use them to perform repairs and maintenance on vehicles.
Car Dealerships: Car dealerships often require a steady supply of auto parts to service the vehicles they sell, as well as for any repairs or upgrades they offer to customers.
Automotive Service Centers: Large service centers, such as national chains or specialized facilities, receive regular deliveries of auto parts to support their operations and fulfill customer requests.
Fleet Maintenance Facilities: Delivery fleets, transportation companies, and government agencies with a fleet of vehicles may have their own maintenance facilities. These locations require regular deliveries of auto parts to keep their vehicles in optimal condition.
Collision Repair Centers: Auto body and collision repair shops rely on auto parts deliveries for replacing damaged components, such as body panels, lights, and other parts affected in accidents.
Online Retailers: With the rise of e-commerce, online retailers specializing in auto parts have become prominent. These businesses sell auto parts through online platforms and require deliveries to ship orders to customers across various locations.
Other Retailers: Auto parts may also be delivered to general retailers or stores that carry a selection of automotive products, including accessories, fluids, filters, and other commonly requested items.
Who supplies the auto parts for me to deliver?
---
As an auto parts delivery business, you will typically source auto parts from suppliers in the automotive industry. Here are a few key players who can supply auto parts for you to deliver:
Original Equipment Manufacturer (OEM) Suppliers: OEM suppliers produce auto parts that are used by vehicle manufacturers during the production process. These suppliers manufacture parts that meet the specifications and quality standards of specific vehicle brands. Examples include companies like Bosch, Delphi, and Denso.
Aftermarket Parts Manufacturers: Aftermarket parts manufacturers produce auto parts that are not sourced directly from vehicle manufacturers. These parts are often designed to match or exceed the quality of OEM parts and are available for a wide range of vehicle makes and models. Popular aftermarket parts manufacturers include companies like Magna International, Federal-Mogul, and Valeo.
Wholesale Distributors: Wholesale distributors act as intermediaries between manufacturers and retailers, providing a wide range of auto parts from various suppliers. They typically have extensive product catalogs and can supply parts for multiple vehicle brands. Examples of wholesale distributors in the automotive industry include Genuine Parts Company (NAPA), LKQ Corporation, and Uni-Select.
Online Marketplaces: Online platforms and marketplaces have gained popularity in the auto parts industry. These platforms connect buyers and sellers, offering a wide selection of auto parts from various suppliers. Examples include platforms like eBay Motors, Amazon Automotive, and RockAuto.
When starting or running an auto parts delivery business, it's crucial to establish relationships with reliable suppliers. You may need to work directly with manufacturers, wholesale distributors, or a combination of both to ensure a steady supply of auto parts. Building strong partnerships, negotiating favorable pricing and terms, and maintaining a diverse inventory will be key to meeting the demands of your customers effectively.
How to start an auto parts delivery business:
---
Step 1: Register DBA or if you are looking to do more with your delivery business open an LLC.
Step 2: Find a company that sells auto parts and ask to be added as an independent contractor. Ask questions like How many drivers they have already (you want deliveries, the more delivery the better, and if the place is crowded with drivers you may not get enough deliveries for the day) and ask for an average estimate on how many deliveries you may get a day, as well as what the pay per delivery is.
Step 3: Make sure your driver's license is valid, they may check the history.
Step 4: Have a working vehicle, making delivery back and forth requires a durable vehicle, this can be a sedan or cargo van.
Step 5: Have insurance on your vehicle
Step 6: When making deliveries, mechanics occasionally find themselves helping clients. Rushing them can aggravate them, and they may then request your auto Parts company to stop making you deliver parts to their location.
In conclusion, starting or buying an auto parts delivery business for sale can be a wheely exciting opportunity for those with a passion for cars and entrepreneurship. Whether you're starting from scratch or taking over an existing business, delivering auto parts to customers can be a rewarding and profitable venture. With the rise of e-commerce and the ever-increasing demand for speedy delivery, there's never been a better time to get into the auto parts delivery game. So, put the pedal to the metal and get ready to rev up your engines - with a little bit of hard work and a lot of horsepowers, you could be on your way to a successful and fulfilling career in the auto parts delivery business!
---
To the best of our knowledge, the information provided on this website is not intended to be taken as professional financial advice. Consult a professional financial, business broker, or tax expert if you require this advice.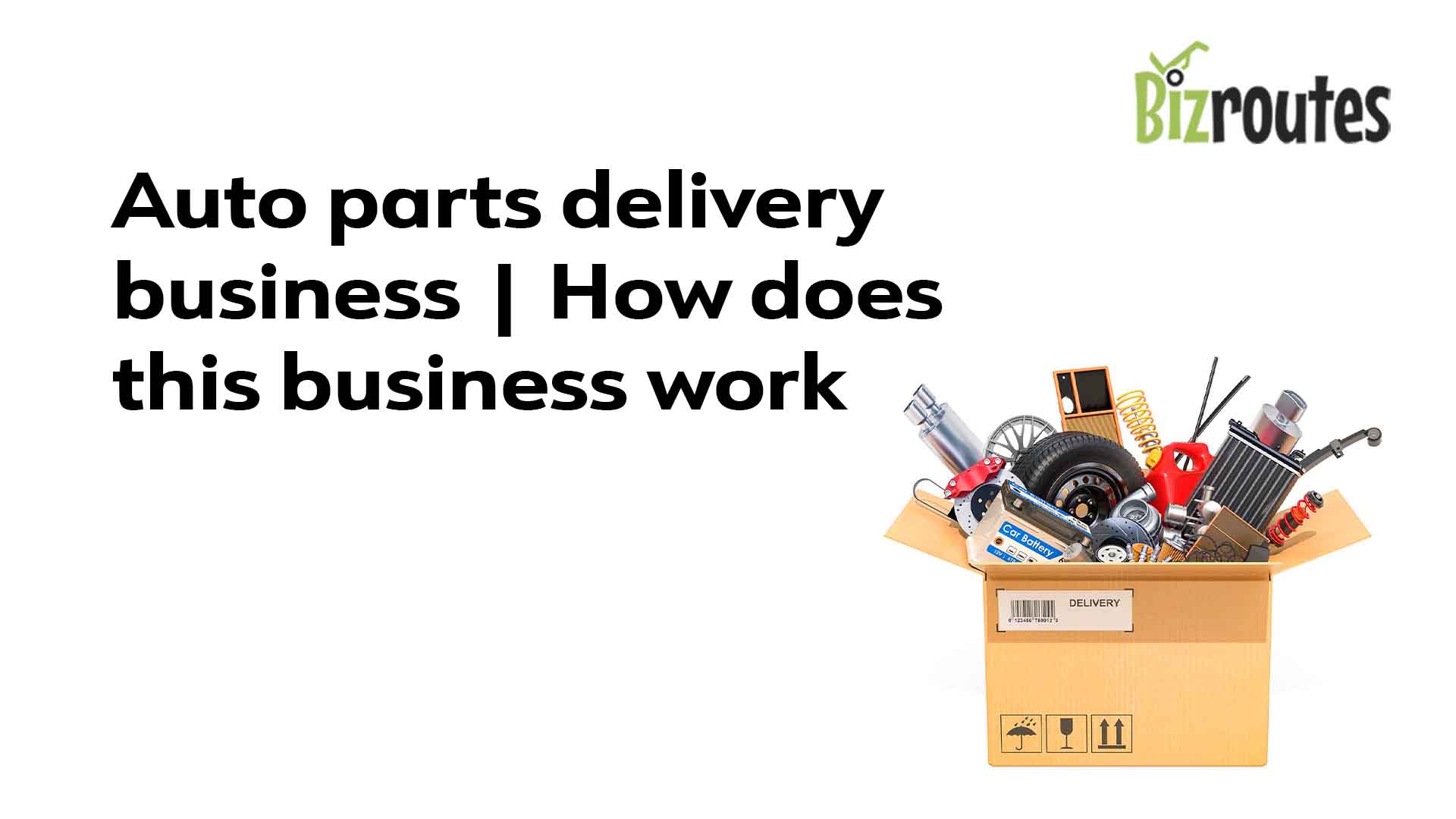 Looking to sell your Auto parts delivery business for saleTake advantage of BizRoutes' free listing service and increase your chances of finding the perfect buyer!