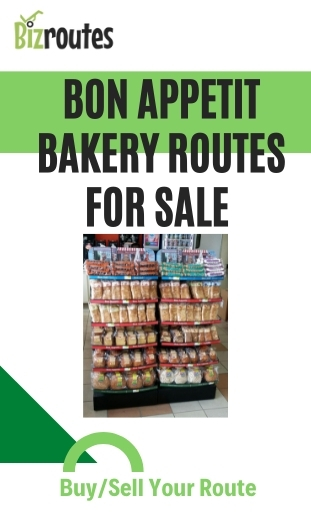 Become business smart!
Are you looking to acquire a Bon Appetit route for sale?
---
Make sure to register as a buyer so we can send you the most recent listings for sale near you!
what is a bon-appetite route?
Bon Appetit Bakery specializes in gourmet bread, just like buying any bread routes for sale, Bon appetite offers top-quality Danish pastries, donuts, bread, cakes, muffins, and other excellent gourmet goods. The company, headquartered in California, provides services to the retail and convenience store industries in the United States, Canada, and Mexico.
---
What are the advantages of buying Bon Appetit Bakery routes for sale?
Owning a bread route allows you to generate money by receiving a commission (typically about 20%) on sales to different companies in your area that purchases bon appetit products from you. You may purchase goods at wholesale rates and resale them to your customers at a set markup (which is equal to your commission).
You may expand your route in a variety of ways. You may sell more goods to current customers, acquire new customers in your region, or purchase additional routes. Each of these approaches will require time and work, but they may provide fantastic results.
---
What are the responsibilities of the route owner?
The route owners need to load products and distribute them to the client which includes grocery stores, schools, convenience shops, etc.
---
What is a vehicle used?
Normally cargo trailers or boxed trucks are used by bakery route owners
---
What are other side expenses?
These may include vehicle maintenance, any payrolls if you hire a driver or an accountant, insurance, advertising costs (your choice), etc…
where do I distribute bon appetite products?
Finding customers are easy as it is a loved pastry and bread, so finding shelves shouldn't be a hassle but here are some common places
supermarkets
bodegas
delis
bakeries
cafe
coffee shops
---
To the best of our knowledge, the information provided on this website is not intended to be taken as professional financial advice. Consult a professional financial or tax expert if you require this advice.
Sort by yearly earning
Select services type
No Listings Found
Make sure to register below so you will never miss an opportunity