Pros and cons of buying a bread route
---
What makes the sandwich taste, is the quality of the bread or the meat? I love me some boar's head meat but for me, if the bread is not good ..throw away the whole sandwich! Customers will stop coming to a small business if they know that the bread they have is not good they look for a one-stop shop, especially the ones who had a long day at work and just need a few items to grab the eggs, the milk, and the bread!
So if you are interested in investing in a bread route owner you need to know the facts and in this article, we will discuss the pros and cons of owning a bread route, from what it takes, how to start one, and even how to expand an existing one. Whether the business is a grocery store, supermarket or restaurant it's most likely that bread is being distributed to them by a bread route owner. It's a big business that can be operated by anyone, so let's start by understanding what a bread route is exactly…



What is a Bread Route?
---
If you have read through the introduction and are unsure what a bread route is, kudos to you for sticking around.
A bread route, or any route for that matter, is a territory where manufacturers or distributors sell their products to local businesses In the case of a bread route, There can be 2 types of distributors, one is you can have your own bread facility and make the bread yourself which is a big process that requires a whole team and lot more work, or the scalable one is buying from a bread maker at wholesale and reselling it to local businesses. So let us stick with the second one. Now that we covered the basics.
As a bread route owner, you are responsible for picking up the bread from a warehouse and distributing them in all the shops or grocery stores, which we refer to accounts, These independent owners earn their profit by keeping a commission on each bread they sell to the stores. Depending on the contract you have with the bread maker you can either take a commission or you can buy at wholesale price and markup your price to the customers.
So how to determine good bread? There are 3 main factors that come into starting or even buying a bread route..
Quality
Choosing the bread is determining the success of your business, if your bread is good you'll get accounts if the bread is bad then you won't make it far. Asking bread makers for samples is normal, what you do with these samples is first to have friends and even family try them, heck makes them a sandwich while you are at it. The feedback you will get will help you decide if that bread maker is the right partner.
You will put time and energy into building your bread route business so it won't kill you taking your time in picking the right bread
Types of bread
You found the perfect bread it's moist, tasty they love it, but you forgot to ask the bread man what other bread and pastries they make! Your accounts need more than just a kaiser roll, this is why it is important you have more to offer than basic bread here are some items your customers may want :
BAGELS-EVERY TYPE
ENGLISH MUFFINS
CORN MUFFINS
MUFFINS IN GENERAL
ITALIAN BREAD
ROLLS
RYE BREAD
WHOLE WHEAT
These are just some of many the goal is to have as many great quality bread types as possible
Pricing
Your prices have to match or be better than your competition, remember always negotiate with a bread maker and don't sell at a cost, it's a big market but it's brutal!

4 pros of getting into the Bread Route Business
Now that you know what a bread route is, here are a few things to consider before going into the bread route business:
Buying into a brand:
With an independent bread route, there is no territorial route, its a loyalty-based business, any competitor can cutthroat you anytime and try to take your account, but luckily there are brand routes that you can buy into like bimbo bread routes or even Arnold bread routes and they offer you a territorial route, yes you may have to give up more from the profit but they do the heavy lifting like marketing and lead generation.
Light work
Its as simple as it gets you can carry the boxes by hand or use a Dollie, when i owned by coffee shop years ago there were times they will leave them at the front door, and the boxes were sealed in plastic, it seems like an and out process when it comes to delivering bread, setting up a route you can easily deliver to 30-40 accounts a day.
Daily delivery
The bread doesn't stop! No, literally businesses need bread every day there are no days off unless you want to take a holiday off you can send them a double order for 2 days but no more than 2 days, accounts want their bread as fresh as possible. So this means more bread for you.
Phone orders
If you are dealing with deli's or diners you can take their order over the phone at a certain time of day typically around the evening or night time before 9 pm and if you are dealing with supermarkets you can stock up the shelves and bill them right there and then.
DROP AND GO
Unlike other distribution routes your early customer most likely won't pay you on the spot you will collect at the end of the day some might say this should be listed under cons because you have to go back and forth, but I will take that over-delivering an order then waiting to get paid next thing you stuck bumper to bumper, banging out all your orders before the early rush is definitely a pro, getting bread late to a customer because of traffic is a risk of losing an account. NOT WORTH IT!
CONS OF RUNNING A BREAD ROUTE
Early, early, early…
If you love sleeping late, and by late, we mean till 11 or 12 iat night then the bread route business is not for you. Being a bread route owner requires you to be up and at the warehouse at around two or three in the morning or even earlier. The timings can vary depending on your supplier, but they usually are in the wee hours of the night. Once you have picked up the deliverables, you have to reach all your accounts and deliver. Depending on your contract, you might rotate the products on the shelf and pull out stale bread as well. All of this can take a few hours, and a bread route owner's work ends around two in the afternoon. You gonna want to deliver the business that sells food like diners, delis or breakfast shops first then handle the supermarkets last. So, if you don't mind waking up early or not sleeping at all during the night, then you can go for a bread routes business, but after considering the following points. Buying a Bread Route is a Hefty Investment If you are considering The price of buying a bread route can easily go up to $200,000 and even higher, depending upon how much commission it can generate.
Most bread suppliers have financing options for independent suppliers. But you'll still need to pay 40-50% of the total cost as a down payment. Which requires that you have at least $100,000 in your name to put at stake.
Unprotected Routes:
Before you buy a bread route, you need to know about the protected and unprotected routes because they directly affect your commission.
The protected route is the one where you are the only independent supplier for a brand of bread like we mentioned above. So, you don't have to compete with other suppliers. In comparison, an unprotected route is the opposite of this and may have multiple suppliers for the same brand, which spikes up the competition.
However, unprotected routes have a higher payout. And if you don't mind some competition for a higher commission, you can go for an unprotected route.
The Financial Risk:
Like every other business, bread routes incur financial risks that you must bear, being a business owner.
The business model that involves buying the bread from the supplier at a slashed price and then selling them at the original price involves greater financial risk. Because in this case, if you fail to sell all the bread you have bought, you will have to bear the loss of money on wasted bread.
Moreover, the damage to the products during supply is also a liability to the bread route owner. So, if the bread rots or is damaged in a way that renders it unsellable, then too, you'll have to suffer a loss of investment.
Your Route Can Lose Value:
A route is valuable when it has lots of stores to buy your products. The closure of any one of these stores means loss of commission and reduction of your route's value.
So, even if a route seems valuable right now, its value is highly subjective to the stores' operation within its territory.
Investment to get accounts
Opening new accounts is not just walking in and having them taste your bread and giving them good prices, Nope! some customers may ask for 3 weeks of orders for free and others may ask for a custom bread shelf, so keep this in mind when considering on starting a bread route business.
Responsibilities of Being a Small Business Owner
Like we said above, buying a bread route means owning a small business. And just like any small startup, you are the sole owner of the profits that a bread route makes. And you are alone liable for the losses.
Moreover, you have to deal with all the paperwork. Any time you have after doing deliveries may go into managing accounts, orders and don't even get us started on taxes!
Once you have a bread route, you classify as a small business owner and are subject to self-employment taxes. So, you do the excruciating job of managing the taxes yourself. Or you can go the easy way and hire an attorney to take care of them. However, hiring an attorney is an additional cost that reduces your take-home profit.
Not to forget, there are usually no sick leaves. Stores want bread almost every morning, and you being an independent distributor, must give them that, no matter what. So no sick leaves and no vacations.
Some bread supplying companies offer relief services, but they take a percentage of your profit in exchange for these services.
So, you must choose between having a day off and taking home your usual profit.
Additional Finances
Buying the bread route is not the only expense for running this business. It has many additional expenses that you must cover yourself.
These additional finances include paying for the fuel and maintenance of the delivery truck. The cost of fuel is usually not too much because your route is generally small. But it is still there to burn your profit.
Moreover, the insurance of your delivery vehicle is another expense. On top of that, if you are using a truck for taking the bread, you'll need a truck driver's license, which has its fees.
So, do some math, or a lot of it, and put all these expenses against your route's expected profit. Then you'll be able to see a clearer picture of whether investing in a route is a good idea.
To Sum up, Investing in bread routes for sale:
Whether investing in one of the bread routes for sale is a good idea for you depends on many things. And while it may work very well for some people, it might not be too profitable for others. The list we have presented above is in no way exhaustive, and we recommend that you think these points through and then do some additional research before putting down your money on a bread route.
So should you buy or start a route? My final thought is if you have the capital you may want to consider buying a route with established customers getting into accounts is not as easy as it looks..
After buying a truck investing in accounts like free orders and custom shelves you might just be around the same price of buying a smaller bread route..
but if you have the sales game and patience why not!
Tell us which you would rather buy or start a bread route?
Email us [email protected]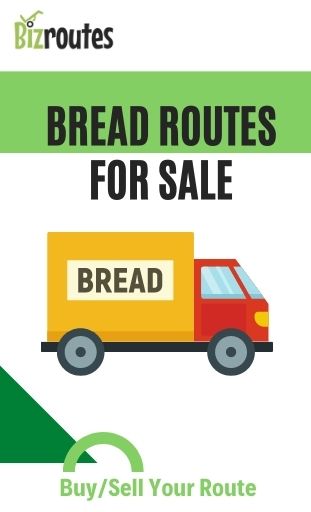 Become business smart!
you can discuss the type of customers you service such as supermarkets, gas stations or discuss how many hours does...
$200,000
Florida
Bread Routes