Aghhh!!! The Smell of coffee aroma in the morning, while you might start your day with a cup of joy, someone is getting paid for his or her first case of packaged coffee beans delivered to the same coffee shop you just had it at. With the average coffee shops selling hundreds of cups of coffee a day the industry is not slowing down anytime.
How would you like to be a part of this industry selling coffee to businesses, well why not right ?
Buying a beverage route will come with a set of customers a vehicle and the source to buy directly from. Check out more cool facts below on what is take to be a coffee distributor.
What trucks are used for these routes?
-Cargo vans, small sized boxed trucks
Who are the clients ?
Gas stations , coffee shops ,diners,restaurants, delicatessens, super markets and more.
What is the nature of work required?
Taking customers orders and delivering the products. loading and unloading from the truck, installing coffee machines and cappuccino machines if required you can also hire a professional to do so.
Who pays the company for work performed?
Customers usually pay for the order when delivered which is considered (C.O.D cash on delivery).
How do I charge a client ?
After buying at your cost price you mark up by adding your profit ,but also charging market price as coffee prices can go up and down.
Can I expand after buying a route?
After a successful purchase you can focus on your customers that came with the route or you can find more customers , get leads and always seek referrals , new business that are about to open. Once you established a new set of customers you can consider buying a next van,you can add more your business like selling cappuccino, herbal teas and possible coffee cakes that may require more licenses. Check with your local agencies.
HOME BASED OR OFFICE?
Answering calls ,taking orders GPS tracking of drivers,handling billing fixing machines that are not functioning properly, changing equipment.
Driver skill required?
Usually relies on truck size if a cdl is required, other endorsements may be required, check with your local state agencies.
Are there Coffee routes available for sale?
YES, you can find coffee routes routes for sale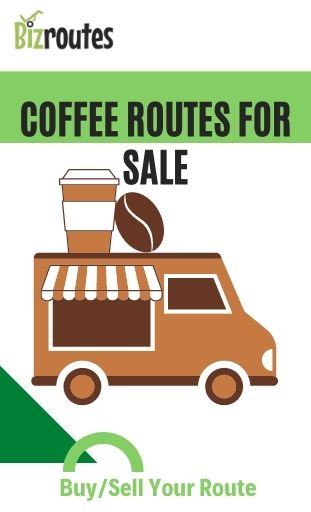 Become business smart!