Cedar's Hommus Routes for Sale | Dip yourself into this route
1. Cedar's Hommus Bio:
Cedar's founders Ave and Layla Hanna perfectly crafted their Hummus, spelled with "o". Creating it the traditional way, with pure ingredients and a simple process. Making hummus was always their passion and getting it on the shelves here in the United States was their mission. They began packaging and delivering their first orders locally until eventually the rest of America soon followed. Starting only with their Cedar Hommos and Taboule Salad, they eventually began experimenting with different combinations infused with spices and veggies and many other exciting flavors. Cedar's Hummus Products soon became the leading charge of Mediterranean food in the United States.
They went beyond Hummus to bring other delicious foods that are made with quality and freshness. Cedar's has since expanded to its fresh Mediterranean Salads, Greek yogurt-based Dip, Salsa, Pita Chips, Wraps, and legendary Tzatziki.
Deciding to buy a distributing business is a smart choice, picking a product can be difficult, but we try our best to break down each route business, you landing on cedar's routes so you might be curious to learn more..so let's dip in!
2. What products do Cedar's Hommus Routes sell?
Cedar's Hommus sells its Specialty Hommus, Dips, Salads, Tzatziki, Salsa, Pita Chips, Grab & Go's, and Mediterranean Originals.
3. Where is Cedar's Hummus sold?
Cedar's Hummus is sold in conventional supermarkets, supercenters, warehouse clubs, delis, and convenience stores.
4. How much does a Cedar's Hummus Route owner make?
A Cedar's Hummus Route owner's weekly average pay is anywhere between $1,000 to $1200 give or take, depending on the route up for sale.
5. Who should consider buying a Cedar's Hommus sales route?
If you are looking for an established income from a delivery route, like Cedar's Hommus, then you should consider investing in this business. Revenue generation begins from the very beginning.
6. What type of truck is required with Cedar's Hummus routes?
A refrigerated truck is mandatory for a Cedar's route to keep the products fresh and cool until they reach their destination.
7. How many days are required and what is the work description?
A Cedar's Hummus Route requires a 3-4 workday week, with deliveries being made in the early morning hours. Although, this can easily be turned into a 5-day route if you wish to add additional stops and accounts within your territory.
8. Should I hire a helper?
As an owner-operator of a Cedar's Hommus route for sale, you have to make sure that your drivers fulfill the route and make all of their deliveries on time.
9. Benefits of buying Cedar's Hummus Routes for Sale
When it comes to buying any business it is always good to look for the bad and always look for any red flags, cedars have a great brand and it is loved across the nation, When buying a Cedar's Hommus Route business for sale, you will also be a part of their "Cedar's With Heart", which is a non-profit initiative. Their mission (and yours) is to share and do better for the good of the community, the people, and the planet. You'll be leading by example through your acts of service and commitment to promoting positive change for future generations to come...
10. Being an owner-operator vs being an owner-absentee owner:
Deciding which route to head when buying a bus is a big decision, many people love to buy business routes because they are somewhat scalable, as an Owner absentee you are not running the company but you still have obligations to provide funding, direction, and guidance and as an Owner operator ( this article breaks down what an owner operator is) you are more hands-on running the show.
The benefit of buying a distribution business and running it yourself is you will see more income for yourself rather than having to pay a manager to run your route business.
Check out these other distribution routes for sale
---
Disclaimer: Disclaimer: The information provided in this article is for general informational purposes only and should not be considered legal advice. The laws and regulations regarding business licenses may vary from state to state and are subject to change. It is important to contact your local state office to determine which licenses are required for any specific businesses. Additionally, please note that this article contains affiliate links and we may earn a commission from our affiliate partners or Amazon links. If you are considering starting a business, it is recommended that you seek the advice of a qualified lawyer, business broker, or professional in your area. The information provided in this article is not a substitute for professional advice and should not be relied upon as such. We want to make it clear that BizRoutes is not sponsored by or affiliated with Cedars Hommus or any other companies mentioned in our articles. Our content is completely independent and based solely on our own research and opinions.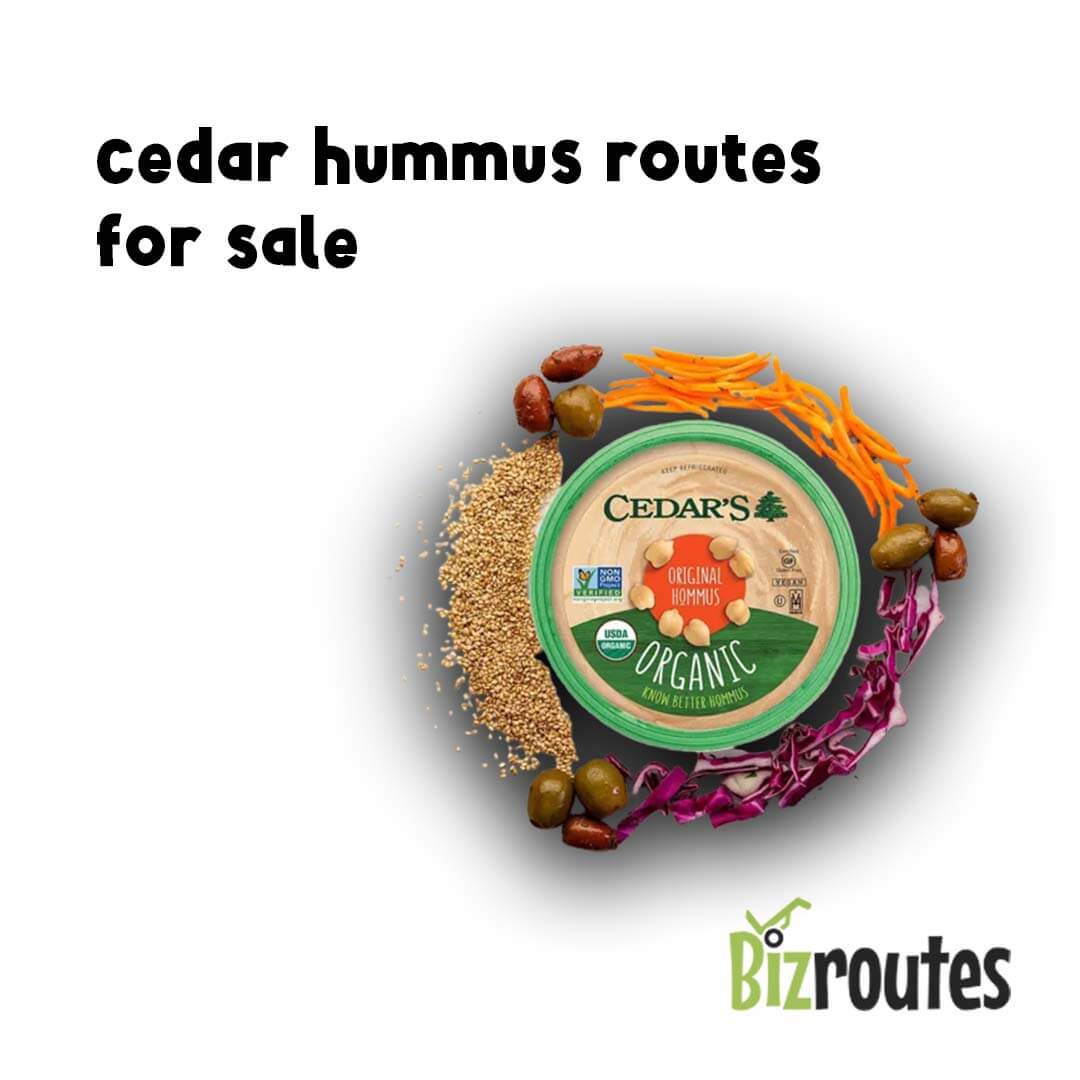 We highly recommend you register as a buyer, by doing so you'll get notified as soon as Cedars Hummus Routes for Sale and other listings become available for sale in your area.