How to Navigate the Process of Buying Courier Routes for Sale: A Step-by-Step Guide
Are you looking for a courier business for sale? Really? Well, Despite the prevalence of new technologies, courier services remain a lucrative and in-demand industry. A courier business is a great business and most people think with new technology evolving who still needs to hire a courier, but if you look at all of these big tech companies like Uber, roadie, and other companies alongside Amazon and FedEx investing millions tap into the 500 plus billion dollar industry you start to wonder why not me also? , so yes you should be looking for courier routes for sale, here is a fun fact did you in the mid-1800s messages were carried by pigeons? Don't worry things changed now you don't need to train pigeons to deliver letters anymore even tho they can save you a ton of money on payroll! In this article, I gathered some common questions and answer to help you understand the business model better, from questions like what packages are carried to how you can make money as a courier, But before you start reading make sure to register as a buyer on the link above to receive the latest business ideas and newest routes for sale near you! Now it's time to dive in and explore this document!
What is a courier business?
So what exactly is a courier business? For those who don't know a courier business is a simple but in-demand business, A courier business is a company that provides delivery services for packages and documents. The best part of buying a courier business for sale is you can operate locally, regionally, nationally, and even internationally, it is up to you, and your budget on how far you want to expand your services. Another benefit is you can offer services on regular bicycles, E-bikes, motorcycles, cars, trucks, and even airplanes to deliver packages to their intended destinations.
If you are interested in starting a courier business rather than buying, you should conduct more research and also develop a business plan, it should outline your targeted market, what service you want to offer, how much you will charge plus a marketing plan. You should also consider the cost of starting a courier business, such as what type of vehicles you want to use and what permits and licenses your state requires to operate a courier business.
Alternatively, if you're interested in buying an existing courier business for sale, you should evaluate each courier route for sale and carefully check the financials, the contracted accounts, the employees, and the condition of the vehicles or bikes.
what do couriers deliver?
I gave a brief detail above on what couriers do but in this section, But here I took wanted to show you the many ways you can add or expand when starting or even buying a courier route business for sale, So you think Couriers, you delivering documents right? But look at the many other services courier businesses can offer below:
Documents: Important documents are usually the bread and butter for courier businesses, these documents can range from legal, documents, to contracts, and financial documents that are frequently delivered by couriers.
Packages: Packages are also delivered, these can be anything you name furniture, appliances, electronics the list goes on, you can offer this service to be same-day or express.
Medical supplies: Medical supplies like prescription drugs, lab samples, and medical equipment are often sent by courier. For these things to be brought safely and on time, they need to be handled with care and transported especially. Couriers can also be used to bring retail items, like online purchases or groceries, to customers' homes or places of work.
Business supplies: You can also work with small local businesses to offer your services, small businesses may love this partnership because it is fast and convenient for them, These businesses can office equipment stores, furniture stores, wholesales, and even grocery delivery at times!
So as you can see couriers don't only have to deliver documents, skies are literally for courier routes, You can offer a wide range of services from documents to retail purchases to even medical supplies. You can offer delivery same day, next day and even express within hours if capable!
How do courier services make money?

This is what it all comes down to for any business, How to make money! Courier services make money by charging customers a fee for each delivery, the way they normally charge varies by many different factors. Some factors may be the weight of the item or package, How far it is going as well as how fast your customer needs it there.
Some courier businesses also offer a flat rate for delivery within a certain geo or even a flat fee for packages under a certain weight, this is good because customers will always remember and keep them coming back rather than getting a new price every time. You can also charge customers for special requirements such as emergency delivery, handling fragile products with care, or heavier items that may require more manpower.
Alongside these direct fees, courier services can also make more money through value-added services, such as adding insurance for each package, tracking and even delivery confirmation like having your employees request a signature. Now you can take it a step further and also offer more services such as warehousing, distribution, or even fulfillment, which can increase your gross revenue sales.
Overall, a courier service's ability to make money relies on several things, such as its pricing strategy, how well it runs, and its ability to attract and keep customers in a competitive market.
Who pays for courier service?
The majority of the time, the person or business that is sending the package or item will be responsible for paying your courier fees. Keep in mind that in some cases, the receiver may have to pay, for example, if the sender asks to have the recipient pay for the delivery when received.
While companies that are looking to do long-term work with you may negotiate rates and terms with your business, you should consider this and see if there is a mutual benefit, like how many shipments a month and the of deliveries needed will they require more people in one vehicle, etc? If you feel that it is a good fit for your courier route business making business deals with alot of them can help you grow faster as well as add more value to your business.
Are courier services in demand?
Couriers will also be in demand that is unless drones take over! But that's something out of a sci-fi movie where mini planes are all over the skies but in the current world and today's fast-paced world, people, smaller businesses, and larger enterprises still rely on couriers to send and receive packages quickly and efficiently. Thanks to E-commerce it has contributed to the growing demand for courier services because more and more people are now shopping online and their orders need to be delivered to their doorsteps.
Alongside E-commerce still businesses in busier cities like new york, LA, and Texas, for example, use couriers to send and receive important documents, Buying an established courier route for sale can be an attractive option for anyone looking to get a head start in the courier industry, as it will provide you with an established customer base and route network as well as google reviews and the equipment, training, and system in place.
However, it is important to carefully evaluate the financial viability of any courier route for sale before making a purchase, as not every business may be a successful investment. Always looking for signs of red flags, such as any competition, drop-in sales, and the years in business.
How do courier companies get clients?
Customers, customers, and customers should be on your mind when starting or buying a courier business near you, with high competition and the increase in demand for delivery services you as a courier business need to stand out from your competition, below are some easy that might just work!
Acquiring new clients is a critical aspect of any courier company's success. With the increasing demand for delivery services, competition is high, and courier companies need to stand out and attract new clients. In this answer, we'll explore some of the ways that courier companies can acquire clients and grow their businesses.
Referrals: Referrals from existing customers are a great way for messenger companies to get new ones. Customers who are happy with the courier company may suggest it to others who need delivery services.
Advertising: Courier companies can reach potential customers through different types of advertising, like web ads, print ads, direct mail, or billboards. They might also use social media to spread the word about their services and reach more people
Online presence: Courier companies can find new clients by having a strong online presence, like a website and social media accounts. Clients can easily find the courier company and get in touch with them through internet searches or social media.
Cold calling: It's possible that certain courier companies will utilize telemarketing or cold calling strategies to get in touch with potential customers and offer their services to them.
Networking: When it comes to connecting with potential customers, courier companies might benefit greatly from engaging in networking activities. They might go to industry events, sign up for membership in business organizations, or take part in trade exhibitions to network with prospective customers and establish partnerships.
Partnerships: Courier companies may also form partnerships with other businesses or organizations to expand their client base. For example, a courier company may partner with an e-commerce platform to provide delivery services for their sellers.
When it comes to finding more customers all of the above are some, but the number one way to build a larger customer base is by proving excellent and trustworthy service, you see in the courier business you are delivery with personal products and packages that require care, you show your customers that you take their items seriously and get them delivered with top priority care this ill gain you, customers, for sure, you
Happy customers leave reviews = More customers
Happy customers get you referrals = More customers
Happy customers comment on your social media = More followers
Happy customers want to work with you long term = More sales
So what makes a good courier?
Starting or considering buying a courier route for sale may seem like a simple business model, deliver packages and get paid, but there is alot of little things that play a role in making you succeed in this high-competition industry mastering them may help you succeed!
Dependability: A trustworthy courier is someone who can be counted on to deliver packages on time and by their assurances. They are aware of the significance of fulfilling delivery deadlines and possess the ability to efficiently manage their time to ensure that deliveries are made on time.
Attention to detail: Couriers need to have good communication skills to interact with clients and respond to inquiries or concerns. They should be able to provide status updates on deliveries and answer questions about delivery times and procedures.
Good communication skills: When it comes to communicating with customers and responding to their questions or complaints, couriers need to have strong communication skills. They should be able to answer inquiries concerning delivery timelines and procedures, as well as provide status updates on deliveries.
Physical fitness: A little gym won't hurt, Being physically healthy is essential for the job of a courier because of the possibility of carrying big parcels and walking long distances. They need to be able to safely and effectively lift and move packages.
Knowledge of delivery routes: Using software is great but To make deliveries quickly and efficiently, a skilled courier needs to be familiar with the area's streets and highways.
Professionalism: When communicating with customers, couriers should professionally represent their organization. They need to make a good impression by being well-groomed and well-mannered.


What are the skills of a courier?
Whether you are planning to work and do make the deliveries or hiring and understand how to train couriers this section should help a little, You need to understand you will be managing customers' personal property so you must pick the right candidate for the job. One of the most important skills for your courier should be time management. They need to be able to manage their time effectively and safely to meet deadlines. Your couriers should be trained to focus on the details before starting their route, preparing a checklist and having each employee go through it daily will assure mistakes will not be made, A simple mistake can cost you time and a customer.

They should be able to follow instructions and take note of any special delivery requests. Checking physical fitness is also an important skill for couriers. They may need to carry heavy packages and travel long distances, this may be on foot, bikes, cars, or even trucks so it is important to list that when hiring an employee. Good communication skills are a must as they will be dealing with your customers so you want them friendly and have a positive attitude.
Finally, knowing the streets and safe shortcuts to get in and out of places quickly as I discussed above this can save you alot of time.
What items should I pack for the courier?
If you found a courier route for sale, the existing owner will help train you and assist you after you purchased the business, the training will be about how to continue running the business efficiently, and the training will also show you what is needed in regards to what tools should your couriers always have with them but for those starting a courier business here is an idea on what you should provide each employee.
The things you should pack for a courier delivery will depend on the type of package you are sending, where it is going, and any special directions the recipient or courier company gives you. But some general rules can help you make sure your package is packed safely and firmly. Here are some things you might want to bring with you:
Packing materials: You will need appropriate packing materials to protect your package during transit. This may include bubble wrap, packing peanuts, or foam inserts.
Tape: Strong, durable tape is essential to ensure that your package stays sealed during delivery.
Labels: Always label your packages with the customer's address and if there are any special instructions or handling instructions. Make sure that the labels are clear, legible, and securely attached to the package.
Inner packaging: Depending on the contents of your package, you may need to use additional inner packaging to protect fragile items or prevent movement during transit.
Outer packaging: The outer packaging should be sturdy enough to withstand the rigors of transit. This may include a corrugated box or padded envelope.
Protection for sensitive items: If you are sending sensitive items such as electronics or liquids, you may need additional protection. This could include anti-static bags, waterproof bags, or absorbent material.
Shipping documents: You will need to include any necessary shipping documents, such as customs forms or delivery confirmations.
In conclusion, starting a courier business can be a great investment for people who are willing to put in the time and effort needed to be successful. There are many ways to do well in this business, whether you start from scratch or buy an already-established courier route for sale.
Before you jump in, you should do some study and find out what you need to do to get started. This could mean getting the right permits and licenses and spending on the right tools and technology to make your business run more smoothly.
If you love getting products and packages to people quickly and efficiently, are good at talking to people, and are dedicated to giving great customer service, you may be a good fit for the courier business. In this exciting field, you can build a successful and rewarding career if you have the right attitude and are willing to learn.
So, why not find out what your choices are and take the first step toward starting your own courier business? Remember that there are a lot of ways to run a courier business, and with the right plan and a lot of hard work, you can build a business that makes you money and makes you happy for years to come.
---
Have time? Check these out!
Disclaimer: The information provided in this article is for general informational purposes only and should not be considered legal advice. The laws and regulations regarding business licenses may vary from state to state and are subject to change. It is important to contact your local state office to determine which licenses are required for any specific businesses. Additionally, please note that this article contains affiliate links and we may earn a commission from our affiliate partners or Amazon links. If you are considering starting a business, it is recommended that you seek the advice of a qualified lawyer, business broker, or professional in your area. The information provided in this article is not a substitute for professional advice and should not be relied upon as such.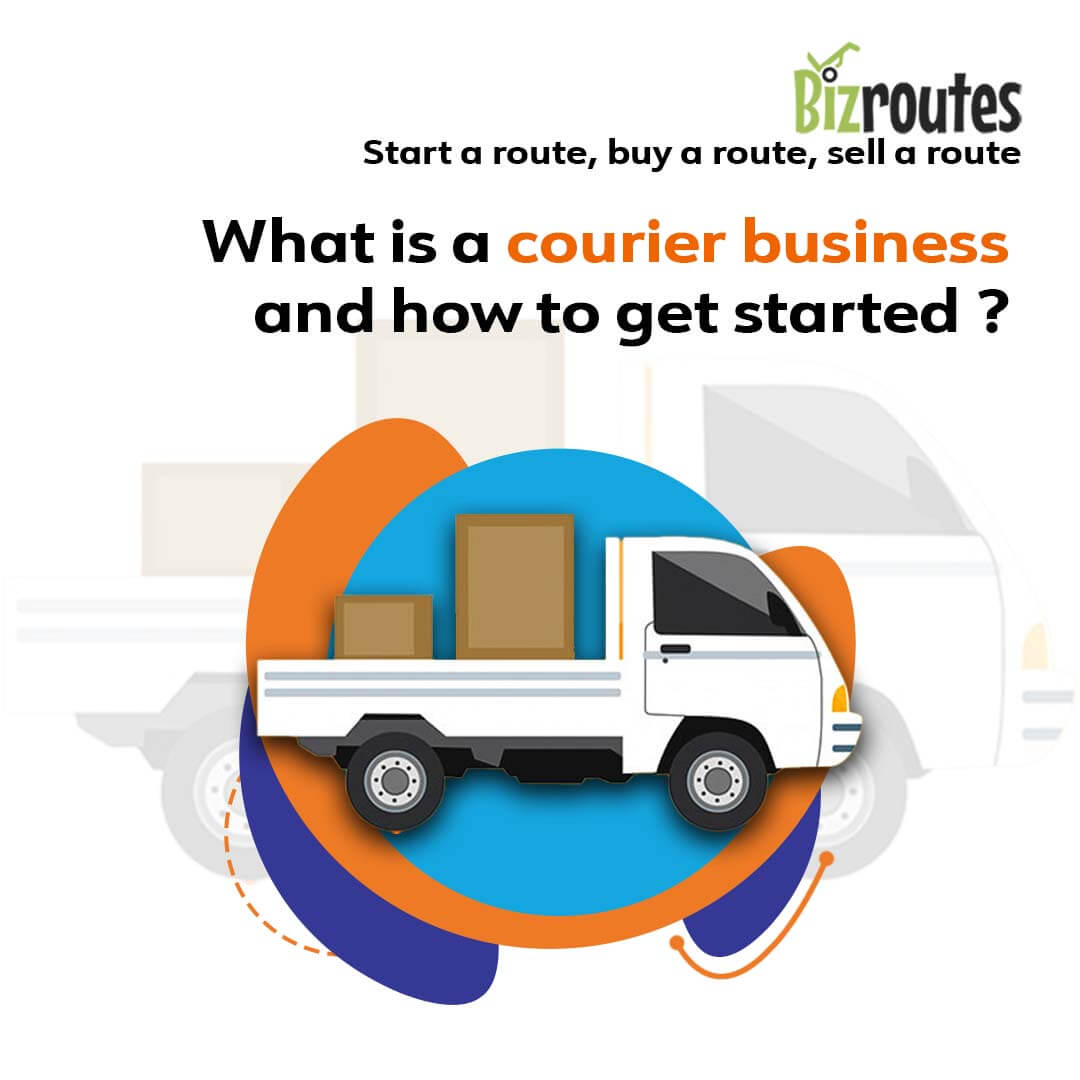 Looking to List your courier route for sale here? Take advantage of BizRoutes' free listing service and increase your chances of finding the perfect buyer!