Discovering the World of Duct Cleaning Business:
A Step-by-Step Guide to Getting Started
Are you thinking about buying a duct cleaning company? Maybe you want to know more about the market, or maybe you're prepared to make the leap and buy your own company. This article is aimed at providing you with a good grasp of the duct cleaning industry as well as advice and ideas on what to look for when purchasing a duct cleaning firm, whatever your reason may be.
This guide might very well give you the information and resources you need to make a wise investment decision, from understanding the key elements that determine a duct cleaning company's performance to navigate the purchasing process. So whether you're an established entrepreneur or just getting started, keep reading to see how you can establish a brand for yourself in the profitable and expanding industry of duct cleaning.
Q1: What is a duct cleaning business?
The first step in starting a duct cleaning business is to conduct thorough research and trainingYou should develop a solid understanding of the duct cleaning trade, including its size, level of competition, and target market. You can use this to create a strong business plan and marketing strategy that will enable you to stand out in a crowded market.
You also need to learn about the technical parts of duct cleaning, such as the tools, equipment, and cleaning methods. You can start a duct cleaning business by enrolling in one of the many training programs that are available to you. You may successfully launch your firm and offer your customers high-quality services if you have a solid foundation in both the business and technical parts of duct cleaning.
According to the United States Environmental Protection Agency, it is recommended to clean out your air ducts whenever a possible hazard emerges, such as mold growth, poor air quality in your home, and damaged or clogged ducts. It is important to regularly maintain air ducts since they circulate heat in the cold weather and fan out cool air in the summer months. By doing so, regular cleaning of air ducts will keep the air in your home or business fresh and comfortable throughout the year.
Although some may opt to clean out their air ducts with online diy methods, most residential building owners and corporations will leave it to professionals. So if this sounds like something you would be interested in, then consider investing in a duct cleaning business for sale. Below you'll find answers to some questions you may have before venturing into an air duct cleaning business.
Q2: How does a duct cleaning business work?
Over time, dust, debris, or other contaminants fill up the air ducts which are then emitted into the air of the property. This may lead to breathing or health problems if one is constantly exposed to it. This is why an air duct cleaning professional is called to clean out these particles using specialized equipment and tools. This process helps to maintain good air quality and will also help the cooling and heating system run at a better performance.
As a dust cleaning technician, you will be responsible for inspecting, brushing out, and vacuuming all the debris that has accumulated inside these air vents and ducts. Using air compressors, special cleaning supplies, and a high-powered vacuum will ensure that all stubborn articles are collected and removed.
Now that you understand what a duct cleaning business for sale is all about, coming up, you'll learn how to get one started.
Q3: How to start a duct cleaning business?
Before jumping into an air duct cleaning business for sale, you should know the business steps that you'll need to take care of. The first thing you'll need to do (if you haven't done so already) is to get the required training and certifications to become an air duct cleaning technician. These courses will help you understand how this business works as well as the safety measures needed to be taken, and how to better grow your company.
"If you're looking to improve your skills or learn something new, online learning platforms like Udemy can be a great resource. With a wide range of courses on offer, you're sure to find something that interests you, no matter your background or experience. I highly recommend checking out Udemy to find courses on any trade. Here is the link for your convenience: www.udemy.com."

The next step is to make your business official by applying for a business license, registering for an EIN, applying for the necessary permits and licenses (depending on the state you decide to run your company from), and getting commercial air duct cleaning insurance.
Then you'll need to find a place to run your business from. Here you can store all your duct cleaning equipment and meet potential customers.
Next, you will need to purchase the required equipment. And last but not least, you'll want to market and advertise your air duct cleaning business, if you are looking for a local customer and don't have a budget to hire a marketing agency you should check out bright local, Small businesses use BrightLocal to get local traffic because it is a powerful tool that can help them optimize their online presence and increase their visibility in local search results, you can sign up with a free trial by clicking here.
Q4: What equipment is needed for a duct cleaning business?
If you're planning to purchase a duct cleaning business for sale, it's important to consider the costs involved. In addition to the equipment that you will have to purchase such as a high-powered portable vacuum with a HEPA filtration system, air compressors, and hand seamers. Other types of equipment that aren't too costly but still needed are safety gear, hoses, sanitizers, turbo shears, crimpers, fin straighteners, and duct rippers.

You'll also need to factor in the cost of acquiring a second phone number for the business, you can consider grasshopper or ring central I use grasshopper for one of my businesses they charge me 40$ a month and the app is really easy to use and they don't shut down your service if you are a couple of days late!
Obtaining a second phone number can greatly benefit your business by making it easier for clients to reach you and presenting a more professional image. With a dedicated business line, clients can quickly and easily get in touch with you without having to navigate through personal calls or voicemails. Additionally, having a separate number for your business can convey a sense of professionalism and help establish your company as a credible and trustworthy brand…Here's a link to Grasshopper. Check them out!
Once you have your equipment and phone number in place, you'll be ready to start promoting your business and building a solid customer base. Don't forget to network with other businesses in your area and utilize social media to get the word out about your services. With the right equipment, marketing strategy, and dedication, you can build a successful duct-cleaning business that generates steady profits.


The equipment you'll need to purchase for your company might cost you a couple of thousand dollars. If you are serious about buying a duct cleaning business for sale, make sure you are prepared financially to purchase the necessary cleaning tools needed. These tools will include a high-powered portable vacuum with a HEPA filtration system, air compressors, and hand seamers. Other types of equipment that aren't too costly but still needed are safety gear, hoses, sanitizers, turbo shears, crimpers, fin straighteners, and duct rippers. Most of these materials can be found in air duct cleaning supply online sites. Anything else can be bought at your local home improvement retailers.
Q5: How much does a duct cleaning business charge its customers?
The prices you'll charge your customers will depend on many different factors. To determine the costs of air duct cleaning services you'll have to consider the following and see how you would be able to charge your customers:
I. The number of vents: Some properties may have a few vents while larger places have a couple more. The bigger the place, the more time it will take for you to clean out the ducts.
II. The condition of ducts: If a duct is very dirty, it will be time-consuming as well as costly since you'll need to use more of your equipment and cleaners to get the job done right.
III. Ease of access: Some homes or businesses may have hard-to-reach ducts and vents so you may require more time to make sure you're doing your job correctly and staying safe at the same time.
IV. Ductwork Type: Depending on the type of materials the ducts are made from, you'll either be able to clean them quickly or it might take longer to get all the debris removed.
Understanding how to charge your customers for the services you provide is vital to running a lucrative duct-cleaning business.
Q6: Is a duct cleaning business profitable?
So now that you" ve learned all this information on an air duct cleaning business for sale, the most significant question some eager entrepreneurs may have is, "Will this business make me money?" The answer is "Yes, it can be a very profitable business as long as you know what you're doing and you advertise your company accordingly."
Business and homeowners will always require their ducts and vents to be cleaned out every couple of years, so a duct cleaning business will continuously be in demand. Your main target should be clients with large corporations, since their venting systems may take a longer time to clean, you would be able to charge more. Also, these corporations can afford to get their ducts cleaned out regularly as opposed to homeowners.
To differentiate oneself from competitors, it is imperative to demonstrate professionalism by exhibiting courtesy towards clients through the use of polite language and behavior, punctuality, and maintaining a clean workspace upon completion of assigned tasks.
Q7: Why should every service entrepreneur add duct cleaning service to their existing business?
As a service entrepreneur, you're always looking for ways to expand your business and increase your revenue. One smart way to do this is by adding duct cleaning to your list of services. Here's why:
First, duct cleaning is a service that's always in demand. As people become more aware of the health hazards posed by dirty air ducts, the demand for professional duct cleaning services continues to grow. By offering this service, you'll be able to tap into a large and expanding market, and you'll be able to attract new customers who are looking for a comprehensive solution to their indoor air quality needs.
Second, duct cleaning can be a profitable addition to your business. While the exact pricing can vary depending on the size of the system, the level of contamination, and other factors, duct cleaning typically commands a premium price. With the right marketing and pricing strategy, you can generate significant revenue and boost your bottom line.
Third, adding duct cleaning to your services can help you stand out from the competition. By offering a wider range of services, you'll be able to differentiate your business and position yourself as a one-stop shop for all of your customers' indoor air quality needs. This can help you win more business and build long-term customer relationships.
Finally, duct cleaning is a natural fit for many service businesses. If you're already offering HVAC services, cleaning services, or related services, adding duct cleaning to your menu can be a logical and easy extension of your existing offerings. With the right training and equipment, you can quickly and easily start offering this valuable service to your customers.
In short, if you're a service entrepreneur looking to expand your business and increase your revenue, adding duct cleaning to your services is a smart move. With the growing demand for professional duct cleaning services, the potential for profit, and the opportunity to differentiate your business, duct cleaning is a valuable addition to any service business.
In conclusion, starting, growing, or buying a duct cleaning business for sale can be a smart and lucrative move for entrepreneurs. With the growing demand for professional duct cleaning services and the potential for profit and business growth, investing in a duct cleaning business can be a natural extension of many existing service businesses or a stand-alone venture. Success in the duct cleaning industry depends on several factors, such as equipment, training, pricing strategy, and marketing. By following the tips and insights outlined in this guide, entrepreneurs can navigate the buying process and build a successful and profitable duct cleaning business. Ultimately, with the right knowledge, tools, and strategies, entrepreneurs can make their mark in the lucrative and expanding field of indoor air quality.
---
Disclaimer: The information provided in this article is for general informational purposes only and should not be considered legal advice. The laws and regulations regarding business licenses may vary from state to state and are subject to change. It is important to contact your local state office to determine which licenses are required for any specific businesses. Additionally, please note that this article contains affiliate links and we may earn a commission from our affiliate partners. If you are considering starting a business, it is recommended that you seek the advice of a qualified lawyer, business broker, or professional in your area. The information provided in this article is not a substitute for professional advice and should not be relied upon as such.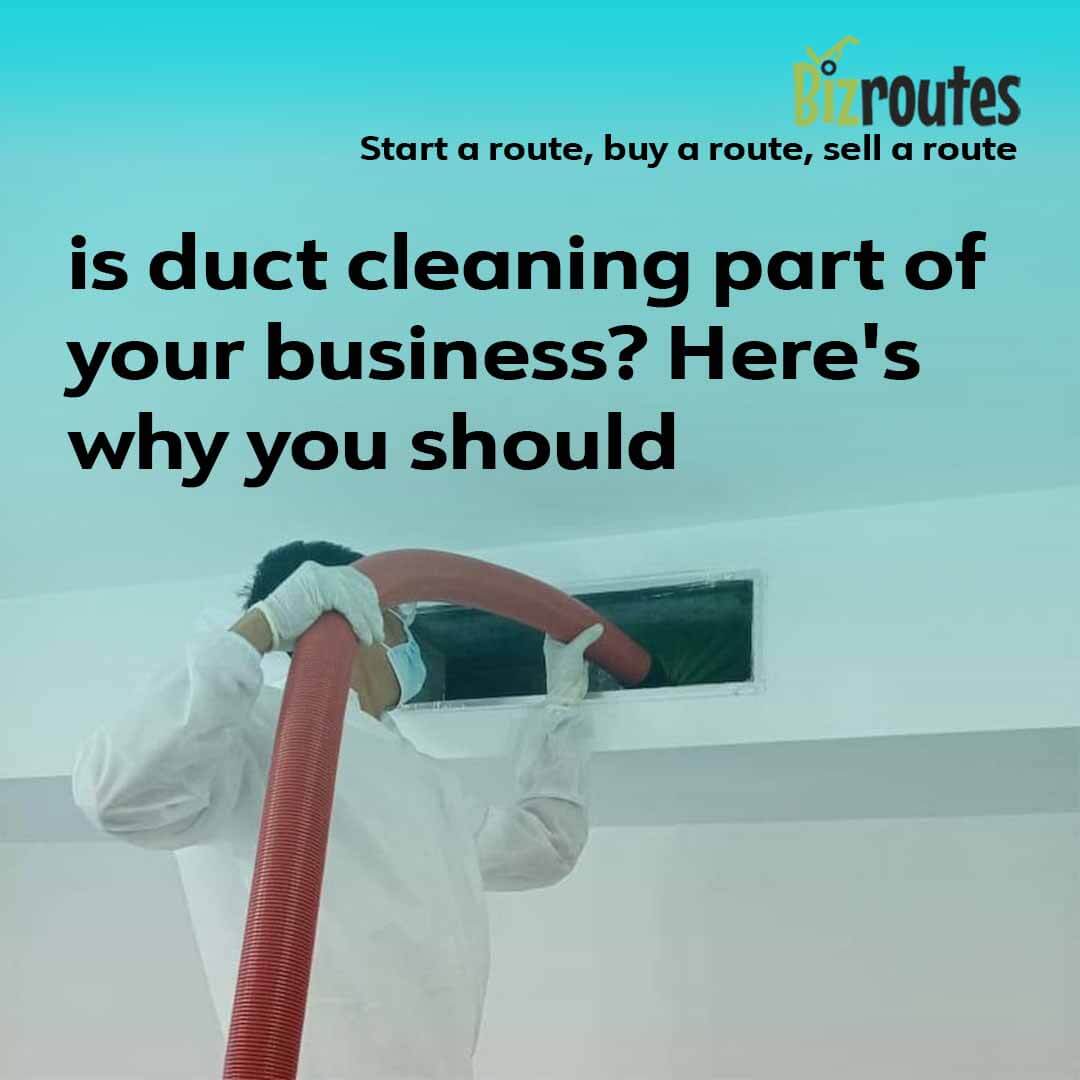 We highly recommend you register as a buyer, by doing so you'll get notified as soon as a duct cleaning business for sale and other listings become available in your area.
---
Check out these other service businesses to start or buy
What is a mobile truck repair business
How does a concrete delivery business work
What skills are needed to install glass for businesses
Buying a mobile tire repair business?
---
Do you have a small company that you want to sell? No credit card is required to register for a free account and advertise your business for sale.