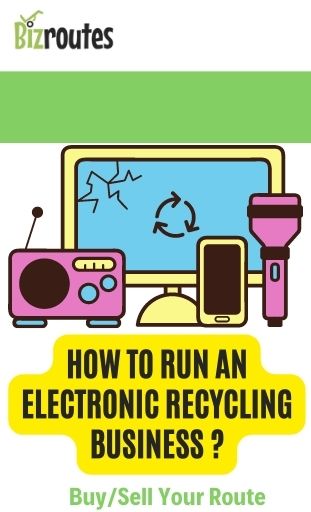 Become business smart!
We highly recommend you register as a buyer, by doing so you'll get notified as soon as a Pepsi route for sale and other listings become available for sale in your area.
Check these out...
In the market for an electronic recycling business?
---
Here's what you need to know.
Operating electronic waste recycling is not your ordinary waste removal unlike other waste that might have odors, or have dirty appeal e-waste is just unwanted devices like phones, tablets, and monitors but like any other business, it still requires grind, passion, and the motivation to thrive. But how much do you know about the E-waste business? I'm sure you started seeing more and more trucks appear that advertise electronic waste recycling. Well, it just may be a booming business.
---
Cons of E-Waste
Before we get into the electronic recycling business, let's speak about the cons of e-waste:
-E-waste is not a healthy business. You must wear protective gear and equipment. e-waste contains lead, mercury, cadmium, and arsenic, this substance can cause future health problems.
-E-waste takes up a lot of the world's space. As some may see a danger others see this as a profit, e-waste makes up about 2% or more landfills which is about 50 million tons.
-What happens when China stops buying? As China is the world's largest e-waste buyer they can stop purchasing at any time, where does that leave the demand for e-waste?
---
Pros of E-waste Business: Why should Buy electronic recycling business for sale?
Placing some of the cons aside, starting or buying an electronic recycling business can be very profitable! Now let's dive into the business side of it
---
1. What types of electronics are recycled?
"To recycle electronics, it needs to either be reused, refurbished, or recycled."
Did you know that certain types of electronics can be recycled? So let's say you started an electronic waste route and are dealing with a buyer to purchase all the e-waste you collected because that company has the million-dollar facility to take on e-waste that shreds, separates, and then sells off the parts like plastic, aluminum, or even copper, it's pretty cool not only are you making a good buck but the role you play in the impact of helping the world stay green!! There is a growing industry around recycling electronic waste.
If you're thinking about starting your own e-waste business, here is a list of the types of electronics that are recyclable. Read on to learn more! Here are some of the main items in broad topics
-Large home appliances, such as refrigerators and freezers.
-Appliances for the home.
-Monitors are part of IT equipment.
-Televisions and other consumer electronics
-Luminaires and lamps
-Toys.
-Tools.
-Devices for the medical field.
---
2. How to find electronics to recycle?
"Becoming certified as an electronic waste recycler is your first step to making your electronic recycling business grow "
People disposing of electronic waste has become a regular habit, with so many new gadgets out old ones get unneeded and have no use to consumers anymore, but some states have laws like the state of new york which prohibits you to throw electronics into your trash or recycle, where you can be subjected to a fine. That's where you come in as an electronic recycling business, once going thru the application process and become fully insured and certified you can start advertising your business, you can also enroll in programs and work with other companies that follow guidelines that allow you to participate.
---
3. How to Grow an electronic recycling Business
Once you are up and running you will want to build a cool website and some good marketing!
Local Seo is great for the electronic recycling business I mean your blog can be full of amazing guides and knowledge on electronics and picking the right keywords will get you,r readers
PPC marketing is the next method for getting leads
Starting a referral program
Kick a#$ social media using hashtags like #Ewaste #recyclers can help get you, followers, with the right images and content
I researched some sites where you can enroll, register, and become certified.
-NSF certified
-Department of environmental conversation
*Check with your state office advice and list of applications you need*
---
4. How to get paid for recycling electronics?
There are many options when it comes to cashing in, one person's trash is another person's treasure, once you established your business dealing with facilities that will buy directly with you removes the hassle of you having to invest big money in a warehouse where you have to do the work yourself it's similar to scrap metal business where you collect the scrap and get paid for each item. For example, some devices contain gold graining which has value.
---
5. What is the best truck to use when operating an electronic recycling business?
Picking a truck for business is important, it's an important decision. That requires your biggest investment, as I researched many companies most of them use a box truck to store bins inside where you can label each pickup and place devices inside the bins. They are secure and safe I would suggest finding a way to have an air vent on top of the truck where no fumes or smell can stay inside the cargo area.
---
Conclusion paragraph:
If you're looking for a business venture that is eco-friendly and profitable, an electronic waste recycling business may be perfect for you. whether starting from scratch or buying an electronic recycling business! We've outlined the basics of what you need to get started in this type of business, but it's always best to do more research before diving in headfirst.
To the best of our knowledge, the information provided on this website is not intended to be taken as professional financial advice. Consult a professional financial or tax expert if you require this advice.
Sort by yearly earning
Select services type
No Listings Found
Make sure to register below so you will never miss an opportunity