Fairlife Milk Routes for Sale | Everything you need to know
1. Bio: Fairlife Milk
---
In 2012, the Fairlife Milk Company started with one simple concept: that milk and its natural health benefits can be used to create a great-tasting drink that will nourish consumers and fit into their modern lifestyles. They specialize in delicious, dairy-based products that derive from ultra-filtered milk all while sourcing it from sustainable family farms. Fairlife milk is committed to making the world better by striving to provide a quality of life that incorporates basic health and safety needs by allowing their dairy cows to feel comfortable in their natural habitat and minimizing or completely avoiding pain. Fairlife wants their customers to feel good drinking their milk because they know how important it is for farmers to respect and care for cows, if you are in the market to buy a beverage distribution business then it wouldn't hurt to check out fairlife milk routes for sale, Fairlife can strive for more than delicious dairy-they can work to make the world a better place.
2. What products do Fairlife Milk Routes sell?
---
Fairlife Milk Route owner distributes a variety of dairy-based products. Fairlife ultra-filtered milk, Fairlife high-quality protein shakes, Fairlife creamy light ice cream, Fairlife high-protein meal replacement shakes, and Fairlife coffee creamers, all come in a range of different flavors.
3. Where is Fairlife Milk sold?
---
Fairlife Milk cab be distributed to markets all over the United States, Your customers can be some or all of the following
Supermarkets

Deli's

Gas stations that have a C-Store

Public schools or private schools

Non-profit's

Also, Major retailers include but are not limited to, Walmart, Kroger's, Target, and BJ's wholesale.
4. How much does a Fairlife Milk Route owner make?
---
A Fairlife Milk Route distributor can make up to $1,500 a week after all expenses.
5. Who should consider buying Fairlife Milk routes for sale?
---
If you want to be a part of something big and help make the world a better place, all while getting paid to do so, then become a Fairlife Milk route owner today! Not only will you be distributing Fairlife Milk's delicious dairy products made from cruelty-free cows, but you will also get to work for yourself and start your own business.
What type of truck is offered when buying a Fairlife Milk route for sale?
---
Milk Trucks built specifically for transporting ice cream and providing space for refrigerated air to circulate the area of the load to prevent heat that would build up inside the truck to prevent products from spoiling, especially during the hot weather, would be the ideal choice.
How many days are required and what is the work description?
---
A Fairlife Milk route owner usually has a four-day work week, and deliveries of their dairy products are better made during the early morning hours. A distributor is responsible for picking up their assigned orders from the warehouse and delivering their products to their established accounts promptly to avoid merchandise decomposition.
Do I need to hire an employee?
---
Depending on the time of the year and the number of accounts you may have, it would be in your best interest to hire an employee when your work becomes overwhelming. During the summer months, you may want to hire an extra employee to get your products, for example, the ice cream, delivered to their destinations quickly to avoid it from melting.
Benefits of buying Fairlife Milk Routes for Sale
---
With no prior experience required for owning a Fairlife Milk Routes for sale, you can enjoy the benefits of becoming your boss and have control of what you can make. Milk your profits by buying a Fairlife Dairy Route today!
Conclusion: What is the job like?
---

Milk distribution is a job that is done by many people every day. It can be difficult to do because you have to Load up your milk truck daily and then distribute it to your route daily, most milk route owners do this without an employee When browsing fairlife milk routes for sale you may find some that have the majority supermarket accounts, this can be a good thing and the reason why is the access to there loading docks. Overall fairlife is a great company whether you are looking to buy a route for sale or even looking to start an awarding career working for them.
---
Disclaimer: The information provided in this article is for general informational purposes only and should not be considered legal advice. The laws and regulations regarding business licenses may vary from state to state and are subject to change. It is important to contact your local state office to determine which licenses are required for any specific businesses. Additionally, please note that this article contains affiliate links and we may earn a commission from our affiliate partners or Amazon links. If you are considering starting a business, it is recommended that you seek the advice of a qualified lawyer, business broker, or professional in your area. The information provided in this article is not a substitute for professional advice and should not be relied upon as such. We want to make it clear that BizRoutes is not sponsored by or affiliated with Fairlife Milk or any other companies mentioned in our articles. Our content is completely independent and based solely on our own research and opinions.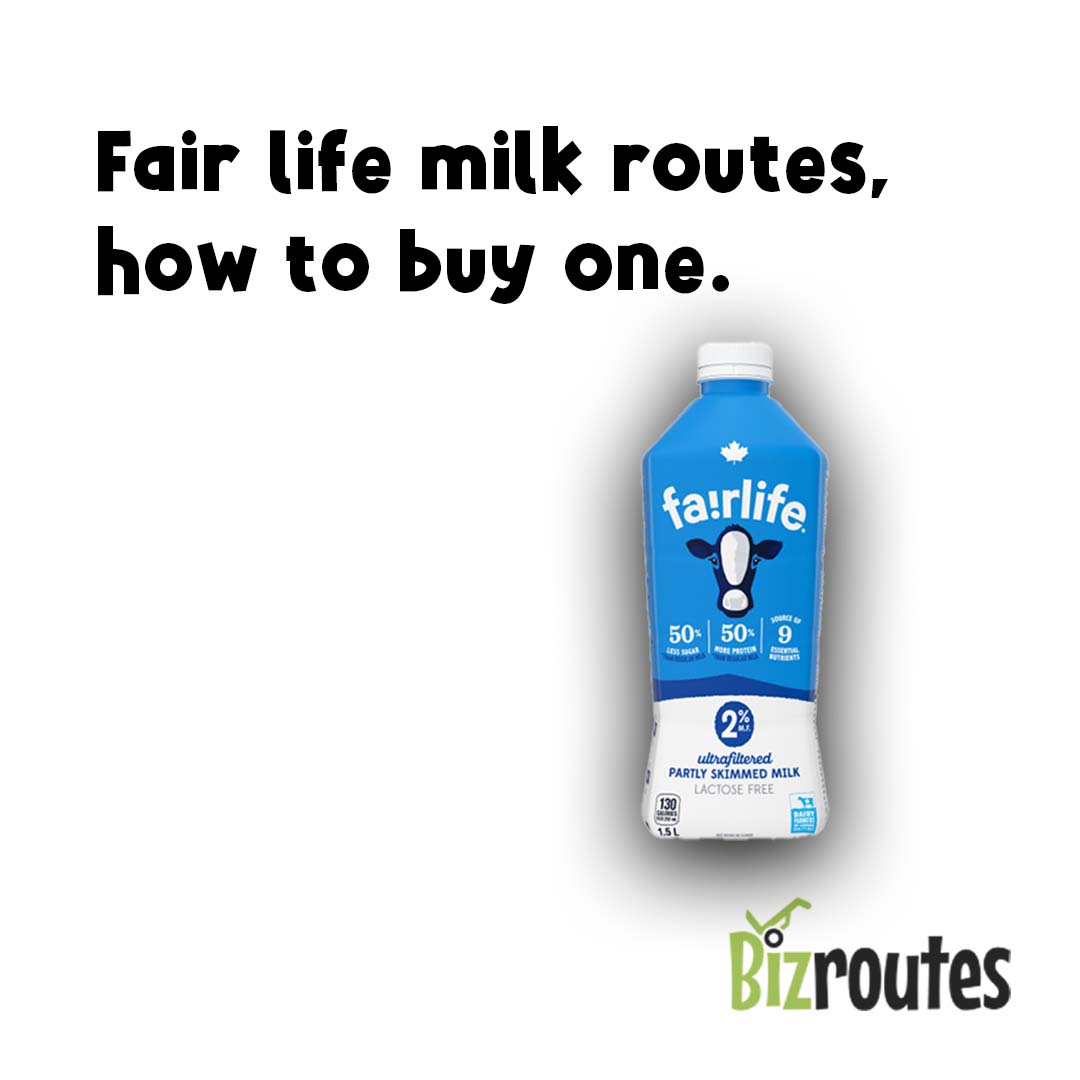 We highly recommend you register as a buyer, by doing so you'll get notified as soon as a Fairlife Milk Route is for Sale.
Check out these beverage routes for sale ...