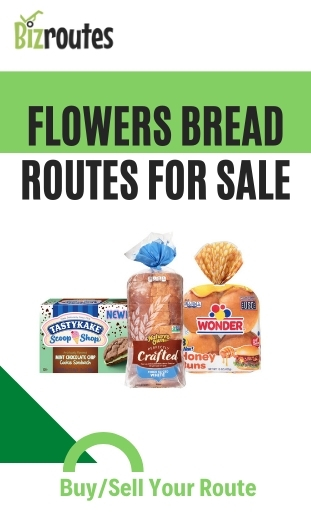 Become business smart!
We highly recommend you register for free as a buyer, by doing so you'll get more business ideas to start and also will get notified as soon as a Flowers Bread Routes for Sale.
Are you looking to sell your small business? Create an account on BizRoutes and advertise it to gain maximum exposure, all for free! Reach a wider audience without spending a single penny.
Complete guide: Buying a flower's bread route for sale?
Are you considering purchasing a flower's bread route for sale? You're in luck! This could be your opportunity to own a turnkey bread business supported by a listed New York Stock Exchange (NYSE) firm. But before you take the plunge, there are a few things you need to know. This well-known route has lots of room for expansion and offers exclusive distribution rights for popular brands such as Nature's Own, Wonder, Sunbeam, Dave's Killer Bread, TastyKake, and more. Flowers Foods, the parent company, is a leading maker of packaged baked foods in the country with a network that delivers fresh bread, buns, rolls, snack cakes, and tortillas to over 85 percent of the US population. With 46 highly efficient bakeries in the United States, Flowers Foods generated a revenue of $4.4 billion in the fiscal year 2020. So, if you're interested in taking on this opportunity, read on to learn more!
Q1. What type of businesses does flower bread router service?
Flower's bread routes service a variety of businesses, including retail and food service clients. The direct-store delivery (DSD) network delivers fresh bread, buns, rolls, snack cakes, and tortillas to various locations such as supermarkets, grocery stores, convenience stores, schools, hospitals, and restaurants. Flowers Foods' brands distributed through the flower bread routes are popular among a wide range of customers and are well-known for their quality and taste.
Q2. What vehicle and truck are needed for a flowers bread route?
When distributing Flowers bread routes, route owners typically use a delivery vehicle that is suitable for transporting baked goods safely and efficiently. While there is some flexibility in the type of vehicle used, most route owners prefer to use a box-style delivery truck with sufficient space to store and transport the bakery items. However, some route owners may also choose to use a pickup truck and trailer depending on their specific needs and preferences. Ultimately, the choice of vehicle will depend on factors such as the size of the route, the volume of products being transported, and the route owner's personal preferences.
Q3. Are flower bread routes profitable?
Flower's bread routes for sale have the potential to be a profitable investment, especially when established correctly. The initial cost of purchasing a bread route is typically lower than other investment options, providing an attractive opportunity for those looking to start a business. As a route owner, your revenue will depend on the size of your route, the volume of products sold, and the commission rate agreed upon with the distributor. Typically, route owners purchase the bread for 80% of the retail price and sell it at 100% to their accounts, allowing them to keep the 20% difference. However, it is important to note that the profitability of a flower's bread route will depend on several factors, including location, competition, and overall demand for baked goods in the area. It is essential to conduct thorough research and analysis before making a decision to invest in a Flowers' bread route.
Check out some of these bread routes for sale...
---
Disclaimer: The information provided in this article is for general informational purposes only and should not be considered legal advice. The laws and regulations regarding business licenses may vary from state to state and are subject to change. It is important to contact your local state office to determine which licenses are required for any specific businesses. Additionally, please note that this article contains affiliate links and we may earn a commission from our affiliate partners or amazon links. If you are considering starting a business, it is recommended that you seek the advice of a qualified lawyer, business broker, or professional in your area. The information provided in this article is not a substitute for professional advice and should not be relied upon as such. We want to make it clear that BizRoutes is not sponsored by or affiliated with flowers bread company or any other companies mentioned in our articles. Our content is completely independent and based solely on our own research and opinions.
Sort by yearly earning
Select services type
No Listings Found
Make sure to register below so you will never miss an opportunity