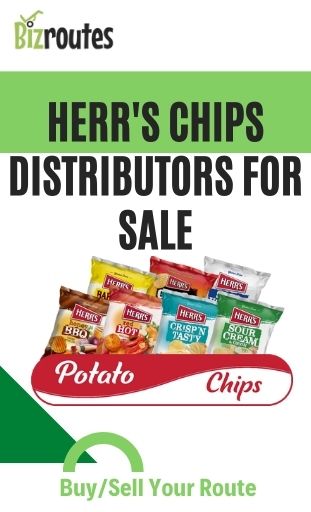 Become business smart!
Similar Articles
We highly recommend you register as a buyer, by doing so you'll get notified as soon as a Herr's chips routes for sale and other listings become available for sale in your area.
Check these out...
Why buying a herr's chip route might be a good business
---
Herr's is a potato chip and snack food company headquartered in Nottingham, Pennsylvania. Their goods are sold across the Eastern USA and Canada but the Mid-Atlantic area is their stronghold. Herr's goods are available in all 50 states of the United States, as well as over 40 other countries.
People who own and operate their own businesses distribute Herr's goods to current customers within a certain area. Usually, the distributor, who works with Herr's, picks up his merchandise from the company's warehouse and delivers it to each of his customers.
---
What are the products sold by Herr'S Route Owner?
2. Pretzels
3. Cheese
4. Tortilla
5. Pork rinds and so many other products
---
What are the expenses required to operate a Herr's Route?
Expenses associated with running a Herr's route include petrol, vehicle maintenance and repair, vehicle insurance, business liability insurance, stale products, and unaccounted-for goods. Damaged products are the company's responsibility.
---
Is buying Herr's chips distributors Routes for sale profitable?
If you want to own a distribution route that provides a variety of high-quality snacks with reliable service and integrity, look no further. Among other benefits, snack routes provide high commission rates, minimal risk, and potential for growth.
---
What is the required delivery vehicle?
Truck, trailers, van… Any delivery vehicle will be fine
To the best of our knowledge, the information provided on this website is not intended to be taken as professional financial advice. Consult a professional financial or tax expert if you require this advice.
Sort by yearly earning
Select services type
No Listings Found
Make sure to register below so you will never miss an opportunity