What are Honor Boxes and why does it make to invest in these businesses!
Honor boxes are becoming more common in convenience stores, gas stations, and grocery stores. What are they? Honor boxes allow customers to pay for their items without interacting with an employee. The customer will usually just drop the money into a slot on the front of the box. This is convenient because it doesn't take up time that other people might need to get their items or purchase something else from the store.
Honor boxes help you save time by allowing your customers to pay without the need for a cashier. They also allow for a more streamlined workflow since all transactions happen at one location rather than having employees running around handing out change and processing payments individually throughout your establishment.
Are Honor Boxes Profitable?
A business owner's main objective is to make money. But other factors come into play for a successful company, such as how you treat your customers and employees. One way to do this is by implementing an "honor box" system in which the customer can enter their amount of money without ever having contact with the employee. This ensures that all transactions are even more transparent, and it also makes it easier on both parties because they never have to worry about exchanging any money at all!
What is the advantage of buying honor Boxes for sale?
Mostly the honor box owners have direct contact with grocery stores, restaurants, and gas stations and they are earning a handsome amount every month. When you buy an honor box from a businessman who is already doing the business, you get the advantage of an established clientele as well as a good passive income.
Honor Boxes enable you to establish a modest vending company. But it teaches you the basics before you invest in a larger vending machine company. Isn't that great?
You may either keep expanding or use your expertise to start your vending empire. Either way, it's a win-win.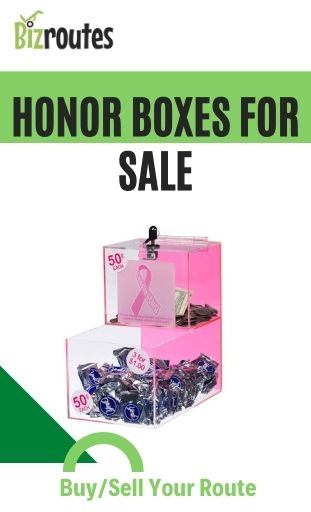 Become business smart!