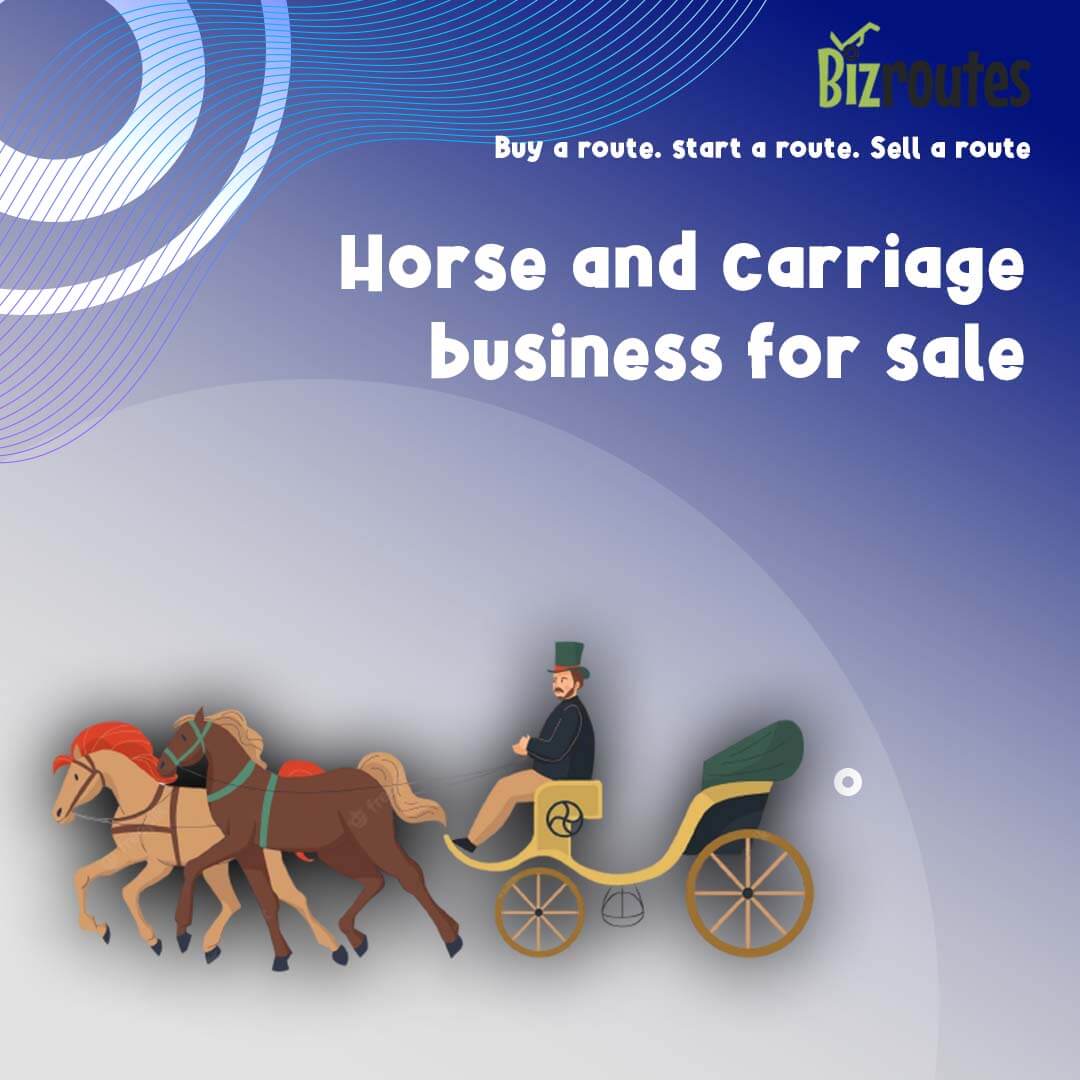 Become business smart!
We highly recommend you register as a buyer, by doing so you'll get notified as soon as Horse and carriage business is for sale and other listings become available for sale in your area.
Check out these transportation businesses for sale:
Buying a horse and carriage business for sale? | Here is what you need to know!
What is a Horse And Carriage Business For Sale?
The Horse And Carriage business is popular in New York City as well as several different cities all over the world. Horse and Carriage tours have a very rich history which makes taking rides on them all the more enjoyable.
When purchasing a Horse and Carriage Business for sale, you will need to undergo carriage driving training and obtain liability coverage and a license. In addition, you will need to follow the strict requirements about the safety and care of your horses, such as their age, the total number of hours they can work in a day, and the payload that they can draw.
How does a Horse And Carriage Business work?
For your Horse and Carriage Business for sale to work, you should contact your county licensing department to verify that you can establish a location to operate your business. This is so you may have an assigned parking stand from where you can operate your business and feed and water your horses as well. Develop a scenic route that will take your clients through beautiful scenery or a historic location. If you plan on riding through a park, contact your Public Works Department as well as your local police and fire departments to verify that you can operate your carriage along your proposed route. Keep in mind, you will need to rent a stable nearby from your operating radius to provide accommodation for your horses.
Make sure you obtain a valid certificate of health from a veterinarian for each one of your horses. Obtain liability insurance in the amount required by your county licensing department, from a provider that specializes in equine insurance. Apply for a horse-drawn carriage license with your local licensing department. Provide proof of a current driver's license for you and each driver and a health certificate for each horse. Submit the required fee for each carriage in operation.
You can also advertise your business to attract a large customer base by creating placards, sandwich boards, brochures, and business cards. If you want to do more, you can also contact your local tourist department to get your horse and carriage business listed.
How does a Horse And Carriage Business For Sale make money?
A Horse and Carriage Business for sale can be profitable by shortening the amount of time it takes to achieve a return on your investment by purchasing a Horse and Carriage business from an owner looking to sell theirs.
The average gross can be anywhere between $50,000~$100,000, with over half potentially coming from annual and repeat contracts.
If you want to begin a start-up on your own, then you should come up with an effective business plan that inevitably results in strong leadership, and won't limit your horse and carriage business's ability to succeed long-term.
5 Facts about horse and carriage businesses:
Fact 1: 20-minute ride in central park can cost you $70 bucks
Fact 2: Ranked number 1 attraction in city park on trip advisor
Fact 3: Carriage horses can not work more than 9 hours continuously in 24 hours
Fact 4: Carriage drivers can not work when the heat is above 80 degrees source ( patch.com )
Fact 5: Horse and carriage dates back to 1858
To learn more about the safety and working conditions of being a horse and carriage operator click here
---
To the best of our knowledge, the information provided on this website is not intended to be taken as professional financial advice. Consult a professional financial, business broker, or tax expert if you require this advice.







Sort by yearly earning
Select services type
No Listings Found
Make sure to register below so you will never miss an opportunity