Buying a medical supplies business for sale
Amidst the coronavirus situation, there has been a rapid rise in medical needs. As more and more people are being subjected to medical supervision, the need for medical supplies has also increased.
figuring out what type of delivery business you want to get into can be frustrating, you may start asking your self are you doing it for the money, for the hours, or even for the cause! medial supplies routes are not only a good business but they will bring joy in doing it, dealing with people who really rely on your service, and getting them the equipment promptly.
When all fields of medicine like hospitals and clinics require medical supplies, then they contact medicines supplies business owners The supplied products can range from medicines to the pieces of equipment like wheelchairs, crutches, oxygen tanks, and more.
What is the Industry Size?
The industry size of the medical supplies business is approximately $243 billion with the prospects of growing more in the future. This clearly adds to the advantages of medical supplies routes for sale.
The customer base ranges from local hospitals, private clinics, and some in-house orders. Not only that, but home care is also a trend nowadays as more and more people are under nurse supervision at their own house.
Benefits of Medical Supplies Route For Sale:
The reason why people prefer their medical supplies delivered is because of the feasibility factor. It's always much easier to get clutches delivered to your doorstep rather than going to the market and carrying it all the way back home. Together with this, when hospitals order the products in bulk, they obviously don't want to take the hectic job of picking the products from the warehouse themselves.
It also ensures their privacy. The medical insurance holders also get the benefit when ordering from an independent distributor.
The day to day process of the delivery includes :
taking orders from the clients
delivering the supplies to customers
making use of your free time by working as a salesman to look for more business
getting the experience by working with wholesalers and eventually excel in getting more work.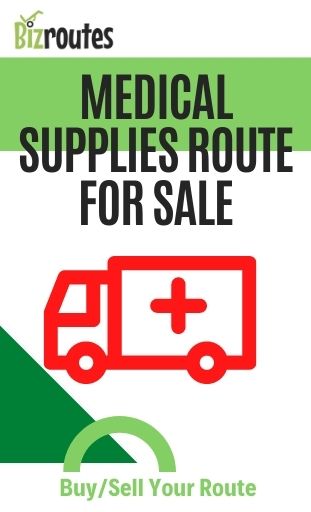 Become business smart!