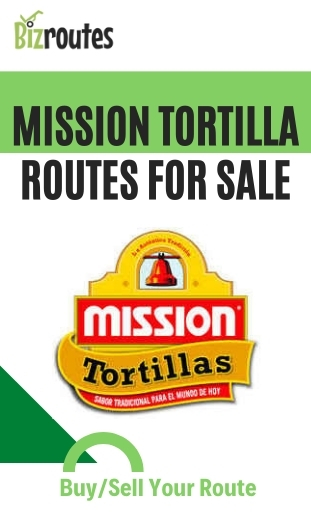 Become business smart!
Similar Articles
We highly recommend you register as a buyer, by doing so you'll get notified as soon as a mission tortilla route for sale and other listings become available for sale in your area.
Check these out...
Buying a mission tortilla route for sale?
---
Here is what you need to know!
Tortillas are a bread that's loved by all. Mission, a company of Gruma Corporation, is the leading tortilla manufacturer in the United States, producing a wide range of genuine Mexican goods.
Mission Foods offers a wide variety of tortillas, from classic corn and flour tortillas to whole wheat and flavored options. The majority of Mission Foods' goods are kosher and Halal certified. Mission also sells tortilla chips in a variety of flavors, they are sold and distributed just like any bread route business.
---
Where to sell mission tortilla products?
The primary customer base for Mission Foods products is the Hispanic market. However, it has become increasingly popular among non-Hispanics as well. Mission Foods is available nationwide through retail stores such as Costco, Sam's Club, Walmart, Target, Kroger, Safeway, Albertson's, Food 4 Less, Dollar General, Meijer, Harris Teeter, Giant Eagle, Family Fare, HyVee, Wawa, Wegmans, ShopRite, Shaw Superstores, restaurants, grocery and convenience stores
---
Is there any experience required?
No experience is needed. The route is perfect for first-time buyers and has a lot of growth opportunities. Most of the route sellers offer some basic training as well, You are taking over an existing route, you will take orders and order them from your vendor and deliver products to customers.
Once you arrive at each location you check for expired, damaged, or even soon-to-expire products, these should be shown to the business owner or the manager, these would be considered credits, and you can exchange them for other or the same products.
Check the existing inventory and what is needed, and confirm with the owner or manager what they need before you fill up shelves...sometimes it may be a slow week or month and they don't want to add too much inventory.
once the order is checked In you can start filling up shelves neatly after the shelves are stocked you can collect payments most payments are COD payments.
---
What kind of truck is required?
Depending on the size of the mission tortilla route for sale you purchase you will determine the size of the truck, but the majority of the time a vehicle is provided with the purchase of the sale
---
What are the day-to-day operations when buying a mission tortilla route for sale?
The responsibilities include loading and unloading the truck, managing deliveries, preordering products, and trying to increase the average weekly sales.
Also managing fuel costs, printing and maintenance costs, and insurance expenses are some of the responsibilities of the route owner.
---
Are Mission Tortilla routes profitable and Are there any employees required?
Yes, they are. Employees are far more welcome on Mission routes than on other types of bread routes, making them ideal for a hands-off proprietor. However, don't be fooled into thinking this is a "sit back, relax, and generate low-risk income" sort of company. This is a company that works with a multibillion-dollar corporation to serve established clientele across the country that wants a certain level of service. Most Mission route owners run the business alone and will hire workers to assist them to decrease their weekly work hours to a level that suits their lifestyle (whether that means working 10 or 40 hours a week), but running a genuinely satisfying business requires hard effort as well. Mission corporate is unlikely to authorize investors for ownership.
This business may be highly profitable if you're not scared to undertake some work for already-established clientele.
---
To the best of our knowledge, the information provided on this website is not intended to be taken as professional financial advice. Consult a professional financial or tax expert if you require this advice.
Sort by yearly earning
Select services type
No Listings Found
Make sure to register below so you will never miss an opportunity