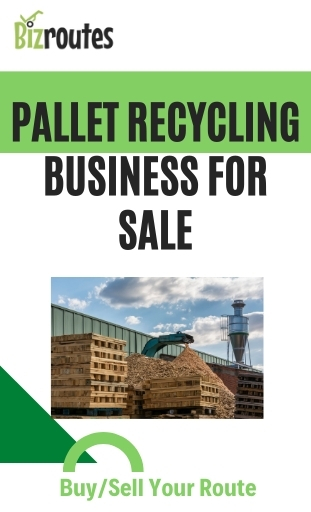 Become business smart!
Pallet business for sale - How is it a good investment?
The market for pallets is huge. pallets are a by-product that does go to waste Have you ever wondered why these are so popular? Pallets are the backbone of the packaging industry. They are everywhere because they are cheap, convenient, and extremely versatile. They are used to ship and store goods and are being used by almost every business in the world, which is why pallet recycling is becoming a big business.
How much does it cost to start a pallet business?
Many times, you can buy an existing business instead of having to start from scratch. Of course, there are perks to starting up a business from the ground floor. But one thing you get when you buy an existing business is expertise. Finding a business for sale might be a better option for you if you are establishing your own small business, and it could lead to a successful career in roughly no time at all.
A pallet recycling business for sale is precisely what you need when taking a step toward owning your own business. With this type of existing business, you do not have to search far for your customer base. The beauty of buying an established business is that you will usually get preferred customers because they already trust who they are getting pallets from.
Is it worth buying an existing pallet business for sale?
Recycling pallets is a growing business mainly because more and more laws and regulations are being enacted to protect the environment. So recycling pallet is good for the environment and makes good business sense, as well. And of course, it's always better to recycle than throw away what could potentially be reusable material.
What type of trucks are used to remove used pallets?
The most common trucks used for pallet removal are box trucks, pallets can be piled up the top and divided into 7 to 8 piles leaving enough room to walk between them, a forklift is usually provided by the establishment, benefits of using a pallet will save you time, imagine having to lift pallets one at a time!
What are other resources that might be needed?
Other than a truck, work gloves, saw, nails, electric drill, and hammer might be used along with other recycling equipment.
Where can I find used pallets?
Pallets are used by many businesses, Orders are delivered in pallets when dropped to customers and most of the time these pallets get left for the customers to get rid of, Your target customers should be big establishments that you think are ordering in large bulks, here are some examples:
EX. 1 Supermarkets
EX. 2 Wholesales
EX. 3 Malls
Ex. 4 Clothing stores
Ex. 5 Dollar stores
What is the nature of the work required?
Used pallets are collected, repaired, and recycled in which the dismantling of the pallets also comes into play. The product is then stored and marketed. Some companies accept, repair, and resell gently used pallets.
Can I find a Pallet recycling business for sale?
It is possible, But never the less this business can be started with just a little money, it is a great business that enables you to earn a profit while playing a significant role in reducing the environmental impact on our planet, here is how to start a pallet removal business:
Step 1: Contact your local state office to find what permits or licenses are needed, these can be from the department of environmental control here is a link for new york state
Step 2: Brain store business names, like here is an example Doctor pallet or MD pallet ( These names may be taken or owned)
Step 3: Open an LLC, Apply for a Tax ID number and get insurance
Step 4: Buy a box truck, keep in mind how many pallets you want to fit in a day's work
Step 4: Website ( Optional)
Step 5: Business number ( Highly recommended) This will play a big role when it times to sell your business
Step 6: Add your business everywhere, like manta, Yellow pages, and other places you think people may look for a pallet recycling business
Step 7: Get social, social media is becoming the go-to place to find businesses, create a Facebook, Instagram, and even a Tiktok account, and don't forget to create a google my business account
Step 8: Gear up, Purchase any equipment needed to make your work more efficient, like ropes and bungees to secure pallets, a dolly just in case a place doesn't have a forklift, and most importantly buy some heavy-duty gloves...You don't want to catch a bad case of blisters!
Hope this article helps you out, don't forget to register as a buyer it is free and fast, and we will send you listings similar to this when they become available...also Sharing is caring can you share this article?
To the best of our knowledge, the information provided on this website is not intended to be taken as professional financial advice. Consult a professional financial or tax expert if you require this advice.
Sort by yearly earning
Select services type
No Listings Found
Make sure to register below so you will never miss an opportunity