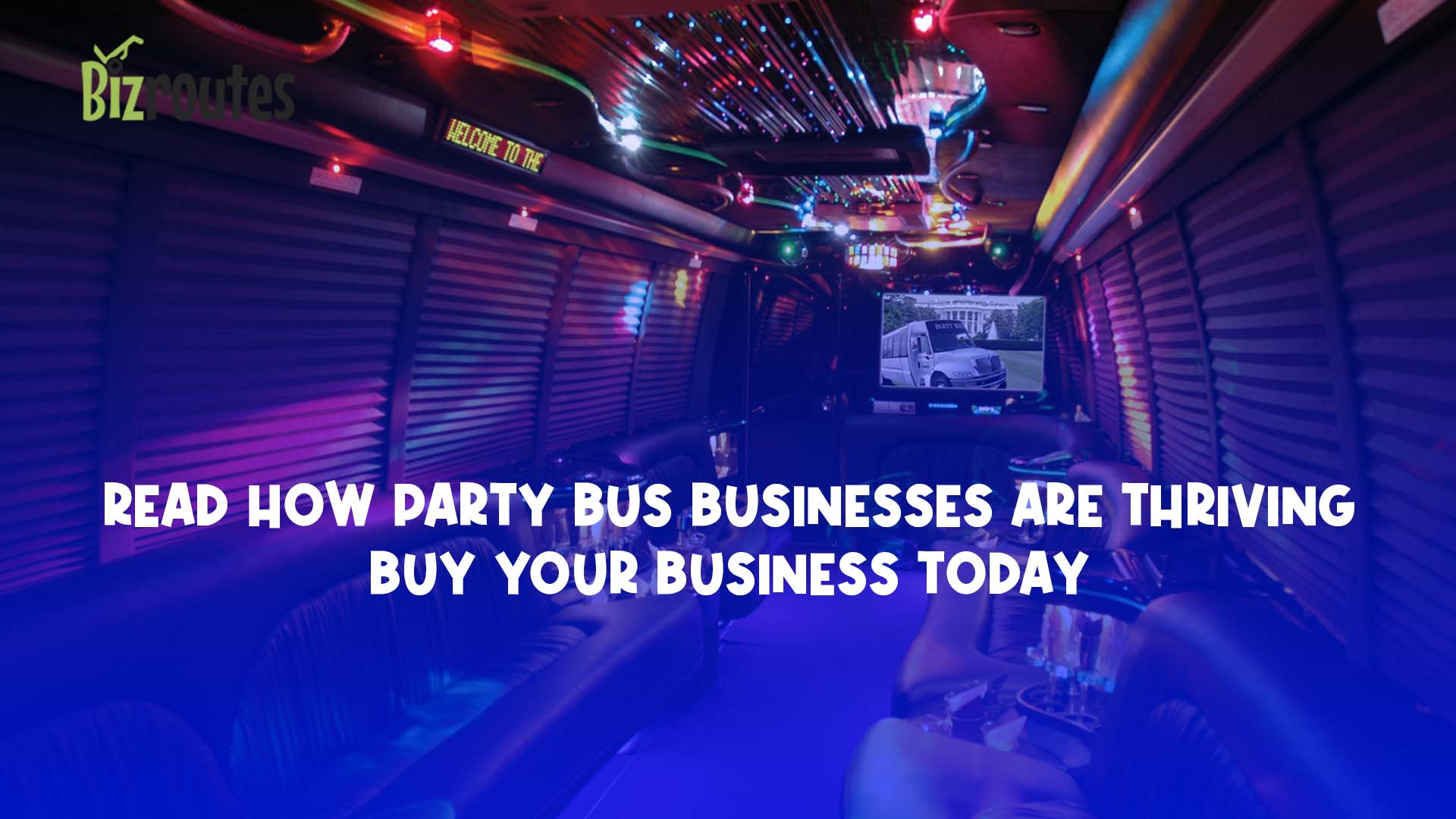 Become business smart!
The Complete Guide to Starting or buying a Party Bus Business for sale and How to Make it Work
---
A quick guide to starting a party bus business:
Step 1. Brand name: Come up with a unique name, register the domain, and form an LLC and tax id.
Step 2. Business license: Get your business licenses in order: After you have an idea of the size of the party bus you want to buy you can Ask your motor vehicle about the type of license needed for a party bus, this varies from state to state. Check with your local government agencies to see what permits and licenses you may need to run your business.
Step 3. Find a party bus: Once you have the above in place you can start searching for party buses for sale, Keep in mind the more features and luxuries in a party bus the more likely people will rent it again and recommend it to friends and family members to rent, Used party buses can start at $65,000 while newer models start at over $100,000.
Step 4. Insurance's: Apply for business insurance as well as getting insurances for your party bus, such as Auto and General liability, Excess auto and also Auto physical damage, a insurance agecy can help assist you!
Step 5 pricing: Pricing is an essential step in the service business. It can be difficult to decide what your prices should be and how much you should charge for a service. There are a few different pricing strategies that you can use to help you set your prices, Number of passengers, miles included per trip, rent per day or per hour, are you providing refershments are some to consider...
Step 6. Business number: Your personal number should not be used for your business number, getting a second number is importation check out grasshopper to get a second number added to your phone, you can choose vanity number as well!
Step 7. software: It's always prudent to be well-organized and one way to do that is to use a software for booking purposes. This will simultaneously increase your productivity and make your business more successful.
Step 8. Building citaitions: Getting your name out as soon as possble is important, you have bills to pay! Adding your business to websites such as manta, yellow pages is a great start, these are free places to build citations, you can check out brightlocal.com to help with getting your party business out there!
Step 9. Social media: Create social media accounts, having your customers tag your business in post is a great way to build brand awarness.
Introduction: Understand the Basic Structure of a Party Bus Business, Its Benefits, and Its Drawbacks
A party bus is a type of bus that is usually rented for parties, concerts, and other events. The buses are usually equipped with amenities like disco balls, stripper poles, bars, and televisions.
The benefits of renting a party bus include the fact that it provides a safe environment for the guests to enjoy themselves in. It also ensures that there is enough space for all the guests to enjoy themselves in comfort. There are also no worries about traffic or parking when renting a party bus. The drawbacks of renting a party bus include the high cost of renting one as well as the lack of privacy while on board due to its open nature and lack of walls or doors separating each cabin from the other.
---
How To Grow A Party Bus Company in 5 Steps
Buying an established party bus business is a great way to start a new venture. This can be done by following the steps below:
1) Find a party bus business that is in your budget range
2) Make sure that you have enough money to purchase the business
3) Negotiate with the seller or broker and don't overpay for their company
__________________
Marketing tips after you buy a party bus business for sale:
1. Find a niche for your party bus company
2. Create a website for your party bus company with information about the business, packages, and pricing options
3. Build an email list to keep in contact with potential customers
4. Create the content on social media platforms like Facebook and Instagram to get more followers
5. Promote your party bus company through advertisements
---
How To attract more Customers after buying a party bus business?
The first thing that you need to do is to make sure that your business is visible. If people don't know about your party bus company, how are they going to book it?
You should also have a website. This can be a website that you design yourself or you can have one created for you. There are many web designers out there who specialize in this type of work.
If you want to save money, then you can try using a WordPress template for your website. It will cost less than having it designed from scratch and it will look just as good.
Finally, if you want more customers, then promote your business on social media sites like Facebook and Twitter. You should always post about what's new with the company and what kind of services are available for customers.
---
Who are Potential Customers for Your Party Buses?
For the most part, people who use party buses are typically looking for a safe, reliable way to get from one place to another. A party bus is also a great way to celebrate a special occasion such as a birthday, anniversary, or bachelor/bachelorette party.
The potential customers of your business could be anyone who needs transportation and wants to have fun while they are at it.
---
How much does a party bus charge its customers?
There are many factors that can affect the price of a party bus. The size, the number of seats, and the amenities offered by the vehicle will all have an impact on the cost.
---
Conclusion: How much money can I make buying a party bus business?
If you are looking to buy a party bus business, there are some things that you should look for. The first thing is the size of the fleet. A good party bus business will have a fleet of at least 3 buses. The next thing is the age of the buses. You want to make sure that they are newer models and not too old.
The next thing that you want to look for when buying a party bus business is its marketing strategy. If they don't have one, then it may be a good way to add more business by creating a social media following, when buying an established business it is always a good thing when the business lacks certain stuff, these can be more opportunities for you to buy the business and expand it.
---
To the best of our knowledge, the information provided on this website is not intended to be taken as professional financial advice. Consult a business broker, or professional financial or tax expert if you require this advice.
Sort by yearly earning
Select services type
No Listings Found
Make sure to register below so you will never miss an opportunity