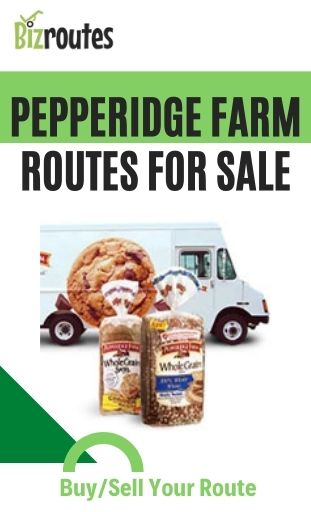 Become business smart!
We highly recommend you register as a buyer, by doing so you'll get notified as soon as a pepperidge farm route for sale and other listings become available for sale in your area.
Check these out...
---
Here are some must-read articles
Acquiring a Pepperidge Farm route for sale?
---
Like any distribution business, Pepperidge Farm is an iconic brand in the United States. It's been around since 1930 and has helped define what Americans know as "cookies." The company was founded by Margaret Rudkin, who created a recipe for what would eventually become known as the Milano cookie. Today Pepperidge Farm produces many different types of cookies, including Chocolate Chip Cookies, Goldfish Crackers, and Nantucket Chocolate Chip Cookies. They also produce classic bakery products like Croissants and Bagels.
Pepperidge Farm continues to be one of America's favorite brands with its high-quality products that are both delicious and affordable.
---
What are Pepperidge farm routes?
Consumers in a certain geographic area may purchase Pepperidge farm baked goods from an authorized independent distributor who distributes them by the PF distribution route. Customers may get PF snacks, Pepperidge farm bakery goods, or a mix of premium products from an independent distributor daily.
Customers in a particular area have a responsibility to provide premium service to current customers and to secure new ones. This is the responsibility of every distributor or route owner.
---
There are two types of Pepperidge Farm routes:
Bread Routes: Bun, tortillas, etc
Snack Routes: Muffins, desserts, crackers, cookies
Both of these vary in pricing. Bread route owners may need to load their trucks daily, but snack route owners can do that twice or thrice a week depending on demand. Also, the bread routes are considered more profitable than the snack routes.
---
Requirements for operating a Pepperidge Farm Route:
A regular driver's license should do the job, sales skills, stocking shelves
---
Bizroutes review on pepperidge farm routes for sale
When it comes to distribution you need to find a niche that you cant take full control of, you don't want to get into a competitive business that will make it harder for you to expand your route, which gets to our point of why this may be a great route business, its a well-known brand that is enjoyed by millions and getting clients for pepperidge farm shouldn't be hard if no other authorized seller is in it already.
To the best of our knowledge, the information provided on this website is not intended to be taken as professional financial advice. Consult a professional financial, business broker, or tax expert if you require this advice.
Sort by yearly earning
Select services type
No Listings Found
Make sure to register below so you will never miss an opportunity