Unlocking a Tasty Opportunity: Your Guide to Buying a Pepperidge Farm Route
Calling all foodies and businesses! Are you ready to turn your love of bread into a sweet business? Look no further than Pepperidge Farm Route's world of wonderful sales! In this article, we'll explore some of the features of Pepperidge Farm Routes, but before we do if you want to receive alerts on the many bread routes for sale be sure to register as a customer and never miss the opportunity.
Who is pepperidge farm?
Pepperidge Farm is a popular American brand of bakers, especially cookies, pastries, and crackers. Established in 1937 by Margaret Rudkin, it is now owned by Campbell Soup Company. Pepperidge Farm products are widely recognized for being distinguished by high-quality packaging. If you are interested in buying the Pepperidge Farm route for sale, it means you are considering becoming an independent distributor or route owner for the company.
Pepperidge Farm Routes is a type of franchise opportunity where individuals or small business owners can purchase exclusive rights to distribute Pepperidge Farm products in a specific location. As the owner of Pepperidge Farm Routes, you will be responsible for the distribution and restocking of Pepperidge Farm products, such as in grocery stores, supermarkets, convenience stores, and other retail outlets.
As an owner, you will operate as an independent business and often work closely with the company's distribution network to ensure timely delivery and good relationships with your customers. Before pursuing the Pepperidge Farm approach, it is important to thoroughly research and understand the specific needs, costs, and expectations associated with this business opportunity. You may need to consider factors such as initial investment requirements, ongoing operating costs, contractual obligations, industry restrictions, and potential profitability
What products does pepperidge farm sell?
Pepperidge Farm is a popular American chain that offers a wide variety of delicious baked goods. As you consider purchasing a Pepperidge Farm route for sale, it is important to be familiar with the types of products that the brand sells. Here are some popular offers you can make as a Pepperidge Farm routes owner:
Cookies: Pepperidge Farm is known for its delicious cookies, made with high-quality ingredients and unique flavors. Some favorite types of cookies are Chocolate Chunk, Double Chocolate Milano, Chessmen, Brussels, Geneva, and many others.
Bread: Pepperidge Farm offers a variety of healthy bread options including white bread, whole grains, and specialty breads. Their bread selection includes classics like Farmhouse White, Whole Grain, Cinnamon Swirl, Italian, Rye, and Sourdough.
Crackers: Pepperidge Farm offers a variety of soft, flavorful crabs that are perfect for snacks or to accompany cheese dip. Popular crackers varieties include Goldfish, Baked Naturals, Classic Assortment, Harvest Wheat, and many others.
Pastry: Pepperidge Farm is best known for its light and delicate puff pastry sheets, which can be used to make a variety of delicious pastries, tarts, and appetizers Puff pastry is a versatile ingredient in the culinary arts both sweet and savory.
Cakes and desserts: Pepperidge Farm makes satisfying cakes and desserts that many enjoy. Their products include layer cakes, pound cakes, turnover, and seasonal items for desserts or special occasions
What states are Pepperidge farm routes found?
Pepperidge Farm routes for sale can be found in various states throughout the United States. However, it is important to note that options may vary over time, and new opportunities may emerge in different areas. Among the states in which the Pepperidge farm routes for sale are most frequently found are California, Texas, New York, Florida, Pennsylvania, Illinois, Ohio, Michigan, New Jersey, and . Massachusetts These states have high Pepperidge farm routes due to population, market demand, and distribution channels. However, it is worth mentioning that Pepperidge Farm channels may also be available in other countries or territories, depending on the company's distribution strategy and market expansion strategy.
How much can a Pepperidge farm route owner make?
Picture this: you're the master of your own destiny, but the amount of dough you rake in depends on a multitude of factors. Community size, number of accounts served, trail efficiency, operating costs, and your own operating skills all play a role in determining your success. It's like a thrilling rollercoaster ride, with twists and turns at every corner!
Now, here's the juicy part: we can't spill all the beans about the exact figures, as Pepperidge Farm, like most franchise companies, keeps its revenue information under wraps. But fear not, intrepid trailblazer! You can estimate your potential income by conducting a comprehensive survey and analysis. Let's take a sneak peek into the exciting steps you can take:
Adventure Awaits: Assess the financial viability of existing routes by connecting with current route owners. Gather insider information about their sales, costs, and profitability. Uncover hidden treasures that reveal the revenue potential of your target market. It's like unraveling a treasure map to success!
Unleash the Power of Profit: Delve into the profitability of Pepperidge Farm products. Each product has its own charm and pricing strategy. By understanding the profit margin, you'll unlock the secret treasure chest that reveals the potential revenue from each sale. Cha-ching!
Market Expedition: Discover the demand for Pepperidge Farm products in your area. Demographics, preferences, and market trends all influence sales potential. It's like embarking on an exhilarating expedition, searching for the golden opportunities that await you!
Analyze and Conquer: Brace yourself as you analyze the operating expenses of running a route. Fuel, vehicle maintenance, storage, insurance, licenses, and permits are just some of the challenges you'll face. By subtracting these costs from your gross income, you'll unravel the true potential for profitability. It's a puzzle worth solving!
Remember, even the bravest explorers seek guidance from the wise. Consult with experienced financial advisors or professionals in the food delivery business to develop a detailed business plan and financial forecast tailored to your unique circumstances. They hold the key to unlocking the secrets of success.
So, buckle up, my daring entrepreneur, and get ready for the ride of a lifetime! As a trail owner, your efficiency, customer relationships, and strong work ethic will be your compass through this thrilling adventure. Are you ready to conquer the trails and claim your slice of the Pepperidge Farm fortune? The choice is yours!"
Pros on buying a Pepperidge Farm route for sale
Brand establishment: Pepperidge Farm is a well-known and respected brand in bakery products. Brand recognition and reputation go a long way in protecting route owners' accounts and gaining customer confidence.
Variety: Pepperidge Farm offers a variety of premium flavors including cookies, bread, crackers, and puff pastry This extensive range allows route owners to utilize customer needs to meet customer preferences . . . .
Strong support program: Pepperidge Farm provides comprehensive training, resources, and ongoing support for trail owners. From initial onboarding to operational guidance, the company ensures that route owners are well-equipped to manage their businesses.
Exclusive zones: Route owners benefit from the inclusion of zones, which means there is less competition within the designated zones. This unique sales model provides consistency and a degree of customer loyalty, resulting in consistent product growth over time.
Flexibility and Freedom: Owning Pepperidge Farm Routes gives you the freedom to manage your own schedule and work independently. This flexibility allows trail owners to be their own boss and balance work and personal life.
Cons on buying a Pepperidge Farm route for sale
Investment Initialization: The acquisition of Pepperidge Farm Routes requires a substantial upfront investment, which may be a barrier for some potential route owners The nature includes purchasing the business, securing adequate transportation, and storage of resources.
Competitive market: While Pepperidge Farm is a trusted brand, the food delivery business can be competitive. Trail owners must proactively seek and manage accountability while adapting to market trends to maintain success.
Operational challenges: Managing inventory, managing distribution, and maintaining relationships with retailers can be demanding. Trail owners must be organized, efficient, and have strong communication and problem-solving skills to successfully overcome operational challenges.
Overall, Pepperidge Farm Routes provides excellent opportunities for individuals seeking a professional career in the food distribution business. An established brand, product diversity, a strong support system, and geographical exclusivity contribute to the likelihood of success.
Although there are initial costs and operational challenges, with proper planning and commitment, trail owners can enjoy the financial stability and satisfaction of having a thriving business As with any entrepreneurial endeavor, conducting a thorough investigation, developing a comprehensive business plan, and seeking professional advice are important steps in increasing your chances of success Pepperidge Farm Routes provides a solid foundation for individuals who are willing to invest their time, effort and resources in building a profitable distribution business.
Here are some must-read articles, Check these out...
Disclaimer: The information provided in this article is for general informational purposes only and should not be considered legal advice. The laws and regulations regarding business licenses may vary from state to state and are subject to change. It is important to contact your local state office to determine which licenses are required for any specific businesses. Additionally, please note that this article contains affiliate links and we may earn a commission from our affiliate partners or Amazon links. If you are considering starting a business, it is recommended that you seek the advice of a qualified lawyer, business broker, or professional in your area. The information provided in this article is not a substitute for professional advice and should not be relied upon as such. We want to make it clear that BizRoutes is not sponsored by or affiliated with pepperidge farm or any other companies mentioned in our articles. Our content is completely independent and based solely on our own research and opinions.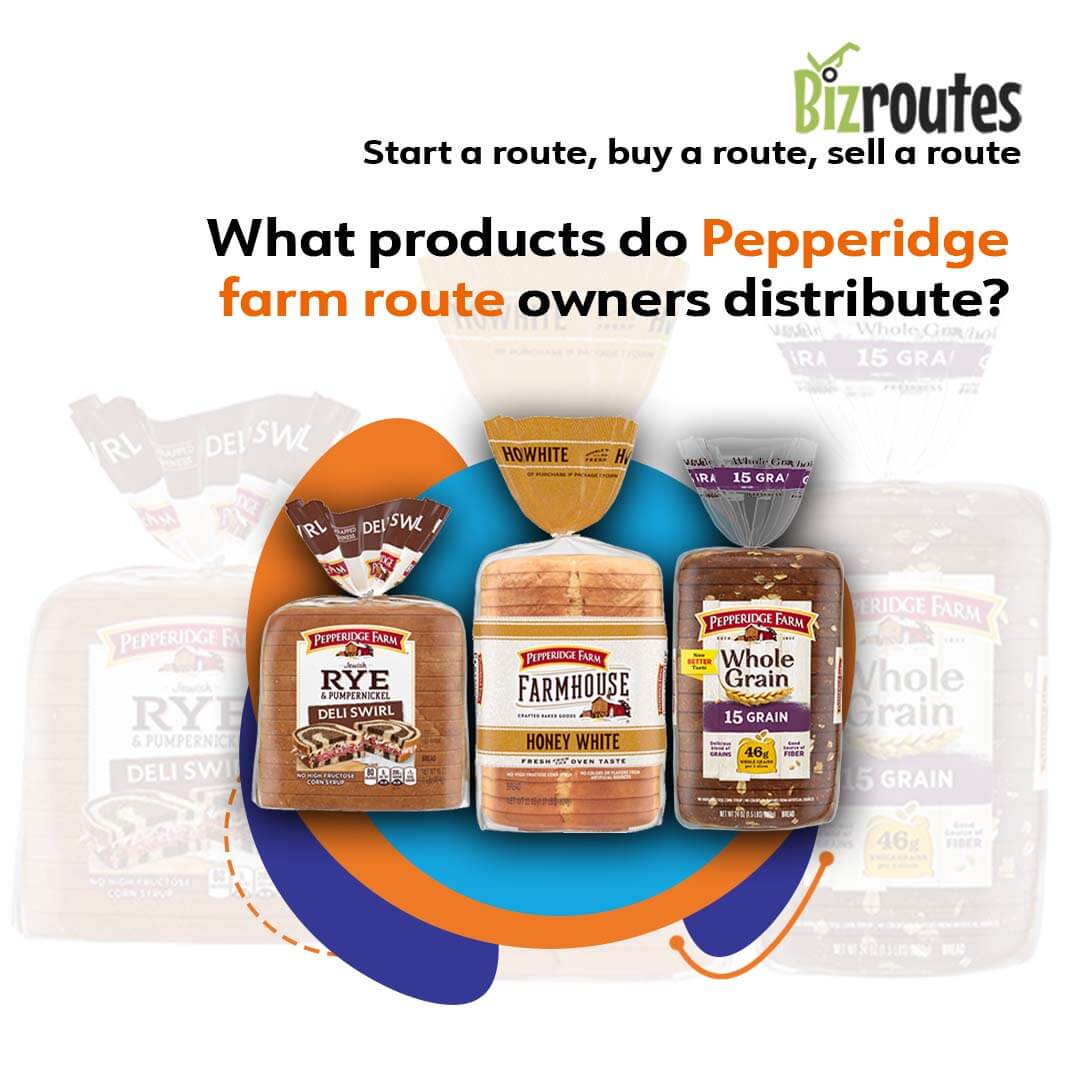 Are you interested in selling your Pepperidge route business? Create a complimentary listing and showcase it to a vast network of thousands of potential buyers every month.
Facts & Questions
What is an independent distributor? 
Ever wonder what an independent distributor does? Well, let's dive into the world of Pepperidge Farm Road for sale with gusto, and bring it to life! Imagine being your own boss, planning your own course, and making dough (literally!) by delivering delicious Pepperidge Farm products to eager customers. As an independent distributor, you get to create your own show that represents this amazing brand. Imagine it as your own dessert-infused journey! You are embarking on a journey where you connect with interesting people, build relationships with loyal customers, and have the freedom to manage your own schedule. Plus, you can enjoy sharing Pepperidge Farm's delicious food with the happy people around you!
What are bread routes for sale? 
Investing in a bread route for sale is an attractive opportunity for prospective entrepreneurs to develop a dedicated distribution channel for fresh bread products. Typically, these routes are established businesses that deliver bread from bakeries or distributors directly to supermarkets, grocery stores, convenience stores, restaurants, and homes even.
Is Pepperidge Farm a franchise?
Pepperidge Farm isn't your typical franchise—it's a delicious adventure! As a licensed distributor, you become part of their family of exclusive food retailers. Imagine yourself as a snack food manufacturer delivering irresistible treats to satisfied customers. It's like captaining your own gourmet ship, sailing in a sea of ​​deliciousness. So, while Pepperidge Farm may not be a traditional franchise, it does offer an exciting opportunity to turn your love of snacks into a mouth-watering career.
Is Pepperidge Farm a private company?
Pepperidge Farm is truly a private company. It was founded in 1937 by Margaret Rudkin and has maintained its status as a privately owned company over the years. As a private company, Pepperidge Farm is not publicly traded on a stock exchange, and ownership is not available to the general public. This gives the company greater control over its operations and strategic decisions.