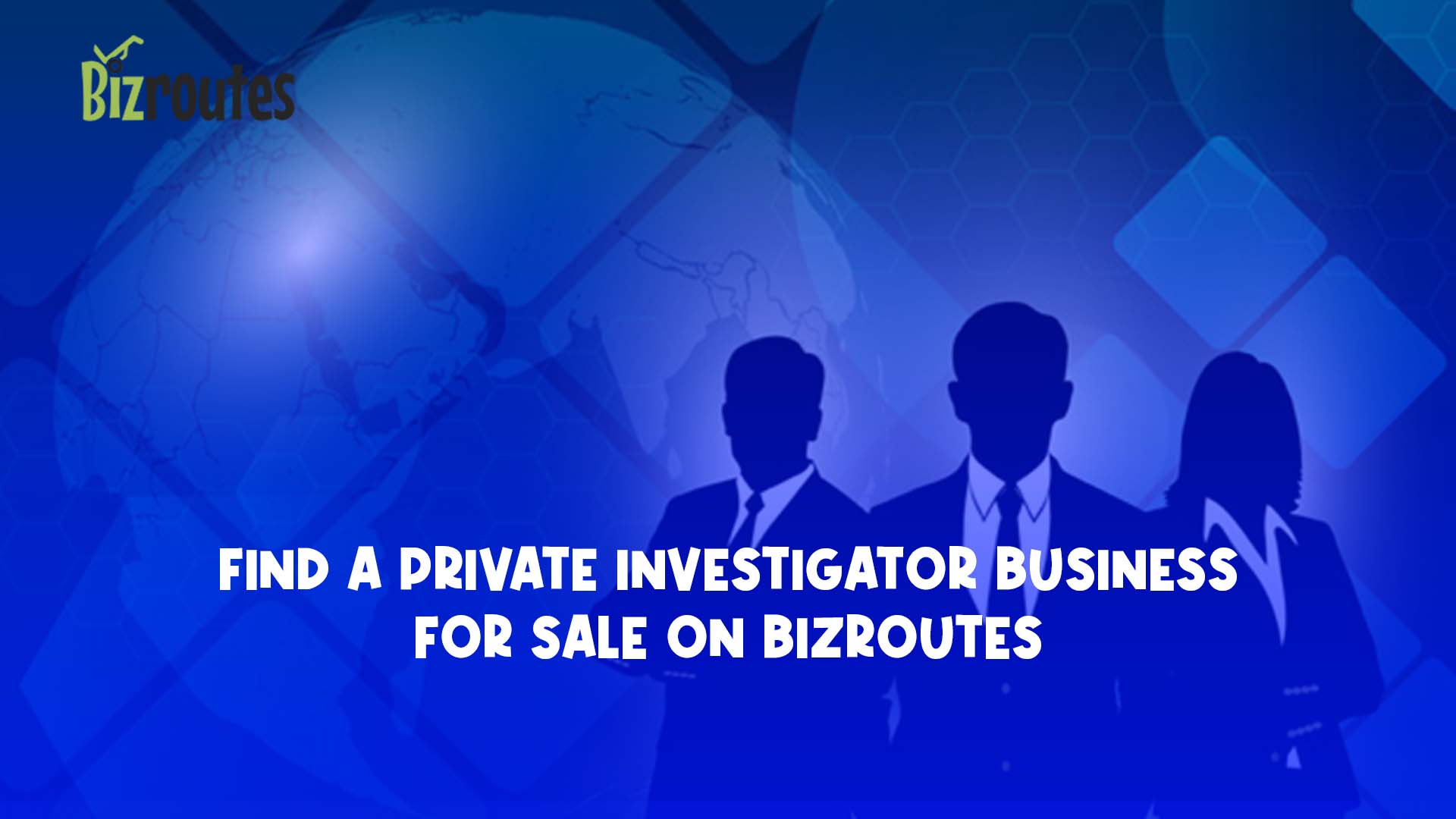 Become business smart!
The Complete Guide to Running or Starting a Private Investigation Business for Sale
---
A quick guide to starting a private investigator business
Step 1. applying for the license: Many states require a certain level of knowledge before approving your application, for example, an 'X" amount of years working for a private investigation firm or a retired law enforcement agent you will have to pass an exam, apply for a surety bond and much more ...check with your state office for the exact requirements.
Step 2 : Training: Self-defense training is a great way to protect yourself. It doesn't matter if you're a private investigator or not, it's always good to know how to defend yourself even tho Private investigators do not need to be physically strong and can work in an office environment for the majority of their day.
Step 3. Getting your business set up: Once you have your licenses approved and passed your exam, you will need to start setting up your business.
Step 4. Choosing your services: A private investigator may be hired by a person who is concerned about the behavior of a family member or friend. They may also be hired by an employer who has suspicions about one of their employees, you can do all or select a niche, like an insurance fraud specialist, or missing person.
Step 5. Pricing: Private investigators are paid for the time and expertise that they bring to the table. They often work on cases that involve multiple tasks and investigations, which means that there is no set price for every case.
Step 6. Buying your equipment: Depending on your services you will need to invest in equipment, this can be from a laptop or desktop computer with internet access to use for research. A camera is necessary to take photos of evidence or to document the scene of an event.
Some of the common gadgets that private investigators use are:
- Hidden cameras, GPS trackers, Voice changers, Audio recorders, Spy glasses, Bug detectors, Radar detectors, and Smartphone jammers
Step 7. Find office space: A private investigator, also called a private detective, investigates crimes or other wrongdoings on behalf of the people that hire them. it is always smart to set up an office space to do their job and meet with clients, it is best to find an area where the required amenities are available and near freeways that allow for ease of travel throughout their region.
Step 8. Website: A website is an excellent way to make more connections with potential customers and present your private investigation business to people all around the world.
Step 9. Business number: Of course, you should only share your business number to clients and agencies that will reach you and never give out your number.
Step 10. Online Marketing :
Marketing is the most important process when it comes to launching a new business when it comes to getting more clients for your private investigation firm Online marketing is one of the best ways to do so because it's cost-effective and reaches a wide audience.
Marketing your business online can be done with several different tools. You can start with Google Adwords, Facebook ads, or LinkedIn ads to name just a few. These are all fairly easy to set up and there are plenty of guides on how to get started on each one.
---
Buying an established private investigator business for sale:
The private investigation industry is booming, and there are many opportunities to hop on this opportunity If you are looking for a career change, if you have always wanted to start your own business, or just buy an established private investigator business for sale then this may be the perfect opportunity for you.
A private investigator works on cases that are not necessarily criminal. They could be hired by an insurance company to investigate if someone has filed a false claim, for example. Private investigators can also look at the financial records of a company to see if any suspicious dealings are going on, or maybe a husband or wife having affair, and in some cases help find a missing person…each case is different.
---
The Basics of Running Your Private Investigation Firm:
A private investigator or PI is someone who investigates all types of cases, or looks for information about a person or organization, typically by asking questions and gathering data. It's important to note that a PI is not the same as a detective. A detective usually works for a law enforcement agency, while PIs usually work on their own.
Once you have accepted the case, you gather as much information as possible, cases may be solved in little as a few days, and some cases years while others can't be solved.
The job is awarding but can be very emotional as you are dealing with sensitive cases, having to a family member what you discovered, and keeping in mind some cases can be dangerous like investigating a fraud case.
---
Best tools and vehicles for a private investigator:
There are many tools and vehicles that private investigators can use to conduct their investigation. The choice of the tool or vehicle depends on the nature of the investigation.
A private investigator will need to identify what they want to investigate before they choose a tool or vehicle.
For example, you can not be too obvious even tho it may sound nice to drive a black tinted Yukon Denali with antennas, you will make yourself very suspicious of your surrounding's you will be better offer driving a beat-up station wagon.
The obvious tools are:
binoculars
Desktop
Professional Camera
Gps tracking devices
Spy camera gadgets like pens, and keys have hidden cameras.
---
Can anyone buy a private investigation company for sale?
It is important for a private investigator to be very observant and know how to use technology in their investigations. To become a private investigator you should have good communication skills and be able to work independently. You should also be able to keep your emotions in check during difficult situations as well as have a strong sense of justice and good judgment.
Buy in regards to being a state-approved PI, There are many requirements here is what we gathered up: ( for the state of New York)
Requirements from the department of state…
source —-> https://dos.ny.gov/private-investigator
25 years old age minimum

Have a business entity

Pass the private investigator examination

Have either 3 years of experience working for a PI firm or 3 years equivalent position and experience or 20 years of service as a police officer or Fire Marshall.

Fingerprinting

Proof of bonds

Liability insurance for employees if hiring guards
Find out more on the link we left above...
---
Conclusion: Should buy or start a private investigator business for sale?
This article has outlined the steps that need to be taken for a person to start their own company. The article also briefly explains what it takes to run an investigated company.
Now the question is do you have what it takes to become a private investigator?
---
To the best of our knowledge, the information provided on this website is not intended to be taken as professional financial advice. Consult a business broker, or professional financial or tax expert if you require this advice.
Sort by yearly earning
Select services type
No Listings Found
Make sure to register below so you will never miss an opportunity