Rolling Towards Success: The Pros and Cons of Buying a Roll-Off Business for Sale
Are you ready to take the plunge and start or buy a roll-off business for sale? Well, hold onto your hard hats, because this industry is one wild ride! As the demand for efficient waste removal services continues to grow, roll-off businesses are booming, and entrepreneurs with the right mindset are poised for success.
But before you hit the gas and speed off into the world of roll-off businesses, it's important to know the lay of the land. That's where we come in! In this article, we're going to give you the lowdown on everything you need to know to start or buy a roll-off business. From scoping out the competition to securing financing, we've got you covered.
So strap in, put on your best work boots, and let's get ready to roll! With our expert guidance and a healthy dose of enthusiasm, you'll be well on your way to building a successful roll-off business that makes a real difference in your community, but first, make sure to register as a buyer to get up-to-date routes for sale and business ideas!
What exactly is a roll-off business?
---

Essentially, a roll-off business involves owning or operating a truck with a large dumpster on the back. Similar to the average garbage truck you see going stop to stop collecting waste, a roll-off truck is used to collect and dispose of large amounts of waste that need to be removed. However, instead of a set number of stops to remove waste from, as the name implies, you roll off the dumpster to a location and wait for the customer to call you once it's filled.
These locations can include individuals renovating their homes or even construction sites. When you drop off a container at a location, you can choose to charge either a flat rate or a fee based on the weight or volume of the waste being disposed of inside your containers.
But starting or buying a successful roll-off business for sale involves more than just having a truck and dumpster. You will need to obtain the right permits and licenses depending on the state, town, or village you are in, and that's just to get up and running. Once you start getting customers, you may also need a permit to park the dumpster in certain locations. Once you have all the necessary permits and licenses, you will need to come up with an effective marketing plan to attract customers.
What industries use roll-off services?
---
When it comes to who will use your dumpster after buying a roll-off company for sale, Anyone you can think needs to dump waste, and here are some of the main industries you should be getting calls from!
Construction: Whether it's a removal or a new building site, construction companies frequently create a lot of trash that needs to be thrown away quickly and effectively. Roll-off containers are the best way to get rid of this kind of trash because they can be brought right to the job site and are easy to fill with trash.
Landscaping: Landscapers often have a lot of waste to get rid of, like tree twigs, leaves, and other organic materials. Roll-off dumpsters are great for this kind of trash because they can be used to pick it up and take it to a place where it can be thrown away.
Homeowners: Roll-off dumpsters can also be used by homeowners to get rid of a lot of trash, like when they clean out their shed or attic. They can have a roll-off dumpster brought to their property and then have it picked up when it's full. This is a handy way to get rid of unwanted items.
Manufacturing: Often, manufacturing facilities make a lot of trash, like scrap metal or extra packaging materials. Roll-off bins can be used to collect and move these things to a place where they can be recycled or thrown away.
Restaurants: Restaurants and other businesses that serve food often have a lot of waste, like leftover food and packing materials. Roll-off bins can be used to pick up this trash and take it to a place where it can be recycled or composted.
These are just some of the many different industries that can benefit from roll-off services. Most customers usually build long-term relationships with roll-off businesses. That's why sometimes buying a roll-off business for sale may have its advantages rather than starting one from scratch. You are getting an existing customer database, business number, and established website.
How many different sizes of dumpsters are available for a roll-off business to offer their customers?
---
It is always good to understand as much as possible when starting or buying a roll-off business for sale. Even though it may sound like a simple operation, there is a lot that comes with it, such as understanding the customer's needs and the different dumpster sizes that they may request from you. Here are some of the dumpster sizes that customers may request from your roll-off company!
5-yard dumpsters: These more compact containers are perfect for little jobs like clearing out a closet or getting rid of yard garbage. They typically hold up to 5 cubic yards of waste and are 8 feet long, 5 feet wide, and 2 feet high.
10-yard dumpsters: These containers are slightly larger than the 5-yard size, making them suitable for small landscaping or home improvement projects. They measure approximately 12 feet in length, 8 feet in width, and 3.5 feet in height and can accommodate up to 10 cubic yards of trash.
15-yard dumpsters: These containers are the right size for bigger home improvement projects or small business jobs. Usually, they are 16 feet long, 8 feet wide, and 4 feet high, and they can hold up to 15 cubic yards of trash.
20-yard dumpsters: These larger containers are perfect for larger commercial projects or building sites. They are typically 22 feet long, 8 feet wide, and 4.5 feet tall, and can hold up to 20 cubic yards of waste.
30-yard dumpsters: Large building projects or extensive home renovations benefit greatly from the use of these extra-large containers. They can hold up to 30 cubic yards of trash and measure around 22 feet in length, 8 feet in width, and 6 feet in height.
40-yard dumpsters: These are the largest accessible containers and are often used for industrial or commercial reasons. They are typically 22 feet long, 8 feet wide, and 8 feet tall, and can hold up to 40 cubic yards of waste.
If you buying a roll-off business or starting one, know it is important to do your homework on where your dumpsters will come from as well as to comply with local regulations, and have safety features on dumpster to ensure the safety of the customers and by-standers, with better understanding and preparation, your new roll-off dumpster company can turn out to be a profitable and successful business.
Consult with your roll-off dumpster distributor and do your research to ensure you have the appropriate sizes available to meet your customers' needs and comply with local regulations. With the right knowledge and preparation, your roll-off dumpster business can be a profitable and successful venture.
What waste can I accept in my containers?
---
Let's inject some fun into the topic of waste disposal! So, what exactly can your customers throw into your roll-off dumpster?
The great news is that your company can handle a wide variety of waste types. From construction debris and household junk to scrap metal and even landscaping waste like tree limbs and leaves, you can accommodate a range of needs. This flexibility allows you to serve a diverse customer base without turning anyone away.
However, it's important to keep in mind that there might be certain restrictions on the waste you can haul to the dump site. For instance, hazardous materials such as batteries, chemicals, and electronics containing hazardous components may not be permitted inside your dumpsters.
To avoid any surprises, it's wise to check with the dump site you'll be working with to obtain a list of approved waste materials for your dumpsters. Imagine arriving with a 30-yard load of waste only to be turned away—ouch!
Furthermore, it's crucial to inquire about waste mixing guidelines. For example, if a customer requires a dumpster for a demolition job, can they mix concrete with other debris? In most cases, the answer would be no, as specific waste separation may be necessary to ensure proper disposal.
By staying informed about the approved waste types and any mixing limitations, you can provide a reliable and efficient waste disposal service while maintaining compliance with regulations and promoting environmental responsibility.
How do roll-off companies charge?
---
As mentioned earlier, most roll-off companies base their charges on the size of the rented dumpster and the duration of its usage. However, it's important to note that pricing practices can vary depending on factors such as location, competition, and other considerations.
In addition to standard pricing, certain roll-off companies may impose extra fees for specific types of waste that require special handling or disposal, such as hazardous materials or electronics.
For individuals interested in starting or acquiring a roll-off business for sale, conducting thorough research and staying updated on the pricing practices of local competitors is crucial. This will enable you to offer competitive pricing while remaining attractive to potential customers. Additionally, consider incorporating additional services or discounts to differentiate yourself from the competition. Below are some examples of services you can add to your roll-off business:
Recycling services: Offer recycling options for materials such as metal, wood, cardboard, and plastics. This environmentally-friendly approach can attract customers who prioritize sustainable waste management.
Disposal of specialized waste: If you have the necessary permits and facilities, consider offering disposal services for specific types of waste, such as hazardous materials or electronic waste. This can cater to clients with specialized waste management needs.
Flexible rental periods: Provide flexible rental options, including short-term or long-term rentals, to accommodate various customer requirements. This flexibility can be an attractive feature for businesses and individuals with different project timelines.
Prompt delivery and pickup: Ensure timely delivery and pickup of dumpsters to provide efficient and reliable service. Customers appreciate punctuality, especially when it comes to managing their waste disposal needs.
Remember, in the roll-off business industry, pricing can be influenced by several factors. Therefore, it is essential to offer competitive rates while maintaining a commitment to delivering high-quality services. By conducting comprehensive market research and exploring different pricing strategies, you can find the pricing approach that works best for your business, ultimately driving customer satisfaction and business growth.
Where do roll-off companies get their dumpsters from?
---
​​When it comes to owning a roll-off company, one of the main challenges may be figuring out where to get your dumpsters or how to make them yourself. While some roll-off companies choose to buy them directly from a manufacturer, others prefer to make them in-house. This will require welding skills and fabricating the materials yourself. One benefit of learning how to make dumpsters yourself is the ability to customize them and create unique sizes or designs that a manufacturer may not offer. However, it may still cost you about the same when you factor in equipment, materials, helium, and hiring a skilled welder. On the other hand, purchasing dumpsters from manufacturers or distributors may be a more cost-effective option for some roll-off companies. This allows for a wider selection of sizes and designs, as well as the ability to quickly acquire dumpsters as needed.
This decision mostly depends on those who are starting a roll-off business. You will need to figure out what suits you best. Keep in mind that you will need to have dumpsters ready for customers on the spot. Customers may need them the same-day or next-day service, so you will need a lot of space to store your dumpsters. For those buying a roll-off business for sale, the business will likely come with a nice amount of dumpsters of all different sizes, making it easier to continue the operation. Ultimately, the decision on where to get dumpsters depends on the specific needs and preferences of the roll-off business. As a potential business owner, it's important to weigh the pros and cons of each option and decide what will work best for your business model.
What services can I add to my roll-off business?
---
If you are starting, buying, or just looking to grow your roll-off business, It is always great to keep expanding your business. One way to do that is by adding more waste management services, here are some services you can add to make more green!
Recycling: Take into account providing your clients with recycling services. Sorting and separating recyclable materials from non-recyclable ones, as well as moving them to a recycling center, may be necessary.
Junk removal: Many customers have things that are too big to be picked up with the regular trash, but they don't always need a full roll-off dumpster. Consider offering a service to haul away unwanted things and get rid of them in the right way. Porta-potties: Depending on your market, you might want to think about renting out porta-potties for events, building sites, and other places where bathrooms aren't always close by.
Demolition: If you possess the necessary tools and knowledge, offering demolition services can be a lucrative addition to your business. This may involve demolishing structures, removing detritus, and transporting it in roll-off dumpsters.
Document destruction: If you have access to reliable shredding equipment, you may provide a valuable service to local businesses and individuals by facilitating document destruction.
Adding these waste management services can help make your roll-off business stand out from competitors as well as create additional revenue streams. However, each business must have its own rules and regulations to follow as well as expertise.
In conclusion, Starting or buying a roll-off business for sale can be a great business or even a side hustle, As it requires you to drop and go. As a new owner, it's important to prioritize building relationships with your customers to have them come back to you for all their roll-off needs. Additionally, never stop looking for ways to improve and add more services to your business, whether through expanding your service offerings or investing in new equipment. Remember, the roll-off business can be competitive, so staying ahead of the curve is key. Best of luck on your new journey!
---
Disclaimer: The information provided in this article is for general informational purposes only and should not be considered legal advice. The laws and regulations regarding business licenses may vary from state to state and are subject to change. It is important to contact your local state office to determine which licenses are required for any specific businesses. Additionally, please note that this article contains affiliate links and we may earn a commission from our affiliate partners or Amazon links. If you are considering starting a business, it is recommended that you seek the advice of a qualified lawyer, business broker, or professional in your area. The information provided in this article is not a substitute for professional advice and should not be relied upon as such.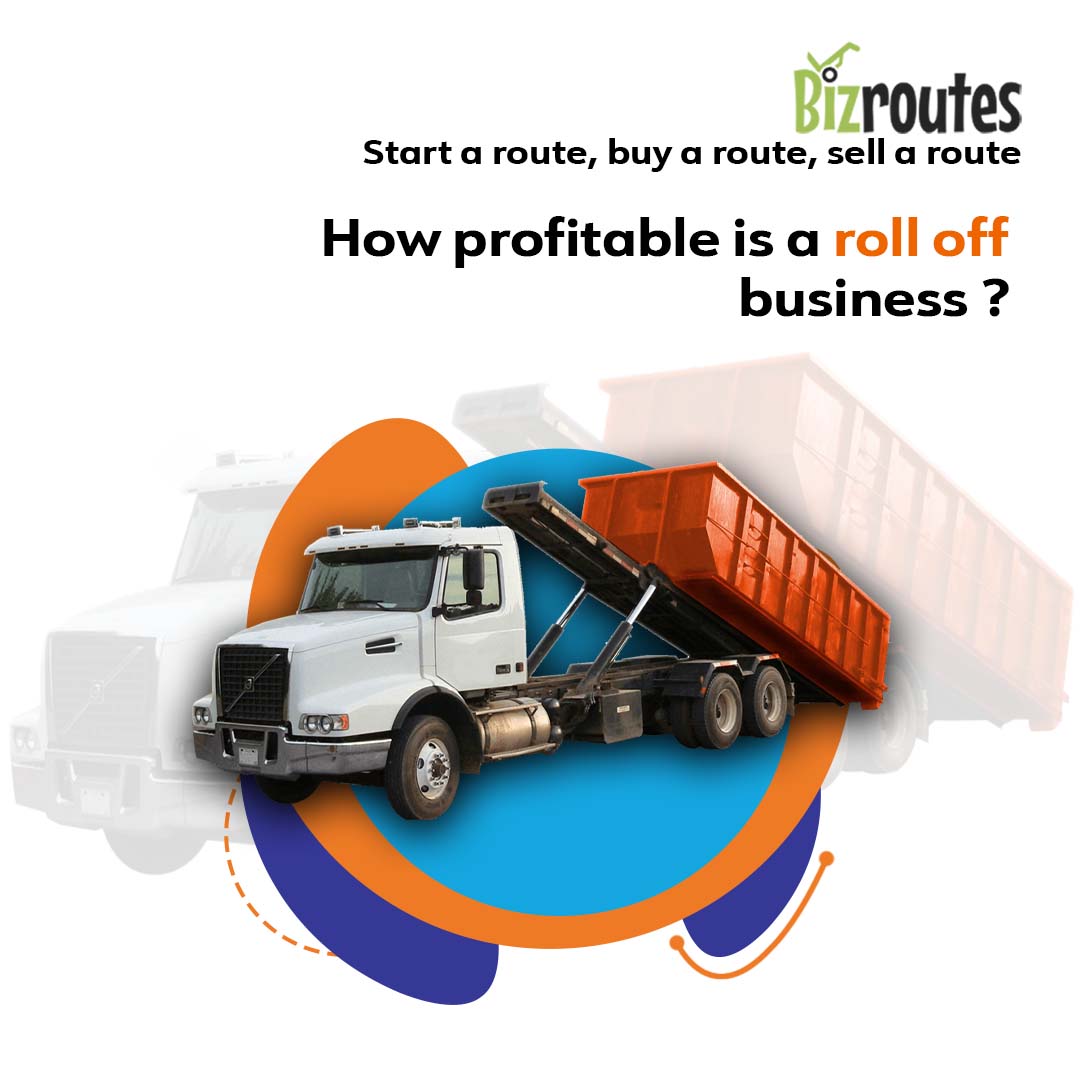 Facts & Questions
What are routes for sale?
"Routes for sale" refers to established delivery or distribution routes that are being sold by a business owner. These routes typically involve the regular delivery of products, such as snacks, beverages, or other goods, to a set of customers within a particular geographic area. Buying a route for sale can be an attractive option for entrepreneurs who want to start a business with an existing customer base and a proven business model.
A dump site is a location where waste materials, such as garbage, construction debris, or hazardous materials, are deposited for disposal. Dump sites can be managed by local governments or private companies, and they may vary in size and type depending on the materials being disposed of. Some dump sites are designed to accept specific types of waste, such as electronics or yard waste, while others may accept a variety of materials. While dump sites may not seem glamorous, they play an important role in managing our waste and keeping our communities clean and safe.
What Is waste management ?
Waste management is the process of collecting, transporting, processing, and disposing of waste materials in a way that is safe, efficient, and environmentally responsible. This can include everything from household trash and recycling to hazardous waste and industrial byproducts. Waste management is an important field that helps to protect public health and the environment by ensuring that waste materials are handled properly and disposed of in a way that minimizes their impact on the natural world.
Demolition is the process of tearing down buildings, structures, or other man-made objects. Demolition can be done for a variety of reasons, such as to make way for new construction, to remove unsafe or unsightly structures, or to salvage materials for reuse. Demolition can be a complex and challenging process that requires specialized equipment, skilled workers, and careful planning to ensure that it is done safely and efficiently. Despite the challenges, demolition can also be an exciting and rewarding field for those who enjoy working with their hands and seeing tangible results from their efforts.