Looking for a school bus business?
---
Here's what you need to know!
Growing up as a kid, I used to get picked up and dropped home by a school bus daily, I didn't know if my parents had to pay for it or the school did I just wanted to get to school on time, but as I got older and had kids I realized that a lot of school buses are private companies that bill schools and make a profit, its an actual business! So in this article, we will break down is buying a school bus business for sale is worth it or not and answer some questions that may have come to your mind…
---

How do school bus companies operate?
As you may know, school bus companies make their money by transporting individuals, from kids to teens to even college students. School buses are contracted by for-profit or non-profit organizations, such as schools and houses of worship. They have a fleet of buses and each school is designated to its route, it can be organized to pick up all the passengers from one location or it may be where each school bus driver may have to pick up passengers from home to home, we will get into how they paid below…
---

How do school bus companies get paid?
There are many different ways a school bus company gets makes money, it all comes down to many factors, and also depending on which school bus business for sale you buy, the broker representing that school bus business will break down how the business is set up and will list you all the profit and loss it comes with, groups that book your school buses can get you anywhere from $800-$1300 a day depending on if its a half day or full day but here are some examples on other ways you may charge:
Destination of the trip

How many hours of the trip

One way or two trip

All day rentals

How many students and adults
The average school bus fits a little over 45 students and adults, but depending on the state you are in, it's better to consult with your local state office to find out the standard legal amount allowed.
---
Where do school bus businesses get their clients?
School bus businesses still need to use advertisement as it is a competitive market, Another way is to send out client proposals to try and score some good deals, for example, you can use a broker to help you land clients like city schools, or even sports teams that need to travel to a next town or state to play a game, here are some type of clients:
Houses of worship
Sport teams
Private schools
Public schools
Events such as weddings or parties and many more…
---

How can I expand a school bus business after I buy one?
Let us say you found a school bus business and decided to buy it, 3 years in, and now you are getting so good at it that you looking for ways to expand your operation, what are some more passenger transportation ideas you can add-on to your school bus fleet? Well depending on your budget you can always add a whole lot of buses, here are some examples:
Motor coaches: these are buses that are used for a more luxury trip, similar to the buses grey hounds use, these buses can set you back a cool quarter million
Party buses: party buses are used for people looking to have a nice time out, a group of friends all chip in and enjoy a day or night out, party buses come fully set up from nice lounges to champagne service and music pumping.
Rv rentals: families or friends at times are looking to have a nice weekend getaway and want to rent an RV you can always add RVs to your portfolio, these types of businesses don't require your employees to drive, you just get paid for the time your RV is out.
---

Bizroutes review on school bus businesses
Buying a school bus business for sale will come down to one thing, what type of contracts are in place, and how many buses come with the deal, overall it is a big industry with a market value estimated to be at almost 5 billion according to Mordor intelligence, school buses are not just meant for public schools but your business can expand to all types of organizations so that is a plus, yellow buses are in demand as many homes both parents are working and transportation for kids is very much needed, The nation without school buses will become a major issue, highways will be jammed packed as parents will have to drive their children back and forth to school, a bus fits over 45 kids, imagine how rush hour would be? According to this article, the city pays per child anywhere from $12,000 to $18,000 a year depending on the state which new york seems to be the highest.
School bus business can be a business with many streams of revenue to add on so even if you don't have many school contracts there are a lot of ways to find more clients, I searched some online platforms where a school bus company can sign up and get leads or request sent to them, its a simple process I will list them below.
Bus.com
Schoolbuses.com
busbank.com
To the best of our knowledge, the information provided on this website is not intended to be taken as professional financial advice. Consult a professional financial or tax expert if you require this advice.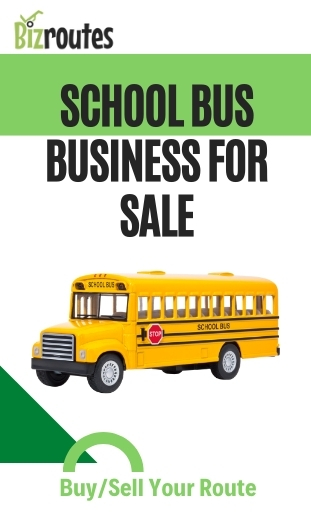 Become business smart!
Similar Articles
We highly recommend you register as a buyer, by doing so you'll get notified as soon as a Pepsi route for sale and other listings become available for sale in your area.
Check these out...
No Listings Found
Make sure to register below so you will never miss an opportunity