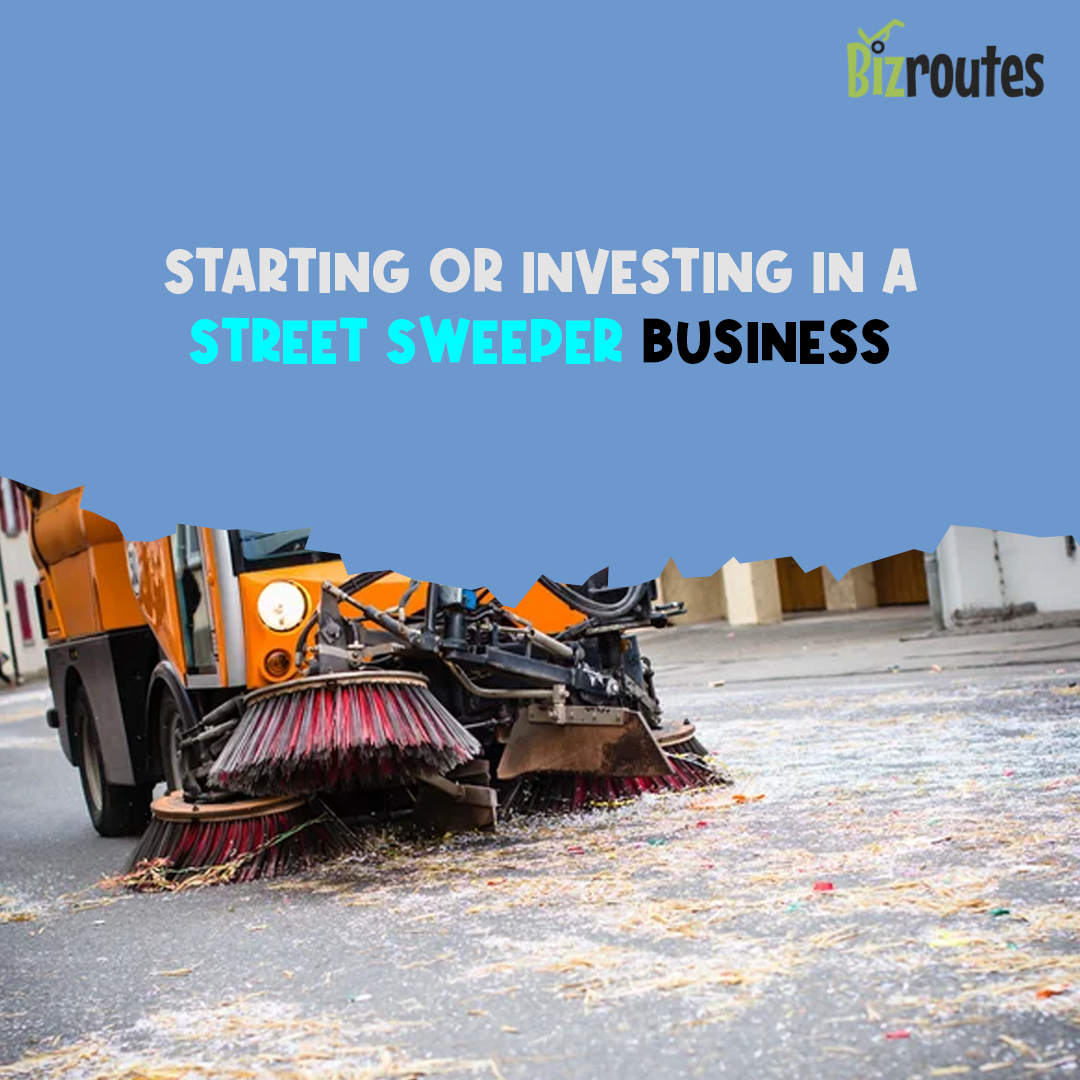 Become business smart!
Starting or Investing in a Street sweeper business?
---
Here is what you need to know!
I am pretty sure you love shopping at your local mall or heading to your neighborhood strip center to grab your coffee and lotto ticket, those lots are super huge, right? Some can fit anywhere from 15 to even hundreds of cars, but do landlords come every morning of the day with a broom and sweep up the mess made from the day before? I mean I can't say they don't but I am pretty sure it is a workout, why go through that hassle when you can hire a street sweeper company that will come on schedule and clean up lots and malls for a fee? In this article, we will go over the basics of what it's like to operate and what is needed to own a street sweeper business.
---
Is a street sweeper business a good investment?
With over a hundred thousand strip centers and malls across the united states, this can be a pretty good investment, the average cost of a street sweeper can run you anywhere from $45,000 ( lower year model with some miles ) to $140,000 which is a new model and crazy tech features and miles under a thousand)
With an average street sweeper charging from $200 - $500 and up a month contracting a three to four mall can cover your financing and insurance bill, not bad right? Let's get into more details below about buying or starting a street sweeper business …..
---
What is a street sweeper business?
Do you have a knack for keeping things clean? Are you always looking for ways to make extra money? If so, starting a street sweeper business might be the perfect venture for you. Street sweepers are an important part of keeping our city clean and free of debris. Not only do they keep our streets looking nice, but they also help to prevent environmental pollution, but what do they do, and is it hard work? When you start your street sweeper business the goal is to get the roads, lots, and mall parking looking cleaner than they were when you start, you drive in route and clean any debris and garbage that shoppers toss, like bags, food products, and other you may pass some heavier object that might require you to come off the sweeper and physically remove but over its an expandable business with lots of potentials.
---
How to get street sweeping cleaning customers?
No matter how clean a city is, there will always be some dirt and debris on the streets. That's where street sweepers come in - they use powerful machines to clear away all the mess, keeping the streets looking tidy and clean. If you're thinking of starting your own street sweeper business, then you'll need to find customers who are willing to hire you. Here are some tips on how to do just that.
We are living in a fast-paced world and the time it will take for a landowner to sweep his property, strip center or mall might just be overwhelming, they have more important stuff to handle and they prefer to hire a street sweeper company, cleaning malls and lots clean are very important one reason is they avoid the risk of getting hefty sanitations fines the second customer will not want to drive into a dirty parking lot. Finding customers might be challenging but where to look? Here are 3 methods for finding customers.
1-Paid per click ads, advertising your street sweeper business on big search engines is a great way to get leads
2-Networking, introducing your company to real estate agencies or real estate management firms, they did will properties 24/7 365 days a year grabbing a few customers from them is a bonus
3- referral program - offering a referral for people who get your leads can work, just pay after the contract is guaranteed, and note that to the person who finds your new customer.
---
How much do street sweeper cleaning businesses make?
So, you've decided to start a street sweeper business. That's great! But before you get too far in your planning, you need to decide the Question of the day and the most important one. what price to charge for your services? What are your options, and how do you come up with a fair price? Read on for tips on setting rates for your street sweeper business.
Street sweepers are important pieces of equipment for keeping neighborhoods, malls, and highways clean and looking good. Not only do they help keep the streets free of debris, leaves, and trash; but they also improve air quality by reducing the amount of particulate matter in the air. This is why many municipalities require street sweepers as part of their regular maintenance schedule. Here are some ideas to charge
-HOURLY ( bigger malls ), depending on the size of the mall you can charge by the hour $50-$100 an hour
-MILES (highways and neighborhoods) you can charge by the mile a set fee of $15-$18 an hour
-MONTHLY (smaller strip centers) you can charge a flat fee with a contract in place. These can be $250- $500 a month depending on the time and hours it will take you.
---
Conclusion paragraph: It may not sound easy to start or buy a street-sweeping business for sale. You need the proper permits, insurance, and equipment. But if you're willing to put in the work, there is a lot of money to be made in this industry and ove great benefit is you can always add more to these industries like the sewer jetting business. The most important thing is finding your target market and understanding their needs. Once you know who your customers are, you can tailor your services to meet their specific needs. Are you ready to jump into the street sweeping business?
To the best of our knowledge, the information provided on this website is not intended to be taken as professional financial advice. Consult a professional financial or tax expert if you require this advice.
Sort by yearly earning
Select services type
No Listings Found
Make sure to register below so you will never miss an opportunity