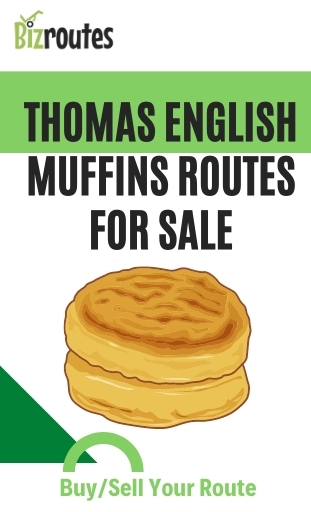 Become business smart!
We highly recommend you register for free as a buyer, by doing so you'll get more business ideas to start and also will get notified as soon as a Thomas English Muffins Route is up For Sale
---
Check out some of these bread routes for sale:
pechters bread routes for sale
Other businesses:
Archway Cookies routes for sale
Looking to distribute Thomas English muffin routes for sale?
Make sure to register as a buyer
---
What is Thomas English Muffins Routes For Sale?
The Thomas English Muffin route is a bread route for sale for baked goods manufactured by Thomas Bakery, a subsidiary of Bimbo Bakery, one of the biggest in the United States. It entails independent distributors who, like other distributorship companies, work with Thomas and, in turn, Bimbo bakery to deliver Thomas English muffins in various specified areas throughout the country. These independent distributors run their businesses according to the methods that work best for them and maintain consistent sales, as dictated by the firm they represent.
---
What are the advantages of Buying Thomas English Muffins Routes for Sale?
There are always disadvantages and red flags when it comes to buying a business...As an investor or as a person interested in starting a successful company with a low risk-to-profit ratio, Buying a Thomas English muffin route for sale is one of the most popular options available among distributors throughout the country. It provides route owners with various amounts of route financing as well as authorized third-party lenders for those in need of additional route financing money.
---
What are the responsibilities of the route owner?
The route owner typically begins the day by collecting orders from the company's warehouse, loading them onto a truck, and delivering them to current customer accounts, which may include grocery shops, and supermarts such as Walmart, Stop & Shop, Target, and others, depending on the area. Route operators may also create new client accounts to whom they can deliver goods to boost overall sales and, as a result, their companies within the area, best part is most customers are COD!
---
What are the requirements for the delivery vehicle?
It can be a simple cargo trailer or box truck meeting food safety guidelines.
Disclaimer: The information provided in this article is for general informational purposes only and should not be considered legal advice. The laws and regulations regarding business licenses may vary from state to state and are subject to change. It is important to contact your local state office to determine which licenses are required for any specific businesses. Additionally, please note that this article contains affiliate links and we may earn a commission from our affiliate partners or amazon links. If you are considering starting a business, it is recommended that you seek the advice of a qualified lawyer, business broker, or professional in your area. The information provided in this article is not a substitute for professional advice and should not be relied upon as such. We want to make it clear that BizRoutes is not sponsored by or affiliated with Thomas English muffins or any other companies mentioned in our articles. Our content is completely independent and based solely on our own research and opinions.
Sort by yearly earning
Select services type
No Listings Found
Make sure to register below so you will never miss an opportunity