Why an Utz chip route makes a good investment? read below...
---
Become a registered buyer free, don't miss any opportunities!
What is an Utz route for sale?
The Utz chips routes are snack distribution routes that distribute a range of Utz Good Quality food and its associate businesses' branded snacks. The business began manufacturing and retailing potato chips in the early 1920s. They are now one of the biggest independent privately held snack brands in the United States, with goods distributed throughout the country. Utz is a combination comprising a variety of other snack businesses, including Golden Flake, Zappy's, Bachman, and others, that offers a diverse range of products to meet the needs of various consumers.
---
What are the responsibilities of the route owner?
The Utz route entails independent distributors, also known as route owners, distributing goods to client accounts within a specific area, as specified by each customer.
---
What are Utz products?
Great, simple goods such as potato chips, Bachman's Jax curls, Dirty's sea salted chips, and Zapps' hot Cajun, and many more.
---
How does an Utz route work?
Orders from the warehouse are usually delivered by route distributors who go out in the early hours. This route distributor will make deliveries on a daily basis. Then, each day, he will return to the warehouse to load up the necessary goods for the next day's delivery.
Commission of goods delivered is taken off every week and amounts to approximately 20% of the payments to route owners. The customer base may not necessarily have to be found in order to supply goods. The route owner may seek to boost revenue by adding additional client accounts.
To the best of our knowledge, the information provided on this website is not intended to be taken as professional financial advice. Consult a professional financial, business broker or tax expert if you require this advice.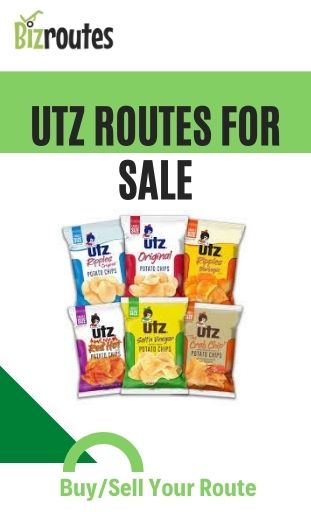 Become business smart!
Similar Articles
We highly recommend you register as a buyer, by doing so you'll get notified as soon as an Utz route for sale and other listings become available for sale in your area.
Check these out...

No Listings Found
Make sure to register below so you will never miss an opportunity