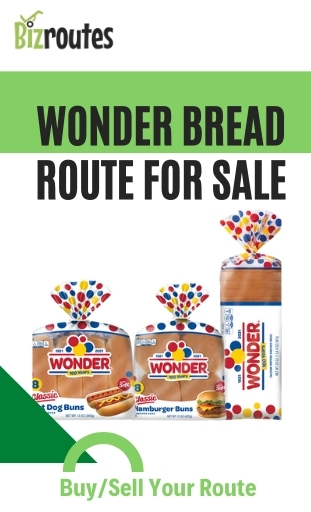 Become business smart!
Are you in the market for Wonder Bread Routes for sale?
---
First, make sure to become a registered buyer so we can keep you up to date on the newest bread listings available near you!
---
what are wonder bread routes?
Wonder Bread is a bread brand that began in the United States in 1921 and was one of the first to be marketed pre-sliced throughout the country in 1930. Flowers Foods now owns the brand in the United States.
---
Advantages of buying Wonder Bread route for sale?
You have the opportunity to be your own boss: To some degree, you may establish your own schedule and hours – certain accounts may have specified receiving hours.
Potential for expansion: You have the opportunity to expand your company by adding more accounts and/or territory in order to earn more money.
Stable income: Because most routes are reasonably well-established, you should be able to earn consistent revenue right away.
---
How much does a wonder bread route owner make ?
Your commission will be 20% if it sells you the goods for 80% of the total price. Your commission will be a percentage of the profit if you provide the product.
It's in high demand: Route companies are in high demand. That implies you'll probably be able to sell your company anytime you desire.
---
How to find a wonder bread route for sale?
To get started, you'll need to do the following:
You'll also need to buy the equipment and vehicles you'll need to run the route.
Purchase the product from the distributor: Essentially, you then purchase the goods and resell them. (Note that some distributors may offer you the goods for free in exchange for a percentage of the earnings.)
Load and unload your truck: When picking up the goods from the distributor and making the delivery, you'll need to lift and carry them. In addition to driving the route, you must be willing and able to load and unload your vehicle.
Expense:
Fuel, maintenance, and insurance for the delivery vehicle(s).
Communication tools such as a computer and a mobile phone.
Advertisement (if you choose)
---
Are Wonder Bread routes available for sale?
Yes
---
To the best of our knowledge, the information provided on this website is not intended to be taken as professional financial advice. Consult a professional financial or tax expert if you require this advice.
Sort by yearly earning
Select services type
No Listings Found
Make sure to register below so you will never miss an opportunity