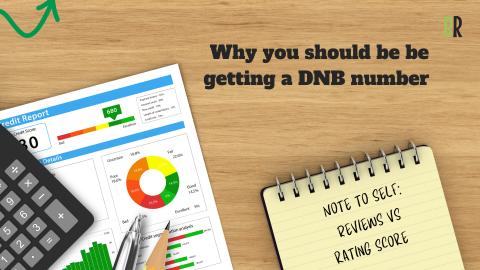 How important is DNB rating?
In the days before technology took over, businesses thrived largely on word-of-mouth referrals. It's fascinating to note that a whopping 80% of new customers came through referrals. But as time has moved forward, things have shifted. Even though referrals still hold weight, people have become more cautious. Nowadays, consumers, vendors, and suppliers tend to dig deeper to size up a business's credibility. They're turning to tools like reviews and rating scores to make well-informed decisions. Having a cool logo and a snazzy website just doesn't cut it anymore.
Today, in our digital age, credibility is the glue that holds a successful business together. With an overwhelming array of choices, consumers routinely seek online resources to judge a company's trustworthiness before getting involved. This is precisely where ratings and reviews step into the spotlight.
In this guide, we're going to dive into why ratings are vital and how they differ from reviews. We'll explore why both are crucial for modern businesses. Additionally, we'll take a closer look at Dun & Bradstreet, answering the pressing question: just how important is a Dun and Bradstreet rating? We'll also introduce you to similar websites where you can do more than just check a rating number. These platforms offer comprehensive tools to monitor and understand your business's performance. Their benefits extend beyond a simple numeric rating. Our goal is to help you embark on a journey toward building trust and credibility for your business in this digital era.
How does a business rating score work?
---
A rating score operates as a numerical measure of a business's creditworthiness and trustworthiness. Think of it like a report card for a company. The score is usually expressed as a number, with higher values indicating a better reputation.
This score is derived from a complex evaluation that takes into account various factors, including the company's financial stability, customer satisfaction levels, overall performance, and even its credit history, including any unpaid loans. Essentially, it's a way for businesses to demonstrate their reliability and integrity in a quantifiable manner, helping potential customers and partners make more informed decisions. Unpaid loans or a history of late payments can negatively impact this score, signaling higher risk to potential partners or lenders.
A Brief Biography of Dun & Bradstreet
---
Since its inception in 1841, Dun & Bradstreet has consistently been at the forefront of providing unparalleled business data and analytical insights. Its commitment to excellence is epitomized by the Dun & Bradstreet Data Cloud, a vast and all-encompassing repository of business information. This extraordinary resource fuels the critical needs of today's businesses, making Dun & Bradstreet an indispensable partner.
Dun & Bradstreet's reach and impact are truly global, with an impressive clientele that includes 90% of the Fortune 500 companies, along with enterprises of all sizes worldwide. These organizations rely on Dun & Bradstreet not only to foster growth but also to safeguard the integrity and security of their businesses. As a trusted ally, Dun & Bradstreet empowers businesses with the knowledge and insights they need to thrive in an ever-evolving economic landscape.
Why Are Ratings Important for Businesses?
---
Ratings serve as a powerful indicator of a company's reliability and integrity. Here's why they matter:
Trust Building: Ratings instill confidence in potential customers and partners. A high rating implies that your business can be trusted, making it more likely for customers to choose your products or services.
Competitive Advantage: A superior rating can set you apart from competitors in a crowded market. It shows that you've earned the trust of your clients, giving you an edge.
Access to Financing: A good rating can facilitate access to loans and credit, often at better terms. Lenders are more inclined to extend credit to businesses with a proven track record of reliability.
What Sets Ratings Apart from Reviews?
---
Imagine this scenario: a potential customer stumbles upon your business listing on Google. Their very first move? Probably scrolling through a handful of reviews. Those reviews carry a lot of weight because they provide that extra nudge, reassuring them that your business is worth reaching out to. They're not necessarily scouring the internet to find out if you're behind on your business credit card payments. What they really want to know is whether you're trustworthy and if your business is the real deal.
Now, let's switch gears to ratings. Ratings are a bit of a different ballgame. They're not so much for consumers but more for businesses themselves, especially in business-to-business dealings. Picture this: you're a distributor on the hunt for a new vendor. That potential vendor you're eyeing might not be too concerned about your customer reviews, but what's on their radar is your business's rating score. Why? Because it matters if you ever need credit to stock up on supplies or plan to settle payments with a good old-fashioned check.
So, that brings us to the big question: just how important is a Dun & Bradstreet rating number? The answer: It's very, very important! Your rating score can be a make-or-break factor in B2B relationships, ensuring trust and reliability in your business dealings.
So we see How Important is Dun & Bradstreet Rating but what sets them apart?
---
Besides being the go-to choice for the majority of Fortune 500 companies, Dun & Bradstreet (D&B) has earned its stripes as a revered provider of business credit information and ratings. D&B's rating, commonly known as the D&B Paydex score, holds a prestigious status in the realm of commerce. Its significance extends far and wide, and here's why:
Global Recognition: D&B ratings are recognized internationally, making them valuable for businesses with global aspirations.
Creditworthiness: D&B ratings are frequently used by lenders and suppliers to assess a company's creditworthiness. A favorable D&B rating can open doors to favorable financing terms and partnerships.
Risk Mitigation: D&B ratings help businesses identify potential risks when engaging with other companies, reducing the likelihood of financial losses.
Benefits of Dun & Bradstreet for Your Business
---
D&B offers more than just a rating:
Data Insights: D&B provides detailed data on companies, enabling you to make informed decisions about potential partners or clients.
Credit Monitoring: You can monitor your own D&B rating and correct inaccuracies to maintain a positive reputation.
Risk Management: D&B helps you identify and mitigate risks, safeguarding your business interests.
10 Websites that also offer a rating number and monitoring?
---
Experian Business - Offers credit reports, business scoring, and data analytics for businesses.
Equifax Business - Provides credit reports and credit scoring solutions tailored for businesses.
Creditsafe - Offers credit reports, ratings, and business intelligence to help assess risk and opportunities.
Business Credit USA - Specializes in business credit reports and risk management tools for companies.
Coface - Provides credit insurance, credit information, and business risk assessment services.
Cortera - Offers business credit reports, payment history, and predictive insights for risk management.
BusinessCreditReports - Provides credit information, monitoring, and business background reports.
Ansonia Credit Data - Offers business credit reports and credit risk management solutions.
OnDeck - Provides small business loans and financing solutions with a focus on transparency and accessibility.
Nav - Offers free personal and business credit scores, as well as credit monitoring and financing options for businesses.
10 websites that are made for reviews
---
​​Trustpilot - A widely recognized platform for collecting and displaying business reviews and ratings.
Yelp for Business - Allows businesses to create and manage their profiles, responding to customer reviews.
Bizroutes- Provides small businesses with a free business listing where customers can leave reviews and share thier profile to friends and collages
Google My Business - Enables businesses to collect and display customer reviews directly on Google Search and maps.
Facebook Business Reviews - Businesses with a Facebook page can receive and showcase customer reviews.
Angie's List for Businesses - Particularly useful for home improvement and local service businesses, it offers a platform for customer reviews.
Better Business Bureau (BBB) - Known for its business ratings and customer reviews, especially in North America.
Yellow Pages for Business - Provides a directory that allows businesses to collect and showcase customer reviews.
Glassdoor for Employers - Ideal for employers, it allows businesses to collect reviews from current and former employees.
G2 Crowd - Focuses on software and tech services reviews, providing valuable insights for B2B companies.
Capterra - Another platform for software and tech-related business reviews, often used by B2B buyers.
In Conclusion, Building any business wheter its a landscaping business or a line painting business,Growing on credibility is not just about numbers; it's about trust, integrity, and reliability. Ratings and reviews are tools to demonstrate these qualities to the world. Dun & Bradstreet and similar websites offer invaluable resources that go beyond rating numbers, aiding businesses in making sound decisions, managing risks, and fostering trust. By leveraging these tools effectively, you can lay the foundation for a business that stands the test of time.