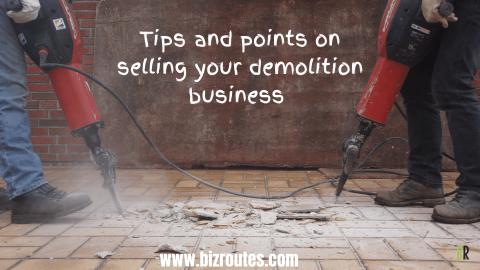 Sellers guide: How to sell a demolition company quickly
Feeling the frustration of trying to swiftly sell your demolition company? Put down that sledgehammer, and let's dive into some invaluable tips and bullet points to help you find the right buyer! In this article, we'll guide you on locating, targeting, marketing, and preparing for the sale of your demolition business. While selling a business does take time, the great news is that there's a thriving market of entrepreneurs eager to invest in the construction industry, particularly those with established roots in the field. Why? When an established construction company seeks to expand its services, it often opts to acquire a demolition company for sale with an existing customer base. So, if you're looking to sell your demolition company swiftly, let's get started!
Ask yourself: What makes your business worth buying?
What sets a demolition business apart as a truly enticing opportunity for potential buyers? The answer to that question is multi-faceted, extending beyond just impressive sales and profits. Besides your business making money - To make prospective buyers sit up and take notice, you'll need to delve deeper into the essence of your business. So, before you embark on listing your demolition business for sale, let's explore the essential facts and questions that can help you position it as an irresistible prospect.
Q1. What type of equipment do you have and what's the condition?
The reason why: To attract potential buyers quickly, showcasing the quality and variety of your equipment is key. It helps buyers envision a seamless transition and minimizes their concerns about additional investment.
Why it's important: Highlighting well-maintained equipment demonstrates efficiency and cost-effectiveness. It assures potential buyers that they won't need to immediately invest in replacements or repairs, making your business more enticing.
Q2: Can your business be operated as an owner-absentee business?
The reason why: If you want to find a buyer quickly, emphasizing the option to run the business absentee is a game-changer. Many investors and entrepreneurs are looking for businesses they can manage remotely.
Why it's important: An owner-absentee model not only broadens your pool of potential buyers but also presents your business as a self-sustaining, attractive investment opportunity. It's a big selling point.
Q3: Will your business come with any vehicles?
The reason why: Including vehicles in the sale can expedite the process by offering an all-inclusive package. This minimizes buyers' worries about transportation logistics and upfront costs.
Why it's important: Having vehicles as part of the deal simplifies operations and expands the scope of your business, making it more appealing to buyers seeking a comprehensive solution.
Q4: Does your business have an established online presence?
The reason why: A strong online presence is a quick and effective way to attract potential buyers. It demonstrates that your business is modern, well-regarded, and ready for growth.
Why it's important: An established online presence not only attracts more buyers but also allows you to showcase your past projects, client testimonials, and industry authority. It builds trust and confidence in your brand.
Q5: Are you working with any brokers to get you leads?
The reason why: Leveraging brokers can expedite the process of finding a buyer. Their networks and expertise can connect you with interested parties swiftly.
Why it matters: Brokers have the knowledge and connections to identify qualified buyers efficiently. This can save you time and ensure that your business is presented to the right audience, speeding up the sale.
Q6: Does your company have a separate business number?
The reason why: Establishing a separate business number is crucial for attracting serious buyers quickly. It signals professionalism, proper record-keeping, and legal compliance.
Why it's important: A separate business number streamlines financial and legal aspects, making it easier for buyers to see the potential of your business. It also reduces complications during the transition, enticing buyers with a smooth takeover process.
How to attract more buyers for your party rental business quickly
Now that you've conducted a thorough assessment of your demolition business, let's explore how to swiftly find the right buyer. Selling a business demands effective marketing, and in the construction industry, it's essential to cast a wide net for potential buyers. While your business is in construction, it's crucial to remember that the right buyer might not necessarily come from the same industry.
Let's examine the following strategies to expand your reach and attract a diverse pool of buyers when creating your listing on BizRoutes. Choosing our platform to list your business for sale has distinct advantages. Notably, listing your business for sale here is 100% free, giving you a cost-effective edge. By leveraging BizRoutes, you can potentially reach thousands of visitors checking your listing, all at no cost to you.
1. Grabbing buyers' attention
Here's where you capture attention. When potential buyers search on BizRoutes, they'll likely enter phrases like 'demolition business for sale' or 'construction business for sale.' When your listing appears, a catchy title can make all the difference. Consider titles like 'Thriving Demolition Business Making Six Figures in Orange County' or 'Profitable Demolition Business with $200,000 Net Income Annually.' Your title is your first impression, so make it compelling.
Next, choose your category. For your business, it falls under 'service-based business' since you provide a service. Once you've selected the category, add relevant subcategories. In your case, since your business is in demolition, consider adding 'construction,' 'dumpster rentals,' 'junk removal,' or 'roll-off business.' These subcategories broaden your reach and attract potential buyers from related industries.
In the final step, specify the state where your business operates. This critical information ensures that your listing reaches the right audience. With these strategic steps on BizRoutes, you can maximize your listing's visibility and attract a diverse pool of potential buyers.
2. Getting into the details
In this section, you'll want to provide comprehensive details about your business. First and foremost, list all the valuable equipment that will be included in the sale of your business. From sledgehammers to dump trucks and any specialized equipment like Excavators, make sure to mention them all, including their conditions and models. While it may seem like a lot of information, remember that crafting a thorough listing is a worthwhile investment when you're eager to find a buyer quickly for your demolition business.
Next, highlight the number of years you've been in business. A well-established business demonstrates its track record of success and reliability. It also gives potential buyers the opportunity to verify your business through reviews and other sources, instilling trust in your brand.
The third key point is crucial: indicate your level of involvement in the business. If you're actively running the day-to-day operations, describe yourself as an 'owner-operator.' On the other hand, if you're managing the business remotely and not physically involved in the work, state that it's 'owner absentee.' This distinction is important because you never know who your potential buyer might be – it could be someone looking to actively run the business or someone seeking a profitable investment opportunity.
Lastly, if you have employees, provide information about them. Mention how many employees will transfer with the business. For instance, you could note that there are three full-time employees and one customer service operator who will be part of the sale. This information gives potential buyers insights into the existing team and can be a valuable selling point.
Step 3: Talk money to me
This is the pivotal decision-making section that can determine whether potential buyers will reach out to you or not.
Firstly, you'll want to showcase your business's financial performance. Utilize the most recent year's financial data, although some may prefer to provide data for the past three years to offer a comprehensive picture. If your business experienced a significant sales boost in the recent year, make sure to highlight this in the description. If your business consistently averages say, $500k annually in gross sales, that's an essential figure to include.
Next, reveal your net earnings after EBITDA (Earnings Before Interest, Taxes, Depreciation, and Amortization). If your business yielded a net profit of $150k, be sure to mention it.
Thirdly, specify your asking price. While we can't offer advice on this crucial figure, it's likely you have a particular number in mind based on your business's value.
Lastly, decide whether you're open to attracting buyers interested in partial financing, often referred to as 'seller notes.' But what is a seller's note? It's a debt security issued by the buyer to the seller as a portion of the payment for the company. While this option is optional, it can expand your pool of potential buyers, as some entrepreneurs actively seek owner-financed businesses for sale on our platform
Step 4: The final mile ( Talk to me)
In this section, we consolidate all the crucial details about your demolition business into a couple of paragraphs, ensuring potential buyers are captivated.
Begin by crafting a detailed description of your business. Highlight its strengths and unique selling points, emphasizing what makes it exceptional. You can draw from the information mentioned above to create a compelling narrative. If you collaborate with an exclusive local broker who provides valuable leads, don't forget to mention this added advantage. Essentially, include everything that makes your demolition business an attractive prospect for buyers.
Next, provide insight into why you're selling the business. While it's not necessary to delve into personal details, offering a clear reason can alleviate any concerns or doubts potential buyers may have. For example, if you're retiring, you can simply state that. This transparency builds trust with potential buyers.
In the third part, list aspects that you weren't able to pursue but present growth opportunities for the business. For instance, if you currently subcontract debris removal because you lack your dumpster, this reveals to buyers that there's untapped potential for expansion.
Moving on to the fourth point, discuss the training you're willing to provide. Whether it's guidance on working with employees or insights into your business operations, assure potential buyers that they'll receive the necessary training for a smooth transition.
Lastly, if you decide to include an image, ensure it doesn't contain your personal information or contact details, maintaining your privacy and security.
In your quest to swiftly find a buyer for your demolition company, remember that selling a business demands both patience and a well-thought-out approach. It's essential to recognize that the process may take some time. Additionally, consider seeking the assistance of a reputable business broker. Their expertise and network can help streamline the sale and connect you with qualified buyers efficiently. By combining your dedication, strategic planning, and the guidance of a professional, you can maximize your chances of a successful and timely sale.
---
---
---
BizRoutes is an online advertising platform for route listings. Please note that we are not a brokerage firm and do not offer advisory services. While we strive for accuracy, we do not endorse or guarantee the information on our platform. Users should exercise judgment and diligence when using our platform, and we recommend seeking professional advice. BizRoutes is not affiliated with the mentioned services. We are not responsible for user decisions or outcomes and may earn commissions from affiliates. For questions or concerns, please contact us.