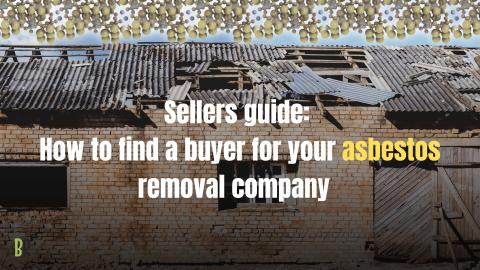 Sellers guide: How to sell an asbestos business quickly
---
So, you're thinking about selling your asbestos removal business. It might sound like a daunting task, considering the unique nature of this industry and all the regulations involved. But guess what? If your business is running smoothly and turning a profit, there are potential buyers out there looking asbestos removal companies for sale. In this guide, we'll share some friendly tips on how to sell your asbestos removal business quickly and smoothly.
What Makes Your Asbestos Removal Business a Great Catch?
If someone's thinking about buying an asbestos removal company, they'll be looking for a few key things that make your business stand out. As you gear up to sell, keep these in mind to make your business as appealing as possible:
Playing by the Rules: Show off your track record of following all the rules and regulations when it comes to asbestos removal. Highlight any certifications and licenses that prove you're in the clear and ready for a new owner to take the reins.
The Dream Team: Let potential buyers know that your crew knows their stuff when it comes to asbestos removal. An experienced and skilled team is like gold in this business, and it's reassuring for buyers to know they won't be starting from scratch.
Tools of the Trade: Give a rundown of all your asbestos removal equipment and resources that come with the sale. Tell them about any recent upgrades or maintenance you've done to keep everything in top shape.
Loyal Clients: Shine a light on those long-term client relationships and contracts you've got. Show off your diverse client list and any ongoing projects or agreements you have in place.
Online Presence: In today's digital age, having an online presence is a must. Make sure your business has a professional website and active social media profiles. It shows you're modern and ready for whatever comes next.
Balancing the Books: Share financial records that paint a picture of your business's stability. Things like cash flow statements and profit margins can be a big selling point and build trust with potential buyers.
Reputation Matters: If your business has a track record of happy clients, shout it from the rooftops. Positive reviews and testimonials go a long way in building trust with potential buyers.
Safety First: Highlight the safety protocols and procedures you have in place for asbestos removal. Buyers want to know safety is a top priority, and they won't be inheriting any unnecessary risks.
Eco-Friendly Practices: If you've adopted eco-friendly practices or technologies in your business, such as safe asbestos disposal methods, make sure to mention them. Being environmentally responsible can be a big selling point.
Marketing Your Asbestos Removal Business:
---
When it comes to marketing your asbestos removal business for sale, think about these strategies:
Online Listings: Get your business listed on industry-specific websites and marketplaces. These are the places where potential buyers are actively searching for businesses like yours.
Networking: Tap into industry associations and networks to connect with potential buyers who already understand the asbestos removal game.
Business Brokers: Consider working with experienced business brokers who specialize in selling environmental services businesses.
Local Advertising: Don't forget about good old-fashioned local advertising. Place ads in local newspapers, business publications, and online classifieds to reach a wider audience.
Word of Mouth: Spread the word within your professional contacts and industry circles. Sometimes the best buyers come from referrals within the industry.
When selling your asbestos removal business you should Work with buyers.
Selling your asbestos removal company requires finding the right buyer, and while perfection may be elusive, we can certainly help you create an appealing proposition to attract potential buyers. Here are some valuable tips to make them seriously consider purchasing your business:
Seller Financing - Making It Easier for Buyers:
1. Reducing Buyer Worries: Consider offering seller financing as a way to alleviate concerns for potential buyers. It sends a clear message that you have confidence in your business and are willing to share the risk.
2. Casting a Wider Net: By providing financing options, you open the door to a broader pool of prospective buyers who might not have immediate access to substantial capital. It's about making your business accessible to more individuals.
3. Shared Success: When you offer financing, you're essentially saying, "I'm invested in your success." This alignment of interests can build trust and make buyers more comfortable with the transaction.
Seller Training and Support - Guiding the Way:
1. Ensuring a Seamless Transition: Your commitment to offering training and support is all about ensuring a smooth transition. Buyers appreciate the opportunity to learn the ropes and avoid any potential stumbling blocks.
2. Boosting Buyer Confidence: It's not just about teaching them the ropes; it's about instilling confidence. Your willingness to provide guidance can reassure buyers that they're well-equipped to steer the ship.
3. Building Positive Connections: Beyond the business transaction, offering training and support can lead to positive goodwill. This goodwill can translate into referrals and endorsements, which are invaluable in our industry.
Sharing Your Marketing Strategy - Showcasing Success:
1. Proof in the Pudding: By sharing your marketing strategy, you're essentially saying, "Here's what has worked for us." It's a testament to your business's successful track record.
2. Highlighting Your Edge: Your documented marketing strategy showcases what makes your business stand out. It demonstrates your niche in the market and shows buyers the potential for continued growth.
3. Smooth Transition: A documented strategy allows for a seamless transition. Buyers can pick up where you left off, saving them time and effort in adapting to a new approach. This is all about making their life easier.
Having More Services - Diversifying the Appeal:
1. Multiple Revenue Streams: Offering a variety of services is all about diversifying income sources. It's an attractive proposition for buyers who see potential income from different avenues.
2. Client Retention: More services often translate to stronger client loyalty. Buyers love businesses with a dedicated customer base that relies on them for various needs.
3. Adaptability Matters: The versatility that comes with a diverse set of services makes your business adaptable in changing market conditions. Buyers recognize this adaptability as a valuable asset for long-term success.
These strategies, infused with your unique perspective, can truly make your asbestos removal business a standout choice for potential buyers. It's about building trust, sharing your success, and offering a seamless transition into the next chapter of your business's journey.
Conclusion: Your Next Exciting Chapter
Selling your asbestos removal company might have its challenges, but with some careful planning and a focus on what makes your business special, you can attract serious buyers. Just like any other business sale, it takes time, professionalism, and effective marketing. By following this guide and tapping into relevant industry resources, you can boost your chances of selling your asbestos removal business quickly and successfully.
So, go ahead and take those steps to find the perfect buyer who sees the incredible value your asbestos removal business brings to the table. It might take some effort, but the rewards can be well worth it. Get ready to start a new chapter in your entrepreneurial journey with confidence!
---
---
---
BizRoutes is an online advertising platform for route listings. Please note that we are not a brokerage firm and do not offer advisory services. While we strive for accuracy, we do not endorse or guarantee the information on our platform. Users should exercise judgment and diligence when using our platform, and we recommend seeking professional advice. BizRoutes is not affiliated with the mentioned services. We are not responsible for user decisions or outcomes and may earn commissions from affiliates. For questions or concerns, please contact us.