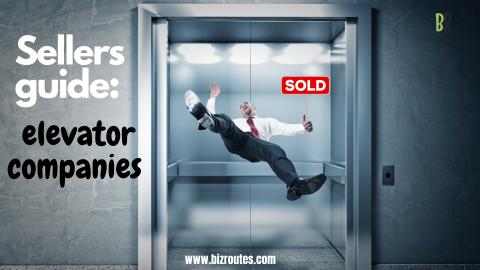 How to sell an elevator business bizroutes
Some businesses can sell in a matter of weeks, while others may take a bit longer to find a buyer. However, how you promote the sale of your elevator business plays a significant role in the process. We understand that when you're ready to retire or move on to the next chapter of your life, you want to sell your business quickly.
When you started your elevator company, there were numerous steps to take, from obtaining certifications to securing insurance and licenses. The potential buyer will need to navigate this process, and you might need to stay involved after the sale to help them settle in. Unlike some businesses with fewer rules and regulations, selling an elevator company involves a more structured process. Don't worry; we'll break it all down for you to help create the perfect listing on BizRoutes, In this guide on how to sell an elevator company quickly, we will provide tips and advice on how to present your business to attract the perfect buyer. Let's get started.
Is bizroutes a good place to sell my business?
---
The primary benefit of listing your elevator company on our expansive platform lies in its seamless connection with thousands of potential buyers each month—all at no cost to you. Amid numerous businesses listing their elevator companies for sale on BizRoutes, our unwavering commitment to niche enterprises ensures that visitors actively seeking unique ventures, like yours, are consistently directed to our platform. This targeted approach significantly amplifies the visibility of your business, positioning it prominently among an audience that values its distinct offerings.
Moreover, BizRoutes provides a user-friendly dashboard that empowers you to effortlessly manage your listing, make edits, and leverage additional features to enhance your elevator company's appeal. As many businesses list their elevator companies for sale here, our platform stands out as the ideal space to explore myriad possibilities and elevate your business's presence. Choose BizRoutes, where uniqueness intersects with opportunity.
---
---
---
---
Facts and questions time: How a sell on bizroutes?
---
Upon setting up your account, you'll enter a friendly and intuitive dashboard. Within, you'll encounter simple queries about your elevator business. Rest assured, the process is remarkably user-friendly. Your listing will be active and ready in a matter of moments.
Step 1: General Information
Listing Title: Create an attention-grabbing title that captivates potential buyers. Consider examples such as "Thriving Elevator Company Across 3 States" or "For Sale: Elevator Cab Remodeling Business with Seller Financing."
Category: Select 'Service Business.'
Type of Business: Specify 'elevator company for Sale.'
State of Operation: Indicate your state or state of operation.
Step 2: Detailed information
Listing Assets: When selling your elevator company, the listing of assets is a crucial step to inform potential buyers about what comes with the business. The included assets may comprise essential components such as elevators, maintenance tools, certificates, service vehicles, customer contracts, computer systems, safety manuals, spare parts, training materials, branding materials, office furniture, customer service systems, financial records, licenses, permits, and any other tools or equipment integral to the operation of the business. Providing a clear and comprehensive list ensures that potential buyers have a complete understanding of the resources and tools available, facilitating a smoother transition of ownership.
Years in Business: Whether it's one year or two decades, specifying the establishment year is crucial when selling your elevator business. It adds a valuable historical perspective for potential buyers.
Your Role in the Business: Whether you're actively involved or managing the business from a distance, transparency is essential. Communicate your level of engagement. If operations are overseen by an experienced individual, highlight this. Buyers appreciate understanding your role, and this openness is advantageous in the selling process. For instance, there are owner-absentee businesses for sale that attract interest, showcasing how transparency benefits potential buyers.
Employees: Provide a list of all contributing employees to your elevator business, including roles such as elevator technicians, maintenance personnel, and other positions crucial to your operations—without including specific names. Offering examples of these roles, such as technicians ensuring elevator functionality or maintenance staff overseeing regular servicing, enhances the comprehensiveness of your business structure. This information provides potential buyers with a clearer understanding of the team dynamics and roles critical to the elevator business.
Step 3: Finance information
When presenting financial details for your elevator business, accuracy is of utmost importance. Potential buyers typically scrutinize a three-year sales and profit history to evaluate stability. Honesty is crucial throughout this process. If you're contemplating seller financing for a prompt sale, it's wise to enlist the services of a reputable lawyer. A meticulously crafted agreement can guarantee a secure transaction and safeguard your financial interests. Consulting with a lawyer before proceeding is advisable for the best outcome.
Step 4: Other information
Business Description: When a potential buyer clicks the link for your elevator company listing, their interest is piqued. Crafting a compelling description is vital in marketing your elevator business. This section is where buyers seek insight into what makes your business stand out. For example, highlight its strategic presence in a key business district like "the business has a solid base of satisfied customers, or "most new customers are acquired through referrals, a testament to the quality of service. Provide enough information to captivate interest without overemphasis, ensuring an honest portrayal that resonates positively with potential buyers, NOTE: Dont use these, I am just using examples here!
Reason for Selling: Transparently share the reason for selling to dispel any buyer suspicions. Whether it's retirement, relocation, or personal reasons, clarity fosters trust and a smoother transaction.
Ways of Growth: Facilitate buyers' vision for growth by showcasing untapped potential. For instance, if you've never explored marketing your elevator business, highlight this as an opportunity for an immediate sales boost. Illustrating avenues for expansion increases the appeal of your elevator business
Support and Training: Acknowledge that buyers may need guidance. Specify the duration of support and training you're willing to provide. Some sellers offer a two-week transition, while others extend up to three months. The choice is yours, emphasizing your commitment to ensuring a seamless transition for the new owner.
In summary, selling any business demands time and patience. However, you can expedite the sale of your elevator company by creating a unique, standout listing on BizRoutes. This ensures your listing receives maximum reviews and clicks, setting it apart from the multitude of businesses listed on our platform. The dedicated focus on niche enterprises on BizRoutes guarantees that your elevator business gets the attention it deserves. With our user-friendly dashboard, you have the tools to refine your listing and attract potential buyers effectively. Take charge of your business's future – list it on BizRoutes, where uniqueness meets opportunity, and accelerate the path to a successful sale.
---
Disclaimer: The information provided in this article is for general informational purposes only and should not be considered legal advice. The laws and regulations regarding business licenses may vary from state to state and are subject to change. It is important to contact your local state office to determine which licenses are required for any specific businesses. Additionally, please note that this article contains affiliate links and we may earn a commission from our affiliate partners or Amazon links. If you are considering starting a business, it is recommended that you seek the advice of a qualified lawyer, business broker, or professional in your area. The information provided in this article is not a substitute for professional advice and should not be relied upon as such.