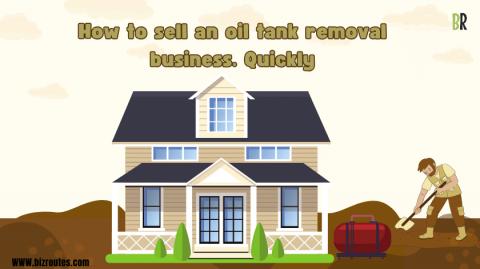 How to sell an oil tank removal business. Quickly
---
Selling your oil tank removal business isn't just another transaction; it's a journey that can lead to hidden treasures for the astute seller. This niche industry, often overlooked, holds untapped potential for those who understand its unique advantages. As you contemplate letting go of your valuable enterprise, the key lies in finding the perfect match – someone who grasps the distinct benefits of your oil tank removal business and is ready to invest in its potential.
But how do you bring to light the benefits of your business to potential buyers? Whether you're navigating the complex landscape of the online marketplace or guiding a broker through the nuances of your operation, we're here to assist you every step of the way. In this comprehensive guide, we will take you through the art of selling your oil tank removal business quickly and efficiently, ensuring you unlock its full potential.
We'll begin by discussing the unique advantages of your business, shedding light on its often-underappreciated worth. Then, we'll delve into the essential questions and strategies to help you find the perfect buyer for your remarkable venture. This journey is not just about selling your business; it's about realizing its value and ensuring that the next owner understands and appreciates its significance.
So let us begin with our first question below:



What makes your oil tank removal business so unique?
---
Before we dive into selling your oil tank removal business, take a moment to ponder, much like you would when excavating an oil tank: What sets your business apart and makes it a compelling purchase? With thousands of businesses on the market, why should someone be drawn to your oil tank removal business for sale?
Let's brainstorm some unique selling points that could pique the interest of potential buyers. For instance, does your business offer rebates when recycling oil tanks, demonstrating an eco-friendly commitment? Do you provide a broader range of services that competitors don't, creating a one-stop solution for clients? Perhaps it's your profitability, that can be showcased to attract potential buyers. These are just a few examples to help your local business broker effectively market your business to prospective buyers.
Q1: What are the various revenue streams generated by your oil tank removal business?
---
Why does this matter to buyers:
Buyers are interested in understanding the different ways your business generates revenue because it not only indicates its financial stability but also offers potential for growth and sustainability. Knowing the various income streams can help buyers assess the business's overall financial health, diversification, and potential to thrive in different market conditions. It can also provide insights into the efficiency and effectiveness of your business model.
Q2: Does your business necessitate specific licenses, certificates, or training, and why is this information vital to potential buyers?
---
Why it's important to buyers:
Buyers consider this information crucial as it directly impacts the ease of transitioning into ownership. Knowing the licensing, certification, or training requirements provides potential buyers with insight into the legal and operational aspects of the business. It helps them gauge the readiness of the business for a smooth handover and ensures they can meet any regulatory or professional obligations. Understanding these prerequisites up front allows buyers to make informed decisions and minimizes potential hurdles during the acquisition process.
Q3: How many years has your oil tank removal business been established?
---
Why it's important to buyers:
Understanding the length of time your oil tank removal business has been in operation is a key factor in selling it quickly. Established businesses often instill confidence in buyers, as they tend to have a track record of success, a solid customer base, and established processes. Buyers are more inclined to invest in businesses with a proven history of stability and profitability. This information can significantly influence a buyer's decision-making process when considering your business for purchase.
Q5: How is your oil tank removal business getting new leads?
---
Why it matters to buyers:
When it comes to selling a niche business you want to have your business well set up for new buyers and in the case of how to sell an oil tank removal business quickly here are some reasons why: Buyers are interested in understanding how your business acquires new leads as it speaks to its marketing and customer acquisition strategies. Having a website, an approved Google AdSense account, a strong social media following, effective local SEO, and a presence in business directories such as these oil tank removal companies here all signify a well-established online presence and a proactive marketing approach. These elements can help attract potential customers and contribute to the business's continued success. Buyers value a business that has already built a strong online presence and marketing foundation, as it can save them time and effort in growing the business after the acquisition.
Q6: Do you believe your oil tank removal business has the potential for growth with a motivated owner?
---
Why it's important to buyers:
Buyers are keen to assess the growth prospects of the business they are considering. Your belief in the business's potential for expansion underlines the opportunities they can explore as new owners. A business with growth potential can be an attractive investment, as buyers seek to maximize their returns. Knowing that a motivated owner can make a difference in the business's success is a compelling factor for potential buyers who are looking to take it to the next level.
Q7: Will you offer seller financing to a potential buyer?
---
Why it matters to buyers:
If you are looking to learn how to sell an oil tank removal business quickly then Seller financing is a critical consideration for potential buyers This financing option can significantly expedite the sale process, as it demonstrates the seller's confidence in the business and their willingness to support its successful transition. Offering seller financing can attract more buyers who may not have immediate access to the full purchase price, making it an essential factor in ensuring a swift and successful sale.
Q8: Does your business have well-trained employees that are certified to remove oil tanks?
---
Why it matters to buyers:
A workforce of certified professionals not only ensures the business's compliance and operational efficiency but also makes it a promising prospect for a diverse range of potential buyers. For an owner-entrepreneur, it signifies a turnkey operation with a capable team in place, allowing for a smooth transition. Someone new to the industry can benefit from a skilled workforce and gain valuable experience and expertise. Additionally, for investors looking to diversify their portfolio or those inclined to micro-manage their investments, having a certified team adds an extra layer of confidence in the business's potential for success, regardless of their level of involvement. It broadens the appeal of your business to a wide range of potential buyers with varying levels of experience and engagement.
How to Sell an Oil Tank Removal Business Quickly: Showcasing its Value and Reaching Potential Buyers
---
---
At BizRoutes, we understand the importance of swiftly selling your oil tank removal business. To help you achieve this, we offer a complimentary advertising platform dedicated to listing businesses for sale. Once you create an account, you'll gain access to your dashboard. From there, select 'List a Business for Sale' to begin creating your listing. Here's a brief guide to get you started and put your oil tank removal business in front of thousands of potential buyers each month who are actively seeking opportunities like yours.
---
---
Step 1: Create an account.
Step 2: Navigate to your dashboard.
Step 3: Select "List a Business for Sale."
Step 4: Click on "Add New Listing."
Step 5: Craft an enticing listing title that will capture buyers' attention, for example, "Well-established oil tank removal business grossing x amount a year "
Step 6: Choose the relevant category, in this case, " service business"
Step 7: Specify the type of business using an exact phrase (e.g., "oil tank removal business for sale").
Step 8: Indicate the state in which your business operates.
Step 9: List all trucks, equipment, shelves, and any other assets included in the asking price.
Step 10: Share the number of years your oil tank removal business has been in operation.
Step 11: Define your role in the business, owner absentee, or owner operator.
Step 11: Specify the number of employees.
Step 12: Provide details about your business's sales, net profit, asking price, and whether you're open to offering financing options.
Step 13: Add a comprehensive business description. Explain the reason for selling, and outline potential growth opportunities for prospective buyers.
To expedite the sale of your oil tank removal business while focusing on the keyword "how to sell an oil tank removal business quickly," it's crucial to adopt a proactive approach that places you in the buyer's shoes. Discover what makes your business a standout choice and why it's an attractive opportunity. By addressing these questions thoroughly, you'll enhance your chances of efficiently attracting and securing a buyer.
Here are some additional tips to accelerate the sale of your oil tank removal business:
Showcase Unique Strengths: Highlight the aspects that set your business apart, such as exclusive partnerships with top oil tank manufacturers, a track record of profitable projects, or a satisfied customer base. Emphasizing these strengths in your sales listings can be a compelling selling point.
Optimize Operations: Streamline your business operations for increased efficiency and ease of management. Buyers often prefer well-organized businesses that require minimal day-to-day oversight, making your business more appealing.
Active Marketing: Utilize online platforms, industry-specific websites, and social media for effective marketing. Expanding your reach increases the likelihood of finding a suitable buyer who resonates with your business.
Seek Professional Assistance: Consider enlisting the support of local business brokers or industry experts. They can expedite the selling process and connect you with motivated buyers actively seeking businesses like yours. Local business brokers bring valuable experience to the table.
By implementing these strategies, you can significantly enhance your prospects of selling your oil tank removal business quickly and successfully, all while adhering to the keyword "how to sell an oil tank removal business quickly."
---
---
Disclaimer:
The information provided in this article is intended for informational use only. While we strive for accuracy and relevance, we cannot be held liable for any outcomes, decisions, or actions based on the information presented here. It's essential to exercise due diligence and, where necessary, seek the advice of legal professionals, financial experts, or industry specialists when making business decisions.
Please note that BizRoutes is an online platform designed for buying and selling routes for sale. We do not function as brokers or provide guarantees regarding the sale of your business. The success of your business sale is contingent on various factors, including market conditions and buyer interest. Therefore, we recommend you conduct careful research, consult with professionals, and take all necessary precautions to facilitate a successful business transaction.