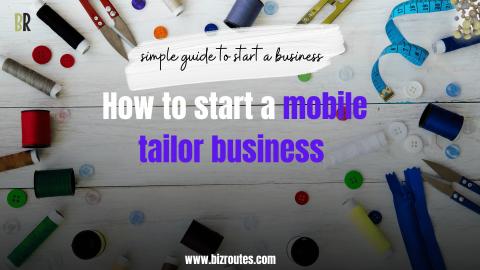 Starters guide: How to start a mobile tailor business
Businesses can originate from a simple idea or perhaps be inspired by observing a successful venture elsewhere. Have you ever considered the possibility of starting a mobile tailor business? While mobile truck repairs, locksmiths, and barbershops on wheels have been explored, initiating a mobile tailor business is a truly innovative concept. In this guide, we will comprehensively outline on how to start a mobile tailor business and provide simple steps to launch a mobile tailor business, covering essential requirements, selecting the optimal location, and outlining the necessary equipment to outfit your vehicle.
Embarking on a mobile tailor business not only taps into the growing trend of convenience services but also offers a unique blend of craftsmanship and adaptability. Imagine bringing custom tailoring services directly to your customers' doorsteps, whether it's for alterations, bespoke creations, or clothing consultations. In this guide, we'll delve into the intricacies of transforming this vision into a thriving business, sharing insights on marketing strategies, customer engagement, and building a mobile workshop that complements your skills and services. Get ready to stitch together success in the world of mobile tailoring!
What is a mobile tailor business?
---
If you've ever driven by a parked mobile tailor truck and wondered about the possibilities it holds, you might be standing at the threshold of a unique opportunity. So, what exactly is a mobile tailor business and how to find a mobile tailor business?
A mobile tailor business is a revolutionary take on traditional tailoring services. Unlike brick-and-mortar establishments, a mobile tailor business takes the art of tailoring on the road, bringing custom clothing solutions directly to the customers' doorstep. Picture this: a tailor shop on wheels, equipped with all the tools and materials needed for alterations, bespoke creations, and personalized fittings. It's the epitome of convenience for those who seek tailor-made garments without the hassle of visiting a physical store.
In this business model, the tailor comes to the client, allowing for a more personalized and flexible experience. Whether it's altering a suit for a busy professional or creating a custom wardrobe for a special event, the mobile tailor business caters to the customer's schedule and preferences.
In the upcoming sections, we'll delve deeper into the intricacies of starting and running a mobile tailor business. From the essential equipment needed for a mobile workshop to choosing the right locations to maximize your reach, we'll guide you through the steps to turn this innovative concept into a thriving venture. Get ready to unravel the threads of success in the dynamic world of mobile tailoring!
How to start a mobile tailor business in 8 steps
---
---
Step 1: Picking a Name
When selecting a name for your mobile tailor business, focus on creating a brand that stands out and resonates with your target audience. The chosen name should not only be memorable but also reflect the essence of your unique tailoring services.
Step 2: Getting Your Legal Situation Sorted
Navigate the legal landscape by incorporating your business and obtaining the necessary licenses and permits. These legal requirements not only establish your business legitimacy but also empower you to park your mobile tailor vehicle on the streets hassle-free.
Step 3: Finding a Strategic Location
Choosing the right location is paramount. Opt for areas with a substantial population and minimal competition from existing storefronts offering similar services. Avoid setting up shop too close to main streets to ensure your mobile tailor business stands out in its exclusive way.
Step 4: Buying a Suitable Vehicle
Invest in a vehicle with ample space to accommodate both equipment and stored clothing for customer pickups. Consider the practicality of the vehicle, ensuring it aligns with the mobile nature of your tailoring services.
Step 5: Diversifying Your Services
In the dynamic world of mobile tailoring, expanding your services adds a layer of versatility and customer appeal. Consider offering a range of tailor-made solutions to meet diverse client needs. Here's how you can enhance your service offerings:
Alterations and Repairs: Provide expert alteration services for clothing repairs, adjustments, and modifications. This caters to customers who may need a quick fix or want to refresh their existing wardrobe.
Bespoke Creations: Elevate your business by offering custom-designed clothing. Collaborate with clients to create unique pieces tailored to their preferences, ensuring a personalized and exclusive experience.
Consultations: Offer personalized styling consultations. Provide fashion advice, fabric recommendations, and styling tips to enhance the overall customer experience.
Mobile Fittings: Bring the fitting room to your customers' homes. Conduct fittings in the comfort of their space, ensuring precise measurements and a tailored fit for their garments.
Corporate Services: Explore partnerships with businesses for corporate tailoring services. Provide uniform fittings, alterations, or custom attire for employees, creating a niche market for your mobile tailor business.
Event Tailoring: Position your services for special occasions. Offer event-specific tailoring services for weddings, parties, or other gatherings, ensuring that your business becomes synonymous with style on important occasions.
By diversifying your services, you not only cater to a broader clientele but also position your mobile tailor business as a one-stop-shop for all things tailored. Stay attuned to market trends and customer demands to continuously evolve and meet the dynamic needs of your audience.
Step 6: Determining Your Pricing Strategy
Establish a pricing structure that reflects your unique business model. Since you're not burdened by high rent costs, your pricing can be more competitive. Aim for affordability while ensuring your services' value is clear to potential customers.
Step 7: Purchasing Essential Equipment
Equip your mobile tailor workshop with the necessary tools for alterations, fittings, and bespoke creations. Key items include a sewing machine, measuring tools, fabric samples, and storage solutions to organize clothing efficiently.
Step 8: Strategic Marketing
Boost your visibility by listing your business on various directories and ensuring your business name, address, and phone number (NAP) are consistent across platforms. Leverage digital marketing tools to reach a broader audience, and consider strategic partnerships to enhance your mobile tailor business's presence in the community.
After exploring the comprehensive guide on how to start a mobile tailor business, the question arises: Is this entrepreneurial venture right for you? The roadmap we've provided, from naming your business to diversifying your services, is designed to empower aspiring entrepreneurs with the knowledge needed to embark on this unique venture.
The appeal of a mobile tailor business lies in its fusion of convenience and craftsmanship, bringing tailored clothing solutions directly to the doorsteps of clients. The flexibility, coupled with the potential for personalized services, creates a distinctive niche in the market.
As you contemplate this exciting opportunity, consider the advantages outlined: the ability to choose strategic locations, lower overhead costs, and the chance to tap into a growing trend of on-the-go services. Additionally, the dynamic nature of the fashion industry ensures a constantly evolving landscape, allowing your mobile tailor business to stay relevant and innovative.
For those not ready to start from scratch, exploring established mobile tailor businesses for sale presents a viable option. This avenue allows you to step into an existing operation, leveraging established clientele and systems, potentially accelerating your journey into the mobile tailoring scene.
So, would you consider starting a mobile tailor business? The answer lies in your passion for fashion, your entrepreneurial spirit, and your commitment to delivering exceptional, personalized services. As you weigh the possibilities, keep in mind the unique advantages highlighted in this guide and explore the potential of established businesses on the market. Whether you're creating a brand from the ground up or stepping into an existing venture, the world of mobile tailoring awaits those ready to stitch together innovation and success.
---
---
Disclaimer: The information provided in this article is for general informational purposes only and should not be considered legal advice. The laws and regulations regarding business licenses may vary from state to state and are subject to change. It is important to contact your local state office to determine which licenses are required for any specific businesses. Additionally, please note that this article contains affiliate links and we may earn a commission from our affiliate partners or Amazon links. If you are considering starting a business, it is recommended that you seek the advice of a qualified lawyer, business broker, or professional in your area. The information provided in this article is not a substitute for professional advice and should not be relied upon as such.