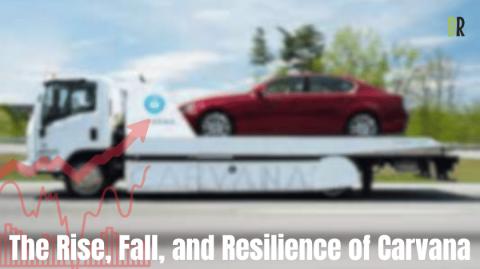 The Rise, Fall, and Resilience of Carvana


When you think back to the time you were considering buying a vehicle, what likely crossed your mind regarding the traditional car dealership experience? Perhaps it was the prospect of dealing with salespeople eager to close a deal at any cost or the anxiety that came with the possibility of being denied a loan.
Now, imagine this scenario: A decade ago, someone tells you that you could purchase a car without ever setting foot in a dealership, all from the convenience of your smartphone. You'd probably have found the idea quite amusing. Sure, booking a rental car online from a car rental business was within the realm of possibility, but buying your very own car online, without the customary test drives and in-person inspections? That would have seemed rather unconventional, right?
Enter Carvana! Emblazoned with the slogan "The New Way to Buy A Car®," they didn't just revolutionize online car buying; they took it a step further with their iconic car vending machines, first unveiled in Nashville. These vending machines allow customers to save time by scheduling an appointment, selecting a date and time for collecting their new vehicle. When they arrive at the vending machine, they're handed a substantial coin, which activates the vending process. Pretty neat, wouldn't you say?
The concept isn't just cool; it's also incredibly helpful and convenient. However, it prompts some intriguing questions: What has become of Carvana's fortunes since then? Have they encountered challenges along the way, and how has their stock performed amidst all this innovation and transformation?
"Some debts are fun when you are acquiring them, but none are fun when you set about retiring them"


Is carvana stock in trouble?
---


So one thing for sure is Carvana the online car retailer, is facing some tough times that are causing concern among investors. Their stock has taken a big hit after they reported disappointing financial results for the third quarter. This drop in stock value can be linked to a few key issues.
Firstly, borrowing money has become more expensive, making it harder for people to finance their car purchases, As they say "Some debts are fun when you are acquiring them, but none are fun when you set about retiring them"' This has had a negative impact on the used car market, which Carvana relies on, and with platforms like turo and getaround getting access to vehicles us easier then ever!
In terms of numbers, Carvana's revenue for the third quarter was $3.39 billion, which is significantly lower than the $3.71 billion that analysts had expected. Additionally, their losses for this quarter were much higher, going from $32 million to a whopping $283 million compared to the same time last year.
Adding to their challenges is the fact that Carvana has a massive debt of $8 billion. If they don't address this debt issue, they could burn over $2 billion in cash over the next two years, like wow! . This would also affect their credit rating, which might stay at a lower level for quite some time. To make matters worse, the ways Carvana previously used to get money may not be as accessible anymore, limiting their options for getting the capital they need.
Interestingly, earlier this year, investors who were betting that Carvana's stock would go down lost more than $2 billion because the stock actually went up by a whopping 1000%. Recently, Carvana's stock price went up by 40% to $55.80 after the company announced a debt exchange deal and released their second-quarter results. But it's important to remember that not too long ago, in late 2022, Carvana's stock was worth less than $4.
These ups and downs have left Carvana and its investors in a tricky situation. The big question now is whether Carvana can overcome these challenges and make a comeback.
What can help carvana bounce back?
---
*Image screenshot from google*
In the world of business, there's a valuable lesson to be learned from Carvana's journey. It's not about buying their stock, but rather understanding how a company faces challenges and strives to bounce back.
Picture this: Carvana, the go-to online platform for buying and selling used cars, had hit a rough patch. Their stock had taken a nosedive, and questions loomed about their financial stability and even some thought bankruptcy. But then, they made some strategic moves that set them on the path to recovery ( hopefully).
Debt Reduction Magic: One of the key steps Carvana took was to announce a bold debt exchange offer. This move slashed their total debt by a whopping $1.325 billion. It's like trimming the fat from their financial burden. By extending debt maturities and reducing near-term interest expenses by $455 million annually for the next two years, Carvana gained significant financial flexibility.
Speedy Deliveries: Carvana revamped its game with same-day delivery in places like Charlotte, Indiana, and Arizona. Picture ordering a car online and having it at your doorstep on the same day. That's a game-changer in the world of car buying.
Hollywood Glamour: Carvana added a dash of glamour by debuting a shiny new Car Vending Machine in Hollywood, Florida. It's like a car-lover's dream come true. They also joined forces with Hollywood power couple Kristen Bell and Dax Shepard. This partnership showcased Carvana's lightning-fast customer experience and a nifty tool called the Carvana Value Tracker, which helps you figure out your vehicle's worth and how it stacks up in the market.
Record-Breaking Quarter: In July 2023, Carvana celebrated its best quarter ever in terms of adjusted EBITDA and total gross profit per unit. This means they're not just back on their feet; they're sprinting ahead.

So, what's the takeaway from Carvana's rollercoaster journey? It's about resilience, adaptability, and making smart moves to get back in the game. It's a tale that future entrepreneurs can learn from as they navigate the tricky waters of going public. While Carvana's stock might not have reached its previous highs, it's showing signs of life, and that's a story worth watching.
---
---
---
Disclaimer
BizRoutes is an online advertising platform that showcases listings related to routes for sale and offers additional services such as a business-to-business directory and the ability to browse business brokers. Please note that BizRoutes is not a brokerage firm, and we do not provide advisory services. Any information published on BizRoutes is intended for informational use only. While we strive to ensure that the information provided on our platform is accurate and up-to-date, we do not endorse or guarantee the accuracy, completeness, or reliability of any content, listings, or information found on our platform. Users should exercise their own judgment and perform due diligence when engaging in any business transactions or seeking the services of business brokers featured on our platform.
BizRoutes cannot be held responsible for any decisions, actions, or outcomes resulting from the use of our platform. We strongly advise users to seek professional advice, conduct independent research, and exercise caution when considering any business transactions or interacting with business brokers listed on our platform. By utilizing BizRoutes, you acknowledge and agree that you are solely responsible for any decisions or actions taken based on the information and listings provided on our platform. We recommend consulting with qualified professionals and conducting thorough assessments before making any business-related decisions. Please be aware that the content on BizRoutes may change over time and may not always reflect the most current information or listings. We reserve the right to modify, update, or remove content from our platform without prior notice. By accessing and using BizRoutes, you agree to adhere to these terms and conditions and understand that any reliance on the information presented on our platform is at your own discretion and risk.
If you have any questions or concerns regarding this disclaimer or our services, please feel free to contact us for further clarification.