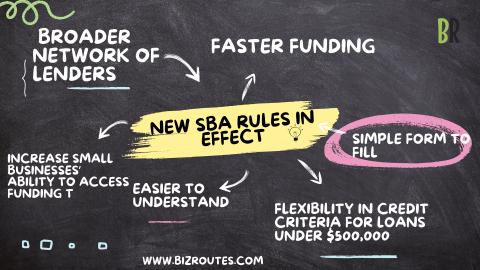 New Biden-Harris SBA Loan Terms: A Guide for Small Businesses
In the ever-evolving landscape of small business support, change is often the key to progress. And today, we're here to tell you that change has arrived. On August 1st, the U.S. Small Business Administration (SBA) introduced significant updates to its loan programs, and these changes have the potential to reshape the way small businesses access capital.
These changes build upon the commitment of Administrator Isabella Casillas Guzman, addressing long-standing, persistent capital access gaps for specific communities, including rural, veteran, women, and minority-owned businesses. But what exactly are these changes, and how might they impact your business?
In this guide, we'll walk you through the key points without giving away too much, allowing you to dive deeper into each aspect below. If you're a small business owner eager to discover how these updates might benefit you, keep reading. The transformation starts here.
What is an SBA Loan?
---
An SBA loan, offered by the Small Business Administration, provides crucial funding for small businesses, enabling them to start, expand, or sustain their operations. It's a lifeline for entrepreneurs.
What Prompted the Need for New Rules?
---
The need for these new rules arises from a significant and eye-opening realization. The Biden-Harris administration recognized that persistent capital access gaps have been holding back rural, veteran, women, and minority-owned businesses for far too long.
Imagine this: Small businesses like coffee shops to fencing businesses and even construction workers in these communities have been facing hurdles and barriers that hinder their growth and success. These hurdles were like roadblocks preventing these businesses from reaching their full potential.
To address this, the administration decided to take action and modernize the SBA's 7(a) and 504 Loan Programs. These changes are not just administrative tweaks; they are a transformation aimed at tearing down those barriers and opening doors for underserved communities.
How Would the New Terms Help Small Businesses?
---
The revamped SBA loan terms are designed to simplify the process and boost small businesses. Here's how:
Streamlined Lender Procedures: The changes cut through the red tape, making it quicker and easier for lenders to work with small businesses. This means less hassle and faster access to funds.
Flexible Credit Criteria: If your loan is under $500,000, you now have more leeway. The SBA is offering additional flexibility in credit requirements, increasing the chances of approval for creditworthy small businesses.
Clearer Rules: The affiliation standards, which determine if a business qualifies as "small," are now crystal clear. This means you'll know upfront if you meet the criteria.
Technology for Eligibility: The SBA is using tech upgrades to determine eligibility. This means you'll have a faster and more efficient process, reducing the waiting time for approval.
Overall, these changes are like opening up more doors for small businesses. They make it easier to access the funding needed to start and expand, thanks to a wider network of lenders and simpler rules and procedures.
Where Can Small Businesses Apply for Funding?
---
Small businesses can apply for funding through this SBA link, which connects them with lenders in a simplified process.
Why Does This Matter to Us?
---
These changes matter because they level the playing field for small businesses, particularly those in underserved communities. The updates enhance access to capital, making it easier for entrepreneurs to start or grow their businesses.
At BizRoutes, we're deeply committed to supporting businesses like yours in their journey to thrive and expand. We understand that small businesses are the lifeblood of our communities, driving innovation, creating jobs, and fostering economic growth. That's why we're always on the hunt to help businesses not only survive but thrive.
In our directory, we offer free listings to get your brand out to our daily readers online. Our commitment extends beyond merely building businesses; it's about building a community of entrepreneurs, a network of support, and a platform where dreams can flourish.
These SBA loan updates are aligned with our vision. They signify a step towards a more inclusive and supportive business ecosystem. As you explore these changes, you'll realize that the path to success is now more accessible than ever. So, join us in this journey to empower entrepreneurs and foster growth in the business community. Your success is our mission.
Conclusion:
The SBA's recent policy changes are a boon for small businesses. By understanding what SBA loans are, why these changes were needed, how they benefit your business, where to apply, and why it matters, you can seize these opportunities and navigate the evolving landscape of small business finance.