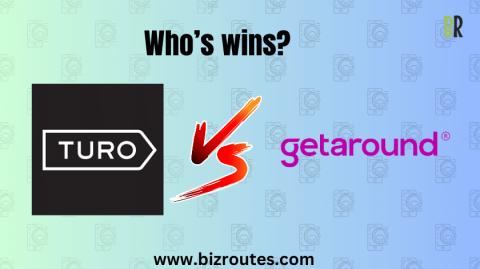 ​​​​Turo vs getaround : Who wins the race?
Let's delve into the phrase 'Time is money.' This concept is particularly relevant for individuals who highly value every minute of their day and actively seek out money-making opportunities. It's also pertinent for those who require immediate access to a vehicle and turn to platforms like Turo to meet their transportation needs.
In this scenario, people can conveniently book a car online, simaler to a car rental business you can utilize it for the exact number of hours or days required – a truly efficient solution. However, what about individuals looking to generate additional income within their already hectic schedules? Can these platforms offer a means of passive income? And how should one go about choosing between Turo and Getaround?
Throughout this article, we will thoroughly examine both platforms and provide an extensive summary to assist you in determining which one may prove more advantageous for your unique circumstances.
What is the concept of car sharing?
---


When I first heard about car sharing, I was skeptical, thinking it could be a potential disaster waiting to happen. However, as these platforms gained popularity and more people signed up, my perspective gradually shifted. It became evident that these services genuinely prioritize the interests of the individuals listing their vehicles on these platforms. Car sharing represents a transformative transportation concept that empowers individuals to access and use vehicles on a short-term basis, challenging the conventional model of car ownership. At its core, car sharing focuses on optimizing vehicle usage, reducing the overall number of cars on the road, and promoting a more sustainable and efficient urban transportation system.
For car owners joining platforms:
The process of car sharing involves a series of steps, and it all begins with individuals who want to earn money by listing their vehicle on platforms like Turo or Getaround. To get started, they join the car-sharing service platform and become members, which usually entails a few screening steps, including background checks, driver's license verification, and the submission of personal information. Once their membership is approved, they can proceed to add their vehicle to the platform, making it available for others to use.
For those of you looking to rent a car:
Getting your hands on a car is a breeze. You can book your vehicle in advance through user-friendly options like mobile apps, websites, or even a quick call to the car-sharing provider. This gives you the freedom to pick the type of vehicle you want, choose where you'd like to pick it up, and decide how long you'll need it.
When it's time to grab your ride, technology steps in to make it simple. Some services offer nifty perks like unlocking the car with a smartphone app or a membership card. As you hit the road, your bill is based on how long you have the car and how far you drive. When you're done with your tasks or adventures, returning the car is usually to the same spot where you picked it up. Just remember, if you didn't receive a full tank, you might need to top it up before returning it. Don't worry, the billing process is all done electronically through your member account, ensuring a smooth and hassle-free experience.
Overall concept of car sharing:
Car sharing offers some pretty cool benefits that you and your fellow readers might want to know about. First off, it's a money-saver. You can dodge the hefty costs that come with full car ownership, like insurance, maintenance, and fuel expenses. That's more cash in your pocket.
And it's not just about your wallet; car sharing can also be a superhero for the environment. By potentially reducing the number of privately owned cars on the road, it can help ease traffic jams and cut down on those nasty greenhouse gas emissions.
Convenience is another big win. You can grab a ride whenever you need it without worrying about parking hassles or dealing with car repairs. It's all about simplicity.
Plus, car sharing is like the urban planner's best friend. It encourages cities to become more walker-friendly and public transit-focused, which is a win for everyone. This concept has really taken off, especially in busy cities where owning a car can be a headache due to traffic, parking shortages, and a strong focus on being eco-friendly. So, if you're someone who doesn't need a car every day but wants a reliable option when you do, car sharing might just be your solution.
"Two is company, four is a party, three is a crowd. One is a wanderer".
What is largest car sharing platform?
---
Your vehicle is like your baby; you invested your hard-earned money in it. However, there might come a time when you're facing financial challenges or simply not using your car as frequently, and you start thinking about how to turn it into a money-making asset. Now, you might be inclined to go with the biggest player in the car-sharing game, and that makes sense at first glance. After all, if Uber is the giant, why not choose Lyft, right? Or if you're a freelancer, and Fiverr is dominating the freelance platform scene, wouldn't you also consider Upwork?
Here's the thing: It's always a good idea to explore your options, just as the famous saying goes, "Two is company, four is a party, three is a crowd. One is a wanderer." So, while Turo is indeed the heavyweight champion in the online car-sharing world, boasting a staggering 85,000 active cars on its platform and over 1 million active users renting within a year, it's worth taking a moment to pause and compare Turo with Getaround before rushing into any decisions.
The moment of truth: Turo vs get around
---
Now, let's take a closer look at these two platforms and put them head-to-head. We'll explore everything from the registration process to commission rates and even dip into some user feedback. And, just to add a little extra spice, I've done some research on the monthly visitor statistics for each platform. Ready to dive in? Absolutely!


Turo :

Turo a car sharing platform launched in 2009, has some years it it and now is a public traded company, When you first land on their page, you'll notice the "Become a Host" button right on the homepage. Clicking it is the first step towards getting started, and it's a straightforward process. As you begin, they welcome you with enticing earning potentials. For instance, you could make an average annual income of $10,516 with just one car, or scale up to $94,642 with nine cars. If this sparks your interest, the next step is reviewing the terms, which is always a good practice. Usually, they present this at the beginning, but it's helpful to see it upfront. Once that's done, you can dive into the 11-step process, covering everything from sharing details about your car, setting up your profile photo, providing your mobile number and driver's license, defining your goals, specifying car availability, detailing your vehicle, adding photos, setting up payouts, adhering to safety and quality standards, and finally, submitting your listing.
A particularly fantastic feature they offer is the Turo Carculator, a useful tool that delivers customized income estimates tailored to your specific region. It also assists you in identifying which types of cars tend to yield the highest returns in each respective area, helping you make informed decisions as you embark on your hosting journey.
Pros:
Full Reimbursement for Incidental Costs: With Turo, you get 100% of approved reimbursements for any unexpected expenses related to your rentals, ensuring you're not out of pocket for incidental costs.
Full Reimbursement for Cleaning or Smoking Issues: If you encounter cleaning or smoking issues with a rental, Turo covers you by providing 100% of approved fees for these concerns, so you're fairly compensated for any extra effort.
90% of the Delivery Price: When you offer delivery services for your vehicles, you'll receive 90% of the delivery price, giving you an opportunity for additional earnings when going the extra mile for your renters.
90% of the Cost of Extras: For any additional services or extras you provide to renters, Turo ensures you get 90% of the cost, allowing you to generate extra income and enhance the rental experience.
Payment Initiation: Turo typically initiates payments three business days after your trip ends, ensuring you receive your earnings promptly for the services you've provided.
Weekly Partial Payment for Long Trips: For longer trips spanning over a week, Turo provides weekly partial payments, offering financial flexibility during extended rental periods.
One Payment Per Day: Managing your earnings is simple with Turo, as you'll receive just one payment per day, streamlining the process and reducing any payment-related complexities.
Monthly Visits (30 million according to SimilarWeb): Turo enjoys a substantial online presence, with approximately 30 million monthly visits to its platform according to SimilarWeb, indicating a large user base and potential exposure for your listings.
Cons:
Cancellation Impact: It's essential to be mindful of cancellations as they can disrupt a guest's plans and diminish their trust in Turo hosts. Frequent cancellations also affect your host metrics and can potentially reduce your vehicle's visibility in search results.
Risk of Vehicle Removal: Consistent cancellations may lead Turo to remove your vehicle(s) from search results, limiting your rental opportunities and reach on the platform.
Commitment Rate Warning: If your commitment rate drops below 90% due to frequent cancellations, Turo will issue a warning, which could affect your standing as a host.
Cancellation Review and Fees: When you cancel a trip, Turo posts an automated cancellation review on your listing. Additionally, fees may be deducted, including $25 for cancellations more than 24 hours before the trip start and $50 for cancellations less than 24 hours before the trip start.
Trip Duration: On average, Turo trips last four days, which is slightly longer than the marketplace average. This may impact the availability of your vehicle for potential renters.
Limited Geographic Coverage: Turo primarily operates in the United States, Canada, France, the United Kingdom, and Australia. While these regions offer substantial opportunities, it's worth noting that rentals may be limited in other areas.
Getaround
Now lets get to getaround, a car sharing platform that was launched in 2011 which is also a public traded company, one great feature for getaround is the ability to share your vehicle with uber drivers for example Many Uber drivers don't own cars or sometimes need a specific type of vehicle. That's where your cars can help. By making your cars available to Uber drivers through Getaround, you can reach a new group of potential customers. This means more people might want to rent your cars. And these people often book cars for longer periods and come back to rent again. The Getaround and Uber apps work together smoothly, making things convenient for customers and helping you make more money as a car owner.
The stock price is quite low but should you care? As long as you are making money i mean as powerful as uber is their stock hasnt ever hit over a $60 to my knowledge and they have so many services and income coming in, Lets explore some of the pros and cons of getaround.
Pros (for Car Owners):
Manage Multiple Vehicles: If you have several cars, you can easily create profiles for each one, allowing you to earn from your entire fleet.
Getaround Connect® Installation: Getaround provides exclusive hardware, Getaround Connect®, for your car. This device lets guests unlock the car with their phone and provides valuable insights about your vehicle and its trips, enhancing both security and convenience.
Location-Based Bonuses: Your potential earnings can increase based on your car's location. Getaround offers larger bonuses in areas with high guest demand, giving you an extra income boost.
Referral Bonuses: By inviting friends to join Getaround as hosts, you can earn additional money. Plus, if they list their cars and become hosts, you'll receive a bonus equal to 25% of their earnings from their first 60 days as hosts.
Smoking Fine: If a guest Smokes inside your car they can result in fines of up to $300.
Cons (for Car Owners):
Delayed Setup Fee: When you list your car, there's a $99 initial setup fee, along with a $20 monthly fee, but the good news is you won't be charged until your car is ready for bookings. This means you can start without immediate expenses.
High Commission: Getaround charges a 40% commission on all trips booked, which can reduce your overall earnings.
Mobile Convenience Fee: If you request mobile installation of the Connect device, there's a one-time fee.
Cancellation Fees: Cancellations with short notice can result in fees ranging from $25 to $100, which can impact your earnings.
Set Damage amount: In case of damage, key replacement, or servicing, costs may apply, with a maximum of up to $3,000 across all cars.
When choosing between Turo and Getaround, your decision may hinge on your priorities: popularity or rates. So, the question becomes: Which would you choose? If you prioritize popularity and widespread availability, Turo's global presence with listings in over 56 countries may be more appealing. It offers access to a broad user base and could potentially result in more bookings, making it an excellent choice for those seeking maximum exposure.
Additionally, it's worth noting that Turo allows owners to set their own rates, providing greater control over pricing. In contrast, Getaround charges a 40% commission on all trips booked, which means owners have less control over the rates and the percentage they receive from bookings. This difference in pricing structure should be a significant factor to consider when deciding between Turo and Getaround as a car owner.
---
---
---
Disclaimer
BizRoutes is an online advertising platform that showcases listings related to routes for sale and offers additional services such as a business-to-business directory and the ability to browse business brokers. Please note that BizRoutes is not a brokerage firm, and we do not provide advisory services. Any information published on BizRoutes is intended for informational use only. While we strive to ensure that the information provided on our platform is accurate and up-to-date, we do not endorse or guarantee the accuracy, completeness, or reliability of any content, listings, or information found on our platform. Users should exercise their own judgment and perform due diligence when engaging in any business transactions or seeking the services of business brokers featured on our platform.
BizRoutes cannot be held responsible for any decisions, actions, or outcomes resulting from the use of our platform. We strongly advise users to seek professional advice, conduct independent research, and exercise caution when considering any business transactions or interacting with business brokers listed on our platform. By utilizing BizRoutes, you acknowledge and agree that you are solely responsible for any decisions or actions taken based on the information and listings provided on our platform. We recommend consulting with qualified professionals and conducting thorough assessments before making any business-related decisions. Please be aware that the content on BizRoutes may change over time and may not always reflect the most current information or listings. We reserve the right to modify, update, or remove content from our platform without prior notice. By accessing and using BizRoutes, you agree to adhere to these terms and conditions and understand that any reliance on the information presented on our platform is at your own discretion and risk.
If you have any questions or concerns regarding this disclaimer or our services, please feel free to contact us for further clarification.