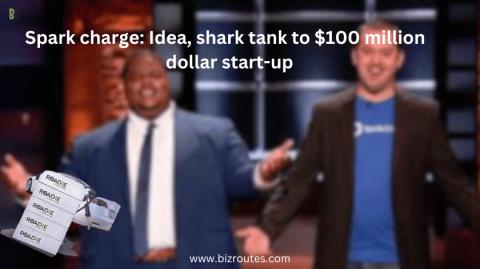 SparkCharge: From Class to Shark Tank to a $100 Million EV Charging Revolution
Joshua Aviv's remarkable story of SparkCharge embodies the essence of entrepreneurial success. It all began with a solid educational foundation; he earned his degree from Syracuse University. This education, combined with having a father who was also an entrepreneur, instilled in him an innate drive to make a difference, laying the foundation for what would become a groundbreaking venture.
One day in class, Joshua's professor came in and said, "If you want to solve a problem in the world, focus on the issue of electric vehicle infrastructure." The professor invited interested students to meet after class. Only one person showed up—Joshua. After their discussion in 2014, electric vehicles still faced challenges in finding charging solutions. In fact, many people hesitate to purchase electric vehicles due to the concern of getting stuck without access to nearby EV charging station businesses.
So what is sparkcharge?
---
SparkCharge is a pioneering company that specializes in revolutionizing electric vehicle (EV) charging infrastructure. At its core, SparkCharge is committed to making EV charging accessible, convenient, and efficient for everyone, addressing the challenges faced by EV owners in finding reliable and convenient charging solutions.
The company's flagship product, the "Roadie," stands at the forefront of its mission. The Roadie is a portable and modular EV charging system designed to provide on-demand charging wherever it's needed. Its unique portability allows it to be transported and deployed in various locations, such as parking lots, events, and emergency situations, filling gaps in traditional charging infrastructure.
Did Joshua Aviv get funding from Sharktank?
---
Yes, Joshua Aviv successfully secured funding for SparkCharge on the renowned television show Shark Tank. His compelling pitch not only captivated the sharks but also led to a pivotal deal with Mark Cuban. This transformative investment amounted to $1 million in exchange for a 10% stake in the company. This infusion of capital provided the financial momentum required to thrust SparkCharge's innovative portable EV charging solution, the Roadie, into the mainstream. Leveraging the success of their Shark Tank appearance, SparkCharge strategically partnered with other entities and maintained a steadfast commitment to sustainability, which enabled them to rapidly expand their operations and achieve an impressive valuation exceeding $100 million.
Where is the sparkplug now?
---
SparkCharge, a prominent player in the electric vehicle charging industry, has reached several noteworthy milestones and collaborations:
Strategic Partnerships: SparkCharge has formed strategic partnerships with leading companies such as Uber, AAA, and Hertz, demonstrating its ability to collaborate with key players in the mobility and transportation sectors.
Financial Growth: The company recently secured an additional $30 million in funding, attracting notable investors like Pusha-T and Tale Venture Partners. This funding infusion highlights confidence in SparkCharge's business model and future potential.
Workforce Expansion: SparkCharge has expanded its team to over 40 employees, underscoring its commitment to scaling operations and driving innovation in electric vehicle charging solutions.
Partnership with Kia America: according to insideevs On March 1, 2022, SparkCharge announced a significant partnership with Kia America. This collaboration offers two months of complimentary service from SparkCharge's mobile electric vehicle charging service to Kia EV owners, enhancing convenience and accessibility.
Million-Mile Milestone: SparkCharge has set an ambitious goal to reach one million miles powered by its mobile electric vehicle charging service. This milestone demonstrates the reliability and effectiveness of SparkCharge's charging solutions.
Why do we see this as inspiring for our bizroutes community?
---
In conclusion, the story of where is sparkcharge now is an inspiring testament to the boundless possibilities that await those with the vision, courage, and unwavering determination to make a difference. Aspiring business owners looking to start or buy an electric vehicle charging station business and get into the industry should take heart and see SparkCharge's journey as a beacon of motivation. It reminds us that in the face of challenges, innovation can light the way, adaptability can fuel progress, sustainability can drive success, scalability can unlock potential, partnerships can amplify impact, and securing funding can turn dreams into reality. Let SparkCharge be a testament to your own journey, where every obstacle becomes a stepping stone, and where your vision becomes a powerful force for positive change in the world.
---
---
BizRoutes is an online advertising platform that showcases listings related to routes for sale and offers additional services such as a business-to-business directory and the ability to browse business brokers and is not sponsored by Sparkcharge and its affiliates. Please also note that BizRoutes is not a brokerage firm, and we do not provide advisory services. Any information published on BizRoutes is intended for informational use only. While we strive to ensure that the information provided on our platform is accurate and up-to-date, we do not endorse or guarantee the accuracy, completeness, or reliability of any content, listings, or information found on our platform.