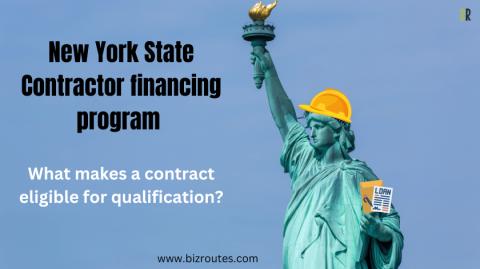 Unlocking Financing Opportunities for New York State Contractor financing program
Are you a New York State contractor looking for financial support to grow your business and take on more government-related projects? The New York State Contractor Financing Program might be just what you need. In this blog post, we'll take a closer look at what this program entails, who qualifies for it, how to get started, and offer a conclusion to help you make an informed decision
What is the New York State Contractor Financing Program?
---
The New York State Contractor Financing Program is essentially a lifeline for contractors operating within the state. This program, powered by the State Small Business Credit Initiative (SSBCI), packs a significant punch with a generous funding pool of $22 million allocated specifically for loan loss reserves. But what's the big picture here? Well, it's all about making life easier for contractors like you. The primary objective is to encourage lending intermediaries to step up to the plate and provide much-needed credit to contractors.
Why? So that you can run your projects more smoothly and handle those sometimes tricky payment schedules when dealing with government agencies and municipalities. It's all about ensuring that you have the financial support you need to get the job done effectively, without the stress of cash flow issues or payment delays hanging over your head. In essence, this program is a helping hand, a financial safety net, and an opportunity for growth, all rolled into one. So, if you're a New York State contractor, this program could be your ticket to a smoother, more prosperous future in the contracting world.
Who Qualifies for the Program?
---
Wondering if you're a good fit for the New York State Contractor Financing Program? Here's what you need to know about the qualifications:
Firstly, the program typically caters to contractors with revenues of up to $5 million and a workforce of fewer than 100 employees. This makes it accessible for many small and mid-sized businesses.
Secondly, the lending landscape is diverse, with participation from Community Development Financial Institutions (CDFIs), Minority Depository Institutions (MDIs), community banks, credit unions, and similar community-focused lenders. They often offer loans of up to $500,000, making it easier to secure the financing you need.
When it comes to the duration of your loan, it's usually aligned with the timeline of your contract. While there's a general limit of 18 months, lenders can use their judgment to adjust the term based on their assessment of the risks involved.
Lastly, the program is designed to support projects within the State of New York that receive financial backing from various government bodies, including New York State Agencies, Municipalities, Counties, Towns, Villages, Public School Districts, and other recognized government entities. This ensures that your projects are well-aligned with the program's goals.
So, if your business meets these criteria, you're in a strong position to benefit from this financing opportunity. It's a great way to fuel your growth and take on more government contracts, ultimately contributing to the growth of your business and the state's economy.
What is considered a eligible contract?
---
Now, it's important to note that not every contract qualifies for the New York State Contractor Financing Program. We're here to demystify the criteria that determine whether your contract is eligible, ensuring you can make the most of this invaluable resource:
Contract Type: Your contract can take on two roles - you can either be the primary contractor (known as the prime contractor) or serve as a subcontractor.
Location Matters: Your project or procurement should be based in the State of New York. We're all about supporting local businesses right here in our state.
Financial Backing: This is a critical factor. Your contract should receive financial support, and this backing can come from various sources such as New York State Agencies, Municipalities, Counties, Towns, Villages, Public School Districts, or any other government entity legally recognized within our state.
If your contract meets these criteria, it's officially considered an "Eligible Contract" for the New York State Contractor Financing Program.
Now, let's talk about how these loans can be a valuable resource for your business. They are here to provide working capital, assist with acquiring machinery and equipment, or cover other essential costs crucial for the successful execution of your contracts.
Plus, they offer flexibility - you can access these loans in two forms: lines of credit or managed lines of credit. They are designed not only to benefit your business but also to ensure a secure and successful partnership for the lender, you, and the entire program.
So, what can you achieve with these funds? The possibilities are vast - use them for contract project deployment, secure advances against your inventory, cover construction expenses, manage purchase orders efficiently, handle payables and receivables, cover contract finance costs, and boost your general working capital.
However, it's essential to understand that there are limitations to these loans. They cannot be used for refinancing or retiring existing debt or equity, funding residential construction projects (except government-sponsored ones), addressing tax or employee benefit arrears, purchasing or rehabilitating real estate for speculative purposes, providing loans to educational institutions (unless they are licensed childcare facilities), supporting hospitals or residential health care facilities, financing nonprofit corporations, or assisting overnight lodging facilities.
How to get started new your state contractor financing program?
---
Getting started with the New York State Contractor Financing Program is all about connecting with the right lenders who can guide you through the application process. Program Lenders serve as your primary point of contact on this journey, and each of them may have their own specific loan application process.
It's important to note that while the application process may vary slightly among lenders, some common elements may include providing financial statements, business plans, and project details. Depending on your specific financing arrangement, lenders might also require an assignment of contracts, receivables, or other collateral and guarantees from you as the borrower. These requirements ensure that both parties are protected throughout the financing process.
So, if you're ready to explore the funding opportunities offered by the New York State Contractor Financing Program, your first step is to connect with these Program Lenders, who will provide you with the necessary guidance and support to kickstart your application.
Link for participating lenders —--------> Find a lender!
Who Should Apply?
---
If you're involved in any facet of the construction sector, the New York State Contractor Financing Program is tailor-made for you. Whether you operate as a general contractor overseeing large projects, specialize in a specific trade, or work as a subcontractor, this program is your gateway to financial support and business expansion.
The construction industry encompasses a diverse range of professionals and specialties, including:
General Contractors: Those overseeing and managing large-scale construction projects.
Subcontractors: Specialists in specific trades such as plumbing, electrical work, HVAC, and more.
Builders and Developers: Individuals or companies involved in residential or commercial property development.
Renovation and Remodeling: Businesses focused on upgrading and renovating existing structures.
Construction Management: Professionals handling project planning, coordination, demoliton businesses and supervision.
Infrastructure: Experts in building and maintaining critical infrastructure like roads, bridges, and utilities.
Whether you're a seasoned professional or just starting your journey in the construction industry, this program offers valuable resources to support your growth. It's time to seize the opportunity and elevate your construction business in the Empire State. Apply today to access the financial backing you need to build a brighter future.
In conclusion, the New York State Contractor Financing Program stands as a beacon of support for small businesses, offering vital financial resources to eligible contracts. We've decoded the essentials: from the types of contracts that fit the bill to how these loans can power your business endeavors. Remember, eligibility opens doors, and with the right contract, this program can be your trusted partner in achieving contracting success. Explore, apply, and leverage these resources to fuel your growth and contribute to the thriving business landscape of the Empire State.
Disclaimer: As of September 8, 2023, the New York State Contractor Financing Program appears to be open and active. However, please be aware that program status and details can change or be updated without notice. We strongly recommend verifying the current status and eligibility criteria by contacting New York State or the relevant authorities. It's essential to ensure that the program is still active and aligns with your specific needs and circumstances before proceeding with any applications or decisions. Stay informed, and make sure to confirm the latest information before taking any action related to the program.